Kitchen Paint Color Advice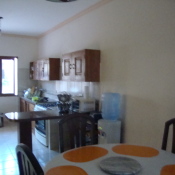 I have a long and narrow kitchen with just one window so it doesn't get much light. I need suggestions for a new paint color for my walls. I do not wish to change the maple color of the cabinets, I just want to add some color and light to the room.
By Ana P from Albany, NY
Answers: Kitchen Paint Color Advice
Read answers for this question below.
The picture is fantastic because it shows what us you have to work with. Looking at the pic I'd say if you use the wrong colours you'll end up with a tunnel that is unpleasant to look at and work in.

If that were my kitchen I think I would go with a white or very pale cream colour (homey, warm, makes people think happy thoughts about food:) on the walls and backsplash, install a shelf across the space between the two wall units over the cooker and use the shelf to display flea market finds in bright colours-I love the 'pop' those orange placemats give the dining area, for example. If there is a similar pair of wall units on the other side, I would install another shelf there as well.

I would use a window shade or blinds under a sheer curtain, with a bright valance and maybe a swag (depends on how narrow the room is, a swag might make it seem even more narrow) to give the same sort of pop across the window. Doing that would give interest and colour without darkening the light from the window.

I like the suggestion to visually divide the working kitchen from the dining area with a frame and different paint-that wall next to the table looks huge and could do with something. But remember to use a shade only slightly darker than the shade you end up using in the working kitchen area if you decide to use the division suggestion. Too startling a difference will make people uncomfortable. Lol, there is a whole psychology to kitchen and dining room paint!

If you decide to keep it all one colour, you can use groupings of family photos, nature scenes, or maybe wall art in a kitchen-dining theme to keep the room unified but break up some of that expanse.
I would put a frame around half of the room and leave the kitchen white ,then pant the dining area a different color that way the kitchen would be light and airy and the dining area would be warm and romantic. Just saying.
My all time favorite paint color for a kitchen....is kind of a peach/apricot. It is bright and cheery and if you add a plant or two as the previous poster mentioned it would look....fabulous! Have fun!
It would depend on what colors you like. I would go to Lowe's or Home Depot and pick out some color cards in the paint section. Take them home and put them up against the cabinets (you want to keep) and the floors and see what catches your eye. Or leave the walls the neutral color and accessorize Big.

Maybe a large plant, or a large bright painting on the wall, or a big family tree on the wall with pics of family. Pretty colorful plants on top of cabinet and add lighting. Get tired of a pic or plant? Change it out with the seasons
Answer This Question
Add your voice to the conversation. Click here to answer this question.
Related Guides
Related Posts