Cleaning Venetian Blinds
To clean venetian blinds. Fill bath tub with enough warm water to cover blind. Add equal amounts of Tide & Spic & Span. About 1/2 cup each.Soak blind for short time. Blinds & cords come out clean without any scrubbing. Rehang blind with towels on window sill till dry. There is no danger combining the two cleaning agents.
By Helen G.
If you need to clean those venetian blinds just take them outside and pull them all the way out and spray clorox clean-up all over them. Wait a few minutes and spray with hose, they come almost new again! Let them outside to dry a little while and then hang them back up. This is super easy!
By Deb Spear
Feedback
Read feedback for this post below. Click here to post feedback.

By
01/28/2011
I use two saw horses and a piece of plywood. I wash them on my deck. I don't wash them as often as I should so I have to scrub. No spray bottle is going to clean my blinds.

By
10/28/2009
Taking the venetian blinds to the car wash is a super idea! You can use the soap brush and then blast wash them. Gonna do it this weekend. Thanks.

By Peter (Guest Post)
05/17/2008
Very good advice. http://www.englishblinds.co.uk/

By Karen (Guest Post)
06/18/2007
MiniMaids! Just stick suction cup brackets to shower tiles, add your blinds, and easily rinse blinds clean with shower sprayer. If you need to spray with cleaner first thats OK, the detergent and the dirt just rinses down the drain. Finally a product that makes washing mini blinds EASY!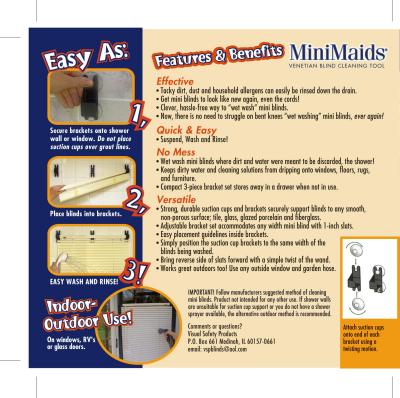 By Mary McLuckie (Guest Post)
09/10/2005
These are great ideas...IF they are metal! So many of today's blinds are made of wooden slats. When I first started cleaning my landlord's house and he mentioned that he wanted the blinds cleaned, I asked him which bathroom tub he wanted me to use. He about had a heart attact. Sorry, I was out of the groove at the time and didn't know about 'wooden' slats.
When cleaning these slats, I just use a damp cloth and spray lightly with an orange cleaning solution...like Fantastick or Mr. Clean. Wipe down slats with the damp cloth and remember to wipe again with a DRY cloth.
Thank you.

Mary McLuckie
twstr2u @ aol.com (remove spaces)

By
09/08/2005
We load ours up and take them to the car wash. There is a place to hang them and we wash away the dirt very easy. Take the screen there too. Makes cleaning them easy...

By Rachel (Guest Post)
04/27/2005
I'm cleaning very old and dirty blinds (with the wide slates and cloth tapes). Is it OK to add some bleach to the Tide and Spic and Span mix to bleach the tapes?
Questions
Here are questions related to
Cleaning Venetian Blinds
.
Post Feedback
Add your voice to the conversation.