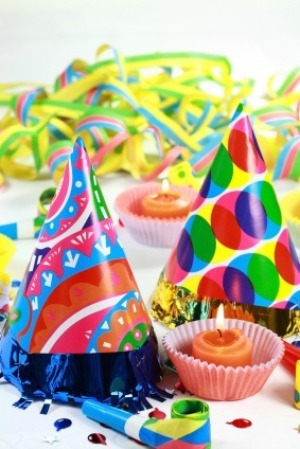 When planning a class reunion one of the decisions is making or choosing just the right favors. This is a guide about class reunion party favor ideas.
Ad
---
Solutions: Class Reunion Party Favor Ideas
Read and rate the best solutions below by giving them a "thumbs up".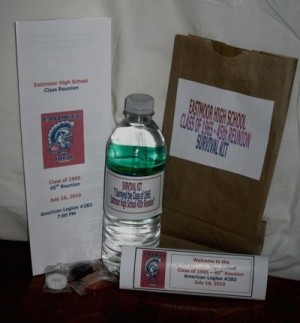 Our class is having their 45th reunion this year. I took a paper lunch sack and made a sticker for the front of the bag that said: "I survived the EHS Class of '65 - 45th Reunion." I put the same sticker with information on a bottle of water, a package of Lifesavers, and a candy bar covered with a new cover regarding our reunion, and an ink pen.
I stapled the bag closed at the top and attached their name tag on it. I set the bags out on the table in no particular order and when they checked in they found their survival bag and met the folks at their table then could move to another table if the wished.
Carolyn - Eastmoor High School - Class of '65 - Columbus, OH
Give a "thumbs up" to the solution that worked the best! Do you have a better solution? Click here to share it!
Questions
Here are questions related to Class Reunion Party Favor Ideas.
Where can I buy favors for a class reunion in amounts under 100? Every site I've found only offers them in lots of 100 or more. My class only has 20 people, so I don't need 100 of anything.
By Glenn
AnswerWas this interesting? Yes No
Ad
---
---
Most Recent Answer
By Paulette Gulakowski [7] 05/10/20110 people found this helpful
Best favor I got at a reunion was a badge with my high school picture on it. Someone had a "Badge a Minit" kit, made photocopies of our senior pictures from the yearbook and put them on the badge (don't know how). We wore the badges as name tags and then took them home for a souvenir. I still have mine and it's been about 20 years since that reunion!
---
I would like ideas for a 40th class reunion favor.
By Carol
AnswerWas this interesting? Yes No
Ad
---
---
Most Recent Answer
By Donna [1] 03/24/20110 people found this helpful
I went to my 50th reunion recently, someone had taken the class composite and made place mats for us. Sure got the conversation and memories flowing. Have a ball. Donna
---
We are having a 20 yr. class reunion Slumber Party (Girls Only!) of course! I was wanting to put some party favors together for fun and was looking for some ideas!

Tonya from Texas
AnswerWas this interesting? Yes No
---
Most Recent Answer
By megan24 (Guest Post) 02/06/20090 people found this helpful
Sounds like a great way to reconnect with your girlfriends. Since it is a slumber party, I would do gift bags of nail polish and face masks, since those activities were always popular at sleepovers. Don't forget to plan lots of games and activities around the slumber party theme.

Hope this helps,
Megan
---
I need ideas for party favors or gifts for our 35th Class Reunion. Preferably things that do not cost a lot.

Debbie from Auburn, WA
AnswerWas this interesting? Yes No
---
Most Recent Answer
By Tracy Ferguson [3] 01/23/20090 people found this helpful
Back then you guys played records. What about mini picture frames that run about 50 cents? Paint them black and go to michael's crafts store or a hobby shop and buy mini records to hot glue on them. Then on the bottom of the frame glue letters saying class of 1974 or whatever, or you could paint it your school colors. Just a thought.
---
It's our 35th reunion of smalltown USA. The first night is at a local hotel/spa bar for meet and greet, where dinner is available. Also on the grounds is a local community fund raiser, that brings in lots of alumni. The second evening is in the city at a high end dance bar and lounge. I have everything together except for a memorial board and reunion gift bags. It has to be something nice, but not costly. We plan reunions like this to meet all budgets. There are no covered charges and classmates can spend what they can afford.
By Cheryl
AnswerWas this interesting? Yes No
---
Most Recent Answer
By Dena Roberts [35] 06/07/20120 people found this helpful
I would want a class photo, complete with all the names, in my gift bag. A pen and a nice note pad, or "autograph book" for addresses of old friends, would be great, also. And a small collectible, such as a coffee mug with a photo of the school on it.

Talk to photographers in your area and see if you can get a discount for a large order, in exchange for free advertising for them in all your reunion materials. You could also ask the local restaurants, etc., if they would give you discount coupons to put in the bags.
Archives
Thrifty Fun has been around so long that many of our pages have been reset several times. Archives are older versions of the page and the comments that were provided then.
I need ideas on inexpensive personalized party favors for our 20 year high school reunion in November. We have done mugs for our 10th year.

Donna from Farmingdale, New York
---
RE: Class Reunion Party Favors
Do you have any crafty people on your reunion committee? I just made magnet wedding favors for my daughter's wedding. I spray painted wooden hearts and used silver and gold paint pens to write their names and the date of the wedding. You can buy magnet sheets or rolls in a craft store. I know you'll find the right favors... just have fun! (06/03/2005)
By Luvyabye
RE: Class Reunion Party Favors
Take your Senior yearbook, copy pages, pictures, most likely to succeed, etc. Tape together for "table Cloths! Great conversation starters, plus lots of laughs! The picture is a Spring Cactus flower! Back east most think cactus is ugly....they've never see how pretty they can be! (06/03/2005)
By Trish
RE: Class Reunion Party Favors
You can buy ink pens in the school color and have the school name and graduation year written on the pen in the other school color. Everyone can use these and they make a great keepsake. You should be able to order them from an office supply or somewhere perhaps like Oriental Trade. (06/04/2005)
By Connie
RE: Class Reunion Party Favors
For our 20th we walked away with... our school Alma Mater (printed on a nice 5-1/2" x 8-1/2" sheet) AND on top of that was our graduation quote - from the yearbook (same size paper) - our names were on the top so that we could look over everyones that was laid out on a table. (06/14/2005)
By Mrs.Jean
RE: Class Reunion Party Favors
Don't forget the ever popular website OrientalTrading.com They sell lots of stuff, cheap. I'm sure you can get stuff personalized also.
At my 20th, we all were given bead necklaces in our school colors. The men wore them too. They were given at every function. Kind of cool. Left overs can be given away for craft projects. Schools and Child care places are always looking for items for their crafts. (06/23/2005)
By Rose
RE: Class Reunion Party Favors
We are giving out CD's that we burned to each of the alumni. All of the music is from the year we graduated. 1985. If you can't do this yourself, if you hired a DJ they may be able to help you. Music takes everyone back in time! (08/08/2005)
By Michelle
RE: Class Reunion Party Favors
I am doing a fake reunion - Mystery Night - in our community for 70 people. I don't know what special things I can use for table favors or ambiance. I cannot put anything on the walls of the Sales Office, where it is being held. I would like something really neat for people to see on the tables without taking up a lot of room. HELP! (11/14/2005)
By Kat Rahe
RE: Class Reunion Party Favors
I think that the CD with music from the graduation year is a great idea, and inexpensive to do! You can customize the label with the school mascot graphic or a photo of the front of the school. (07/15/2006)
By Kim
RE: Class Reunion Party Favors
My profession is event planning, so I feel I have to be on my "A" game when it comes to planning my own class reunion. Anyway, for one of the favors I am scanning the cap and gown pictures from my yearbook and I am using them for STUDENT ID'S. Their guest will get Visitor Passes. Just one of my ideas. I want it to be FUN. (03/29/2007)
By Visions
RE: Class Reunion Party Favors
I am currently chairing my 25th High School reunion. Our party favor is a CD we are putting together to show as a presentation. We ask everyone to download snapshots of their high school years and any special moments in their lives since 1978. They can download for free on photobucket.com. One of the committee members is then retrieving those pictures and putting it to music to show at the event. Then everyone leaves with a copy. (04/21/2007)
By Krista
RE: Class Reunion Party Favors
I am currently planning our 30th class reunion and we are creating a cd of music from our high school days and I contacted a gourmet cookie company about ordering either a tiger face cookie or tiger paw to be included in a gift bag for the classmates. (01/11/2008)
By Gwen Moore
I am looking for ideas for class reunions favors.
Jo Ann from WV
---
RE: Class Reunion Party Favors
The M and M company has just come out with "personalized" M and Ms. They can put pictures and/or writing on them. They are really cool! Check out their website. (Class of____) as a suggestion. (06/25/2008)
By catastrofy
RE: Class Reunion Party Favors
We had plastic megaphones (non-electric) in our school colors. They were used as centerpieces, set large side down and a cheerleader's pompom stuck in the top in school colors again. Very cute. (06/27/2008)
By nancycorinne
I am looking for ideas for a "useful" party favor for my 25 year class reunion.
By GinaSett from Boothwyn, PA