Decorating Wood Furniture
Does anyone know how to make furniture similar to the piece pictured? I would like to make one as a gift for a friend's birthday. Thank you.
By Mar Apl from Greece
Answers: Decorating Wood Furniture
Read answers for this question below.
This looks like something my 25 yr old daughter would want in her apartment. I think you could achieve the look with some wallpaper. Taking off all the knobs, I would start with a light sanding. Using wallpaper paste will stay longer than prepasted.You can also purchase a spray glue if you want instead of the paste. If not, I think there are some mural stores on Etsy. You'll have to show us the results! (Check out this on I saw on the net too!)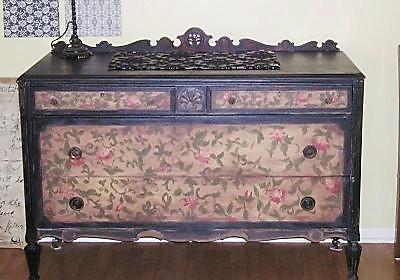 Do you mean make the whole chest/piece of furniture, or do you wish to decorate it in this fashion?
The style is French and it involves crackle glaze, pictures cut from magazines and stencilling, used with a pastel paint it can be very effective. Hope this helps.
You need to measure it all over, the width, sides & the drawers & how tall it is, then get the kind of wood you want to build it with, good luck.
Answer This Question
Add your voice to the conversation. Click here to answer this question.
Related Guides
Related Posts