Inexpensive Cosmetic Bags
Do you go to discount or department stores to find a make-up bag to carry your make-up in your purse but don't want to spend an arm and a leg? Try an office supply store and you can find decorative pencil pouches with zippers and other compartments to fit your lip gloss, lotions, contact lens case, comb/brush, foundation compact or anything you carry to keep looking good.
I found one for $0.50 and it was very cute and had four pockets (2 zipper pouches and 2 mesh pouches) and keeps all of my cosmetic items organized and easy to find! It folds too and is easy to keep in my purse.
By CJ from Indianapolis, IN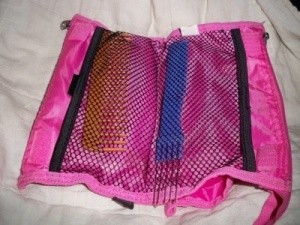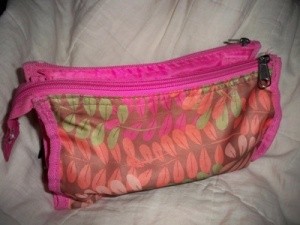 Feedback
Read feedback for this post below. Click here to post feedback.

By
06/20/2012
I have used cosmetic bags, instead of cosmetics (except for one). I have one for odds and ends, one for my hair clips, one for pens and other writing things (note pads,and stamps), and other assorted things.

By
06/20/2012
My goodness, this is so nice. With pencil pouches the cosmetics can be seen right through the mesh side. Without fumbling around plus they can be drying out with the ventilation mesh... Thank you for sharing this.

By
06/20/2012
Quite often you can find cosmetic/other small zipped pouches of various shapes, color selections at thrift shops... I know - some of you might not want pre-owned but I always check that section when shopping at the thrift shops and have found brand new , unused ones for 50 cents to 2.00!

The ones shown in the pic are all brand new (found at thrift shops) except for the heart shaped one.. I have different uses for them, e.g. - cosmetics, scissors,thread, crochet hooks and other small crafting and sewing supplies, earrings/jewellery, new ones make a great way to wrap a small gift for a friend, etc.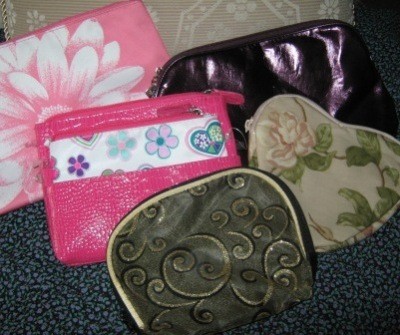 By
04/14/2011
Although I don't bother with cosmetics, I love this tip! I repurposed the "p'leather" carrying case for the PDA-type device I fried awhile back. It's the perfect size to separate my stamps and a few other easily-lost items from the bottom of my huge purse.

By
04/09/2011
You can also get them at dollar stores & I have also received several through freebie offers.
Post Feedback
Add your voice to the conversation.
Related Guides
Related Posts