There are many fun ways to make creative magnets. This guide is about homemade decorative magnets.
Ad
---
Solutions: Homemade Refrigerator Magnets
Read and rate the best solutions below by giving them a "thumbs up".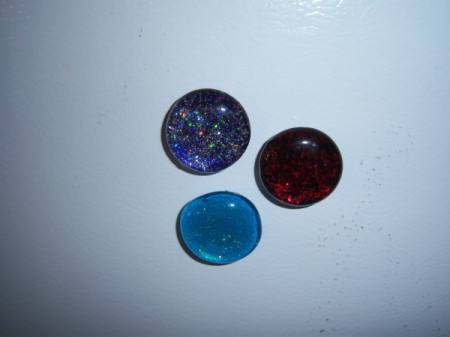 This tutorial teaches you how to make beautiful glittery glass magnets using a few materials and nail polish you probably have lying around your house.
You can replace the epoxy with super glue, but I prefer the epoxy for its strength. Since the other supplies are usually sold in bulk, you can make dozens of magnets in a small amount of time. These make great gifts, but you'll want to keep a few for yourself!
Approximate Time: 30 minutes (not including drying times)
Yield: 20+
Supplies:
1 bag glass mosaic "globes" ($4)
1 tube epoxy ($4)
1 bottle glitter nail polish ($2)
1 bottle solid color nail polish ($2)
1 package magnets ($3)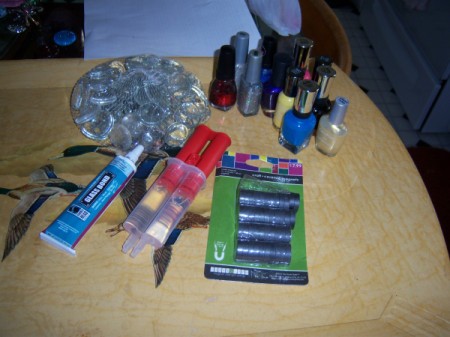 Ad
---
Steps:
Paint the back of a glass globe with 2 to 3 coats of glittery nail polish, depending on how much glitter you want.
Paint over the glitter nail polish with 3 coats of solid colored nail polish. Let the nail polish completely harden.
Mix epoxy. Dab the magnet in the epoxy and attach it to the back of the globe.
Let epoxy dry completely before use.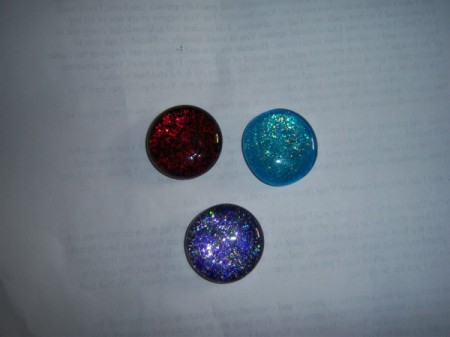 A good use for those business cards that are attached to magnets. You can cut a photo to size and glue to magnet and place on your refrigerator.
By Kate from Gainesvile, FL
Make a nautical themed fridge magnet for a beach home and bring the seaside feel right into your kitchen. Use them as a fridge decoration that pops, or stick your child's drawings of your summer holiday to your fridge and create some special memories.
Approximate Time: one hour, including drying time
Yield: one fridge magnet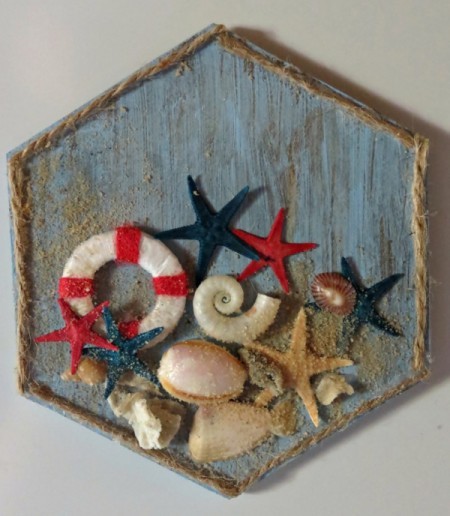 Supplies:
hexagon-shaped natural wooden coaster
selection of small sea shells; sea stars and pieces of broken coral
1.1 in 2mm thick plastic spacer
two small square craft magnets
powder blue acrylic paint
white paper raffia
red crochet thread
natural twisted jute twine
teaspoonful of sea sand
paintbrush
Super Glue
hot glue gun and glue sticks
quick-drying craft glue (such as Bostik Clear)
Heritage Spray-on contact glue
quick-drying matt spray varnish
Ad
---
Steps:
Give the front and sides of the coaster an uneven wash with the powder blue paint and allow to dry thoroughly.
Make the life buoy:
a. Cut a piece of paper raffia and glue the one end to the back of the spacer. Twist the raffia tightly around the spacer and secure the second end at the back again.
b. Add four red sections with the crochet thread. For the first one, cut a piece of red thread and twist the thread around the spacer five times. Pull the thread tight around the spacer and end it off with a knot at the back. Neatly cut off the loose ends of the thread. Repeat three more times, ensuring that the red parts of the buoy are evenly spaced.
Super glue the two magnets to the back of the coaster and allow to dry thoroughly before turning the coaster over.
Use hot glue to frame the coaster with the twine, and neatly cut off any protruding edges.
Hot glue the life buoy and a few bigger shells in place.
Add smaller shells and pieces of broken coral to complete the arrangement.
Spray parts of the coaster with Heritage Spray-on contact glue and while the glue is still wet, sprinkle sand over the coaster. Allow to dry thoroughly.
Spray the coaster with the spray varnish. Remember to work in a well-ventilated area when spraying the varnish. Allow to dry and add a second coat. Allow to dry and whoo-hoo! Your nautical coaster is ready to be used!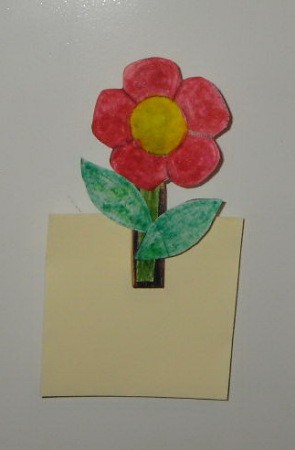 Easy and affordable spring refrigerator magnet that holds a note pad or a cherished photo. A darling gift for children to make and give as gifts for Mother's Day or Grandparent's day.
Approximate Time: 20 minutes
Yield: 1
Supplies:
1 strong straight piece of magnet
glue (or hot glue gun with stick)
1 clip art flower picture or coloring picture
1 stem clip art
markers
1 pair scissors
1 clothespin
ruler or straight edged item
white or green paper for stem
Steps:
Glue the magnet on the back of the clothespin.
Color the clothespin with the markers.
Make a stem by measuring the clothespin and using a ruler or straight edged object to make lines. Cut out stem and color if necessary.
Color and cut out the flower and leaves.
Then glue the stem to the bottom edge of the clothespin with the clip part pointing towards you.
Now glue on the flower and the leaves so one is on each side of the stem. Allow to dry.
Put note paper or photo into clip end of finished flower magnet. Enjoy or give as a gift.


By gem [150]
This tip should have been thought of at the beginning of the year but, oh well.
Don't throw away old theme calendars, some of them have thumbnails on the very back page that make perfect fridge magnets. Cut each thumbnail out individually and place on a magnetic sheet (the kind that you buy at the dollar store). If you place them close together you can get a lot of magnets out of one 5 x 7 inch magnet sheet. Great for someone who wants small gifts to enclose as tuck-ins
Source: me, I have done this for years, then I sell them at craft sales for $1 each.
By Leanne from Williams Lake, B.C.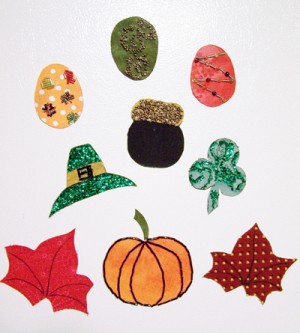 What to do with those advertising magnets; that is the question? Let the kids make holiday decorations for the refrigerator out of them; that is the answer!
Approximate Time: 10 minutes
Supplies:
advertising magnets or thin sheet of magnet
fabric or cardstock for holiday decor
tacky glue
fusible web or spray glue
heavy scissors
iron
seed beads
glitter
yarn
cardboard for pattern
pencil
patterns or draw your own
Instructions:
Either draw your patterns (you could print out the photo for my patterns): Easter eggs, shamrocks, elf hats, pot of gold, fire crackers, Uncle Sam hat, turkey, pumpkin, fall leaves, jack-o-lantern, black cat, ghosts, you get the idea. Anything will work just make sure you have the fabric or cardstock to match the character.

Perhaps you want to put a child's face on a magnet. No matter what shape you are making the directions from here on out are the same.

You can use spray adhesive instead of fusible web, it works wonderfully and no one will get burned. It is a little messy, but if you lay paper out and spray the sheet of magnet, apply fabric, let it dry and then cut out your shape it isn't bad. You will then trace your pattern on your magnet with ink and cut inside your line.
Cut out his or her face, or what ever shape you are working with. Trace it onto the fusible web and cut it out leaving about 1/4 inch around the pattern. Fuse this to the wrong side of your fabric; cut out on the lines. Now peel the paper off and fuse to a magnet. Be careful if your magnet has writing on it, place paper towel between your iron and the magnet. Remember it doesn't take, but a few seconds to fuse the web. After you get it all fused together, cut out the shape and you are ready to decorate.
Using your tacky glue draw lines and apply your beads, yarn, glitter, or whatever. If you use glitter you will want to seal it after it is dry with a couple of coats of thinned tacky glue or it will continue to shed. Use fabric pens, but be sure to test them of fabric before using on your magnets some pens spread and you don't want to ruin your child's work.
Note: Don't glue on large beads or rocks as the magnets aren't strong enough to hold them.
Make a set for each holiday and you can change them with the seasons.
By Ann from Loup City, NE
For the prettiest magnets use vintage earrings or brooches. I cut off the pin back on the brooches and the clip-on part of the earrings. Attach a small magnet with E-6000. I first noticed this idea at a craft show. They were selling for $5.00 and up to $10.00 each.
By Janette from Parkersburg, WV
Send a kiss to someone you love by way of these cute little critters. With just small pieces of felt and some magnets, your love will soon be on the way. They make a cute gift for any occasion. Give one as a magnet or add to the top of a gift. Stitch a straight small branch to the back of one and include it in a bouquet of flowers. You can also make a heart tag from card stock and write a love note on it such as, "I'm udderly crazy about you" for the cow or "Sending a deer one a big kiss" for the reindeer. Thread a string through the top of the heart and hang it from the arm with the magnet. This would also be a great project for an older child to make for grandparents.
Approximate Time: approx. 1 hr.
Supplies:
felt, assorted colors
wiggle eyes
round button type magnets: 3/4 inch and 1/2 inch
needle and assorted color threads
yarn - lion
pom poms - bunny and Grinch
pipe cleaner - snowman
small red and black beads - snowman
black wood bead - Grinch
Instructions: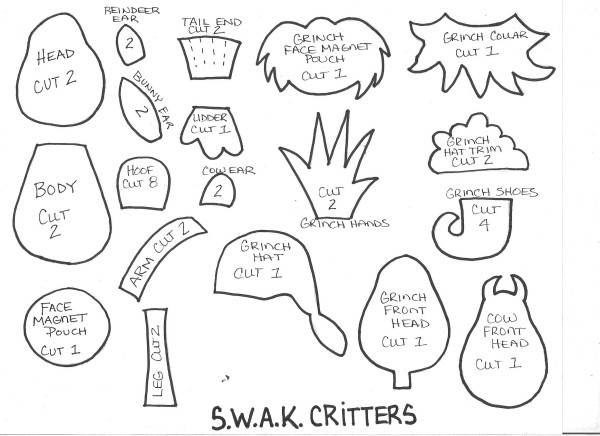 For the most part, all critters are assembled in the same general manner. I will first provide the general instructions, followed by any specific differences in each. They are all hand sewn with simple stitching and if you need to trim at all, it is easy to do with felt. Do as much detail sewing as you can before you stitch any body parts together, such as facial features, hearts, tails, tummy pads, etc. This will help leave the back with a cleaner look. Wait until the end before gluing any items on, such as pom poms and eyes.
The first body piece you will sew is the circle for the front magnet pouch on the face. This is sewn to one head piece, which will then become the face. Sew this piece on only half way, then insert magnet and finish sewing closed. I used the larger magnet on the face and the smaller size in the hand. I chose to use the larger magnet on the face because it fits in the pouch well and gives the front of the face a full look, especially for the Grinch. You can choose to use only