Propagating Hydrangeas
If you love hydrangeas, as I do, now is the time to propagate them. If you don't have one, maybe a neighbor would let you take a few cuttings. It won't harm the existing plant, so don't be shy in asking. In about 6 weeks you'll be able to plant the cuttings in their permanent site.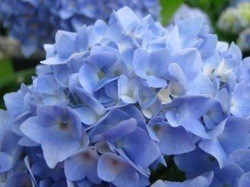 I took my cuttings from a Macrophylla Hydrangea. They are very adaptable, I have one planted on the north side of my house (shady) and one on the south side (sunny) and some in dappled sun, under trees. They all bloom beautifully! I have propagated all my hydrangeas this way, but I recently read you can place the cuttings in water to root them. You might want to try that.
Approximate Time: 1/2 hour
Supplies:
hydrangea cuttings
sphagnum peat moss
vermiculite
perlite
rooting hormone
paper plate or scrap cardboard
6 - 4 inch pots
tray to place pots in
watering can
water
scissors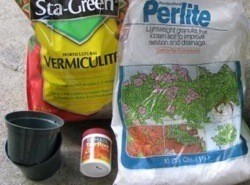 Instructions:
Prepare the growing medium first. Mix equal parts of peat moss, vermiculite, and perlite.
Put mixture into 4 inch pots, add water to moisten.
Place the prepared pots on the tray.
Take 6 cuttings from the newer green growth, preferably without flower buds, about a quarter inch thick and 6 inches long. Gently strip all but the top leaves. (Too many leaves make the cutting strain to feed all those leaves.)

Pour about a tablespoon of rooting hormone on a paper plate (read label for any precautions). Wet the bottom inch of each cutting, roll the wet part of cuttings in the rooting hormone. Poke your finger in the peat moss mixture about 2 inches deep, to form the hole for your cutting. Place each cutting into holes and push dirt back into place.

Pour a little water in the tray. (You could cover in plastic if desired) I don't cover; I keep in a shady spot for about 6 weeks, water to keep moist but not drenched.
After 6 weeks, acclimate the plant to where you want to plant it. Check to see if there seems to be enough rooting system to plant your cuttings. If so, plant in groups of 3. (3 cuttings should be sufficient to form a nice hydrangea) Place a marker where you planted it, they lose their leaves in winter and you might forget about it.
Add your voice! Click below to comment. ThriftyFun is powered by your wisdom!
Add your voice! Click below to comment. ThriftyFun is powered by your wisdom!
Related Content
In This Guide
Categories
Guides
More
Categories