Baby Birds Just Hatched
Last year a bird built a nest on top of the electrical box, which is just under the gutters. This year another bird claimed it as her home and today I found the new babies just hatched, how cute.
By Peggy B from Cortland, OH
Feedback
Read feedback for this post below. Click here to post feedback.

By
05/19/2009
Glad ya'll enjoyed my photos, they were robins. I didn't realize it only took about 3 weeks from time they were hatched till they left the nest. I keep about a dozen feeders out and would swear they are still close by, I recognized mamas cry this morning.

By
05/19/2009
Do you know what kind of bird they are? Every year I have blue jays hatching in my lemon tree and they make a lot of noise, but I don't mind. This year, however, I had a whole community of crows in the trees in the back of my house and they had babies. I love birds, but they really make a racket. They took over my yard. The babies follow the mother around squawking at her non-stop, and they take baths in the dog's pool. I guess they like that better than the bird bath. My cat actually hides under one of the tables. I guess she doesn't want to take on any crows. It's actually funny, but cute. They're about ready to leave now.

By
05/18/2009
Here they are at 2 weeks, I went out to get another shot and they flew out of the nest.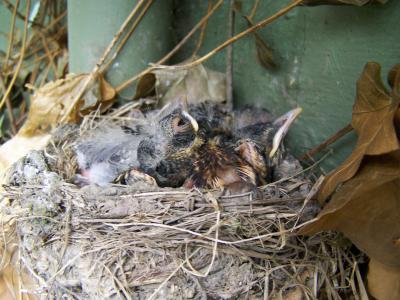 Post Feedback
Add your voice to the conversation.