Previously House Trained Dog Peeing in the House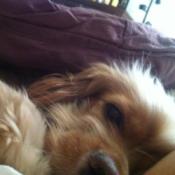 I need some helpful tips and ideas on what to do with my dog! He's very attached to me and follows me everywhere. When I'm gone at work or just leave the house, he gets mad and pees on the corners of beds, couches, and on the floors. I live with my parents and sisters; this dog gets more attention and love than any other dog I have met.
When I'm not working I'm home and we go for car rides. I take him to Petsmart and play outside. Nothing I do is good enough for this dog and the peeing is getting worse, no matter how many times I let him out to use the bathroom. My family is sick of it and I don't wanna get rid of him. He's my baby, but if something doesn't change we're both going to be kicked out.
By Leslie
Answers: Previously House Trained Dog Peeing in the House
Read answers for this question below.
First, make sure there isn't an underlying medical condition. Then, if there isn't, you should try to watch some episodes of "the Dog Whisperer", or get his book from the library/store & practice what he preaches.

It sounds like the biggest problem is you are treating him like a baby & creating so much anxiety in him that he can't stand it when you leave him. The more you do this, the worse he's going to get & it's not fair to him or anybody else.

You can still love him, and show him how not to be so anxious when you aren't around.

Crate training isn't a bad idea either. If you do it the right way, it becomes a soothing sanctuary that he feels safe in.
I'd take him to the vet because there may be a reason for this. I don't see how dog training has anything to do with peering in the house. Just my opinion.
I agree with Lisa. Crate train him. I had this problem with my little dog when we moved the last time. He got so mad at me for not paying attention to him that he began pooping on my floor during the night. I work at home, so it's not like I wasn't with him always. I found that he'd become way too spoiled and had developed an entitlement mentality. So, I made life stricter for him. He no longer got his fluffy pillows and human scraps and other extra-nice things. I wasn't mean to him, but he lost a lot of privileges and even had to locked up at night. Then I weened him into being tied on his leash (inside) at night. Until, eventually, no more accidents and I could trust him again.

I know we love spoiling our puppies - But sometimes is spoils them. God bless you, your family, and your puppy. Hope this helps and wish you the best!
We used to have this problem also..til we took our furbaby to the vet and he needed medication to control it, so your furbaby might be having problems and cant help what he is doing. We know by experience, so maybe a visit to the vet will help.
Crate train the dog.

When you go out put the dog in the kennel. When you come back, take him out to pee or poop. After a while of no accidents like this, you may be able to try it without kenneling him. Either way, this is the best solution so that you both don't have to be without each other.
Answer This Question
Add your voice to the conversation. Click here to answer this question.
Related Guides
Related Posts