August 21, 2009
Search on Google and find a website that sells them. They usually have a toll free number you can call. You need an instruction sheet.
By Michelle Landreth 17 67 Flag
August 31, 2009
Toss it in the nearest garbage can and you'll be a lot happier! I've had several given to me as gifts. They do not work!
February 7, 2010
First, a link to the manual I found elsewhere on this forum: http://www.sewwhat.net/millie/Manuals/CEX300k.pdf
Even though this was a "SINGER" machine it's not listed in their manuals, but I found this link on another post on this site. Hopefully this image that I made will make up for the inadequate one in the manual
The numbers in the images match the reference numbers below:
<b>1. Load the Bobbin:</b>
<ul><li>Pull out the peg that holds the spool on.</li>
<li>Be sure the spring is on first.</li>
<li>Load the spool so the thread comes off the top...counter clock-wise.</li></ul>
<b>2. the Bobbin guide</b>
<ul><li>Put the thread UP through the guide hole in the little plastic guide.</li></ul>
<b>3. The Tensioner</b>
If disassembled, assemble the tensioner:
<b><i>Assembly</i></b>
<ul><li>Onto the shaft, put on the two dished tensioner disks so that they meet near the shaft to form a pulley.</li>
<li>Load the spring on the metal sleeve and load the spring/sleeve combination onto the shaft with the wide end of the spring pressing into the the outside disk.</li>
<li>Turn the knob onto the threaded end of the shaft and tighten.</li></ul>
<b><i>Threading</i></b>
<ul><li>Pass the thread OVER the tensioner and BETWEEN the two tensioner disks.</li>
<li>DO NOT WRAP the thread around the tensioner.</li>
<li>If the stitch is not tight enough, turn the knob clock-wise to put more tension on the thread.</li>
<li>If the stitch is too tight or breaks, turn the tensioner knob counter clock-wise for less tension.</li></ul>
<b>4 The Needle Guide</b>
<ul><li>Pass the thread sideways from the tensioner through the metal guide.</li></ul>
<b>5 The Needle</b>
<ul><li>From the needle guide, pass the thread through the needle, back to front.</li>
<li>There is a needle threading tool that can be bought for this, to make this task easier.</li>
<li>Pull out a tail of 3-5 inches (7-12cm) of thread through the needle</li>
<li>After stitching be careful not to pull on the unsecured thread or you will pull the stitching out.</li>
<li>Use the manual wheel to turn the needle out of the work</li>
<li>carefully pull extra thread off of the spool and snip the work free from the rest of the spool.</li>
<li>Secure the ends of the stitch by pulling the end of the thread back through the last loop so that it will tighten on its self.</li>
<li>Trim off any excess thread.</li></ul>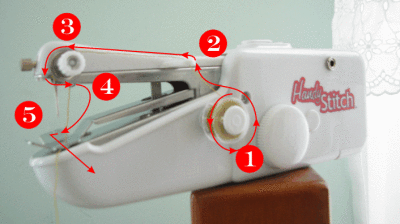 February 7, 2010
Here's another image that should help, in case you took the tensioner apart and don't recall how it looked to begin with ;)
The numbers in the images match the reference numbers below:
<b>1. Load the Bobbin:</b>
<ul><li>Pull out the peg that holds the spool on.</li>
<li>Be sure the spring is on first.</li>
<li>Load the spool so the thread comes off the top...counter clock-wise.</li></ul>
<b>2. the Bobbin guide</b>
<ul><li>Put the thread UP through the guide hole in the little plastic guide.</li></ul>
<b>3. The Tensioner</b>
If disassembled, assemble the tensioner:
<b><i>Assembly</i></b>
<ul><li>Onto the shaft, put on the two dished tensioner disks so that they meet near the shaft to form a pulley.</li>
<li>Load the spring on the metal sleeve and load the spring/sleeve combination onto the shaft with the wide end of the spring pressing into the the outside disk.</li>
<li>Turn the knob onto the threaded end of the shaft and tighten.</li></ul>
<b><i>Threading</i></b>
<ul><li>Pass the thread OVER the tensioner and BETWEEN the two tensioner disks.</li>
<li>DO NOT WRAP the thread around the tensioner.</li>
<li>If the stitch is not tight enough, turn the knob clock-wise to put more tension on the thread.</li>
<li>If the stitch is too tight or breaks, turn the tensioner knob counter clock-wise for less tension.</li></ul>
<b>4 The Needle Guide</b>
<ul><li>Pass the thread sideways from the tensioner through the metal guide.</li></ul>
<b>5 The Needle</b>
<ul><li>From the needle guide, pass the thread through the needle, back to front.</li>
<li>There is a needle threading tool that can be bought for this, to make this task easier.</li>
<li>Pull out a tail of 3-5 inches (7-12cm) of thread through the needle</li>
<li>After stitching be careful not to pull on the unsecured thread or you will pull the stitching out.</li>
<li>Use the manual wheel to turn the needle out of the work</li>
<li>carefully pull extra thread off of the spool and snip the work free from the rest of the spool.</li>
<li>Secure the ends of the stitch by pulling the end of the thread back through the last loop so that it will tighten on its self.</li>
<li>Trim off any excess thread.</li></ul>