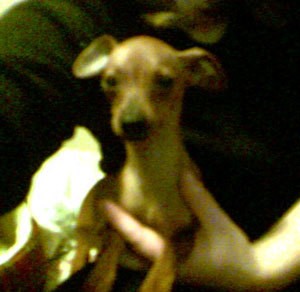 I was told that he was a Min Pin, I am thinking he's a chihuahua mix.

Shae from Spokane
By shae
Ad
---
Recent Answers
Here are the recent answer to this question.

By Arianne C.09/25/2013
He looks like a prague ratter. He looks exactly like our boy who is from the Czech republic and is a Prague ratter :)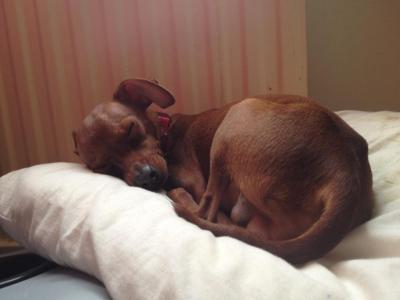 By Cam S.09/07/2013
What do you think my pup Bambi is min pin, Chihuahua or mix? I bought her as a chi but thinking she's a mix or all min pin after researching but would like opinions.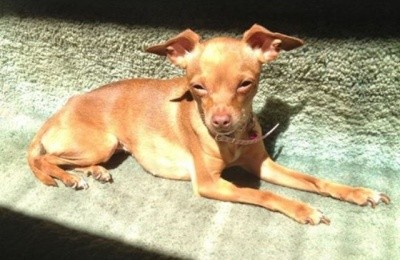 By RescueMom12/11/2011
We recently rescued what we were sure was a chi mix. His DNA test revealed that he is a min pin mix. No chi at all! He weighs 8 lbs full grown and is bright, bold and highly trainable! We have no idea where he got his merle coat.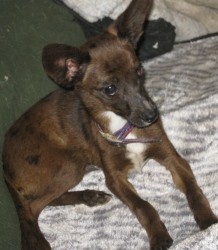 By Vinhasaminpin08/26/2009
I know this thread is a bit older but thought I would comment since I recently have acquired a puppy myself. Her name is "Roo" and she is a real sweetie. Very playful and smart. Just about have her pottie trained and she sits, stays and go's to her bed and stays there when we say "Bed". We went to the house where the puppies were and met the Mom. She is a AKC registered Min Pin, the dad is a MinChi, half and half. So we were told that she was 3/4 MinPin and 1/4 Chi. But the more I look at photos of Min's the more I realize that Roo has almost no Chi traits at all. The breeder or more correctly, the lady who's Min had the pup's failed to dock the tails or crop the ears of the puppies so we have a natural Min. Which actually we are happy about because Roo's tail curls up over her rear so beautifully and her ears are great the way they are with one sticking straight up and one bent over a bit.

To the owner of the black and brown pup, looking at your photo I would say that you have a MinChi. The shorter legs would be the Chi give away but then not necessarily because that is still to young of a dog to tell if the legs are going to get longer. The rest of the puppy looks dead on Min Pin.

The red one at the top looks like a MinChi as well.

I found a growth chart for minPins and it showed how big they would get by current height according to age. My Roo is currently 9-9 1/2 at the withers and 12 weeks old. The chart said that she would grow to 11 or 11 1/2 inches. Ive never seen a Chihuahua that tall. So I guess that would be one way to figure if you have a chi or a min. : ) good luck. Shoot, by now your pup is full grown. Can you post a recent pic and if you ever found out for sure? That would be cool. Take care all.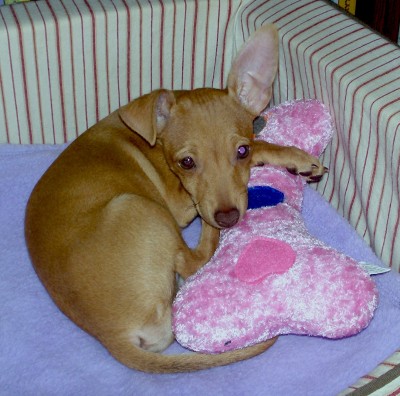 By Tisha (Guest Post)02/21/2009
I think you are right. I just got one and he looks the same but is black. They are sweet dogs.

By Teresa (Guest Post)01/19/2009
I have a Min Pin and Chihuahua, Given to me at 4 1/2 weeks old from my Son All Black She is 7 Months old 4 1/2 pounds long legs long body short face big ears one stands up and one bent over. Love her to death. Crissy is her Name. So sweet and can be a brat to.

By Angela (Guest Post)12/18/2008
I have the same question! My mom purchased what was said to be a full blooded chihuahua, he now weighs 5lbs and still has short legs, but i swear he looks just like some mini pin mixes i've seen. Our vet said she thinks hes a chihuahua, i say otherwise, the breeder has him CKC registered, and can get into a lot of trouble if hes not full blooded like she told us he was, i contacted her on it and she promised me he's full "stock" and would send me pics of the daddy and mom (which could be faked) needless to say she never replied after that with pics or anything. What do you guys think?? He is now 6 months old and is long, short leg, one ear down, one up, and has a long nose still. xravenezzx @ aol . com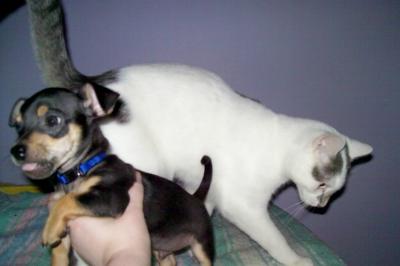 By lisa (Guest Post)10/22/2008
Your dog is Min Pin and Chihuahua I have one just like it female. She is 3lb and 10 months old.


By Nicole (Guest Post)10/11/2008
I have a min pin chihuahua mix and she looks just like your dog.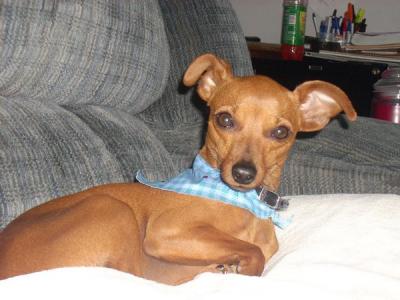 By Megan from Spokane (Guest Post)09/19/2008
I have a Mini Dchshund and I can tell from his face that there is a bit of Mini Dachshund in him :)

By Lourdes (Guest Post)09/14/2008
I was also told that my dogs were min pins. They are so skinny and have big ears.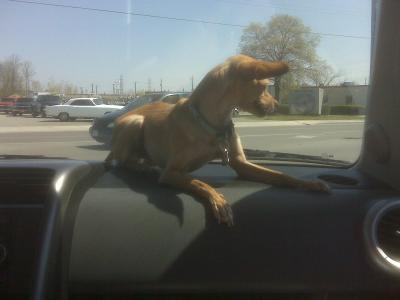 By Margie Sotolongo08/28/2008
hmmm my girl Nelly is a chi-pin ans she looks a lot like your pup. Her mother is a blond chi and father is a beautiful red mini-pin. Nelly is full of energy and at the same time very loving and loyal.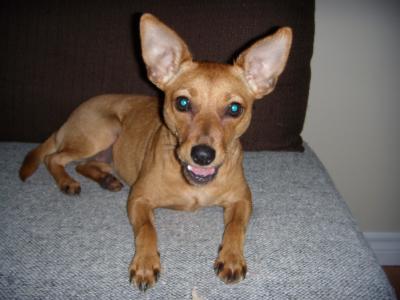 By Margie (Guest Post)08/28/2008
I have a pup that looks a lot like this she is 1/2 Chihiahua and 1/2 mini pin. Very very active pup but also very loyal and loving!

By davide (Guest Post)08/14/2008
He looks like a young Italian greyhound -- google them.

By melissa w. (Guest Post)08/07/2008
I wouldn't listen to the people that are saying she is a chi. I have a female red min and she looks exactly like your boy. he has long legs and the long skinny face and features of a min pin. Take him to a well known vet and get their opinion. This picture was taking two months ago. mwagonerj AT yahoo.com

By jeannette (Guest Post)07/06/2008
I have a chipin (mix breed) and he is 4 months old and he is the baby of the family. Sometimes he doesn't listen what do? He eats human food not dog food. Help me?

By ChihuahuaGuy (Guest Post)05/21/2008
That's a minpin. But they all come from the same small Spanish, German and English Terriers. Ratoneros, Manchesters, Min Pins were taken to Mexico on board ships as raters in the early days.

But yours definitely looks like a min pin to me. But my chihuahuas look like min pins.

By Amy (Guest Post)02/03/2008
It looks like a red minpin. They come in Black & Tan, red, chocolate and blue. He's adorable.

By Sally E. Greer01/27/2008
She has the min pin face but she has other colors on her min pins only come in red or black, I would say she is min pin cross with chihuahua as we had an accident breeding of such, they are cute puppies and we got 250$ apiece for them, but wouldnt do that breeding again. Like I said it was an accident. More then likely her ears will stand up once she is done teething.

By Patricia Cravatta (Guest Post)01/27/2008
I have a minpin and a chi mix and yours looks like a minpin. I dont see any chi in there. But he is adorable and if you dont want him I will take him-LOL

By cathy (Guest Post)01/27/2008
I have a min pin/chihuahua mix and he looks like mine. The legs and body are longer. Very cute face like yours.

By Danialle [3]01/27/2008
I would say, What difference does it make?
He is ADORABLE! Just love him!

By Anna [1]01/24/2008
Going to try and post my sister's chihuahua, and you judge, kinda look alike I'd say.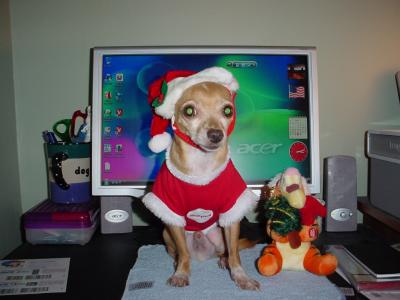 By Sr. Sunnie (Guest Post)01/24/2008
Min Pin, I would say!
Answer This Question
Add your voice to the conversation. Click here to answer this question.