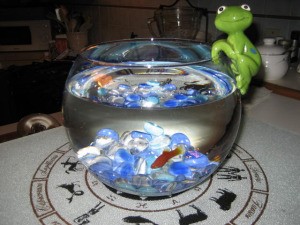 I bought my grandson "a" as in one, goldfish from Walmart the day before Easter (as in end of April). Now it has had its 2nd load of babies. 4wks ago it had 10 and now on July 4th we found 16 new ones. My grandson is now in love with his 26 babies. How is she doing this on her own? Will she keep doing it? The fish's name is Easter Fish. Thanks.
By Barb
Ad
---
By Jill 4 738 07/09/20110 people found this helpful
She apparently came pregnant; and has since enjoyed some "hanky panky" with one of her offspring. She looks more like some sort of guppy to me, and they're prolific breeders. She will continue to produce babies as long as she potentially has contact with male fish.
By Jill 4 738 07/09/20110 people found this helpful
By the way, she looks more like a molly than a goldfish; she is pretty! Their life span is about 2 years.
By captain_reno 2 1 07/10/20110 people found this helpful
Well, if they keep having babies, and you decide you don't want them all you should donate them to an animal fundraiser for prizes or even a locally owned pet store.
By Stephanie 149 248 07/10/20110 people found this helpful
This looks like a Sunset Platy to me. Both Platies and Mollie are live bearers and are often pregnant when you get them from the pet store. Females can hold sperm for 6-8 months before giving birth. They tend to have them in several small litters to increase the chances of the babies surviving.

Mollies and paties are both great fish, but they will eat their own young. If you want any of the babies to survive (and keep your grandson happy), you'll need to move the mother to a different home or provide a lot of plants and such for the babies to hide in. Mollies should also really be in a larger tank (1 gallon per inch of fish) and have a filter and have heat and air sources. You can usually buy a basic 10 gallon setup fairly cheap, or even better, ask around. A lot of people have the basics sitting around in their garage or attic.

Here's a good link with more information: http://www.tetra-fish.com/forums/showthread.php?t=1696
By Ravi 1 07/11/20110 people found this helpful
The photograph you posted is of a swordtail or molly, and not a goldfish. Both of these give birth to young ones directly. Goldfish lay eggs which may or may not mature into young ones in an aquarium. But this only if the fish is already pregnant.
07/11/20110 people found this helpful
It's hard to tell in the photo because you can't see the details of the tail fin but if that is a goldfish it's a Comet Goldfish. If the tail fin is shaped more like a fan (slightly round out) it's probably a platy but if the tail fin looks like an indented V it's a comet. In any event, if it keeps having babies you can also talk to the pet store to see if they will take them and possibly for a little cash or in exchange for some fish food. ;-)
By Aurelia 2 09/08/20110 people found this helpful
Just make sure this is a goldfish because this picture does not look like a goldfish it looks like a molly check it out! Then look for a new aquarium for the big family.....