A few weeks ago, you asked about craft projects from materials bought at thrift stores. I broke my leg in February, and then got a staph infection in the bone, so I had lots of sitting-around time to knit. This is my scrappy knitted throw. My yarn stash from the Burley, Idaho Deseret Industries was in our storage trailer and I couldn't get to it, so I sent my husband and just told him to bring pastels. I finished this last week.
I had trouble with the edges curling, so I requested help from your readers. Several told me to put a couple of rows of single crochet around the edges. It worked! The second photo shows the edging. The throw adds lots of color to the living room. I enjoyed the way this came out so much that I plan to knit a simple sweater in autumn colors as soon as I finish the crocheted cardigan I'm on now.
There is no special pattern. I cast on 158 stitches and knitted in k2p2 for an inch and a half. After that it was knit one row, purl one row. When I ran out of a color, even in the middle of a row, I tied another one on and kept going. It is 5 feet wide and 6 feet long. It was fun to choose colors that I thought would lead the eye to the next stripe. It was pretty much stress-free. I wasn't trying to win the House Beautiful award; just relax and get better.
Thanks for all you do with the Thrifty Fun website. I read every issue and have saved many of the craft projects for later.
Here's the detail of the edging. I crocheted three rows on three of the sides. The ribbing didn't curl, so I left it alone.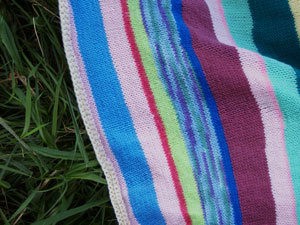 Coreen from Rupert, ID