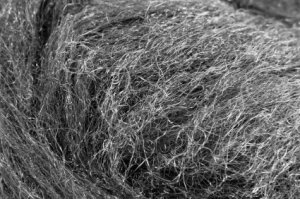 If you are creative, there are ways to save on just about any household cleaning aid. This is a guide about saving money on steel wool.
Ad
---
Solutions: Saving Money On Steel Wool
Read and rate the best solutions below by giving them a "thumbs up".
You know those not-so-wonderful steel wool pads that after a few days become rusted and yucky. Well after each use, add a little liquid soap (if you want to but not required), place it in a small freezer bag, and freeze it. When you take it out to use it, it will be like new and this will make them last for a lot longer. I get 5 to 6 uses out of them before I have to throw it away.
By pambela from Beaverdam, VA
Tips for saving money on SOS pads.

I like to use a clean SOS pad every time I need one but often find that they are too large to really use up each time. I pre-cut all the pads in the box into quarters, using scissors. Each piece is a good size for my needs and I can toss the used quarter away without feeling it is wasteful.

By Robbie from Hamilton, Ontario, Canada

Post your ideas below.
I am probably one of the most "thrifty" people I know. My husband calls me cheap - LOL When I need to use a scrubbing steel wool pad, I cut them in half or quarters first.

There is a two-fold reason for doing this. One, it sure cuts down on the amount of steel wool pads I buy. They ALWAYS begin to rust before they are used up. Two, it seems to clean and sharpen my scissors also!

By Sue
Give a "thumbs up" to the solution that worked the best! Do you have a better solution? Click here to share it!
Archives
Thrifty Fun has been around so long that many of our pages have been reset several times. Archives are older versions of the page and the feedback that was provided then.
To get the longest use out of a steel wool soap pad (like Brillo), wrap it in a small piece of aluminum foil and store in freezer after scrubbing your pans. I don't even remember the last time I bought a box of these pads because you can use one right down to the last wire without any rust at all. When the soap runs out, just use your own.
By Cakeluv from Henry, TN
Really, how often do we use a steel wool pad to clean? But when you need one, you need one. My tip: cut them in half for small jobs. When you are done, forget putting it in the sink to dry, it will rust. Instead, put the steel wool pad in a zip lock bag and freeze it. It will be as good as new when you need it sometime in the future.
By Teresa from Vine Grove, KY
---
RE: Store Steel Wool Pads in Freezer
What an awesome idea. (09/11/2010)
By merlene
RE: Store Steel Wool Pads in Freezer
How did you ever think of this? Great idea that I'm going to use from now on. (01/23/2011)
By fionarx