Solutions: Making a Rag Holder
Read and rate the best solutions below by giving them a "thumbs up".
I saw this tip on a gardening magazine somewhere, and it's original form was to store plastic bags. However, I have found it works excellently well when it comes to storing rags as well! With a few modifications. You can use one per room in the house that requires rags (bathroom, kitchen, garage, etc)
Take an empty plastic gallon bottle of water (milk ones can be used as well, though make sure to clean the bad boy out well!)
Turn it inside out and, with a utility knife, cut out a U Shaped flap on the top (view diagram). This will serve as a door through which to restock the container
Take all your rags and roll them up tightly so that something like a TP roll results - then, pull a corner of the first rag in the middle so that it hangs down
Carefully place this ragroll into the bottle, and feed the bit of rag hanging down through the bottle's opening. You can cut some of the opening more, as needed, to achieve this purpose
Attach this ragholder to a wall or piece of wood (to hang at your convenience) with a wall clamp, hose clamp, or mounting bracket - some examples of products are seen in the diagram - though of course you can use anything on hand

Presto! You have yourself an attractive, recycled, neat, semi-permanent rag holder. Decorate and display as you wish.
Source: Diagram design by http://design.aliciaraya.com
By ahorrasi from Marshall, NC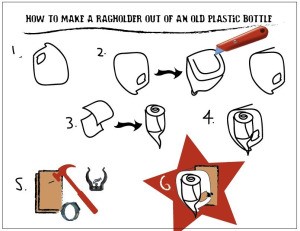 You can make a wonderful rag holder out of an old t-shirt. Find a large or x-large t-shirt that you are no longer using. Put the t-shirt on a sturdy hanger, then tie off or sew the bottom of the t-shirt. Hang the t-shirt in a convenient place and use the neck hole to deposit and retrieve rags.
Share Your Feedback:
Once you try any of the above solutions, be sure to come back and give a "thumbs up" to the solution that worked the best for you. Do you have a better solution? Click "Share a Solution" above!
Questions
Do you have a question related to this page?
Related Guides
Related Posts