August 2, 2010
0

found this helpful
It all depends. I have sold paint for 10 years and have yet to find a "paint" that is great for counter top durability. Scratches tend to show very easily on a smooth painted surface, so your counters will need to be painted quite often to maintain their appearance.
One product I have found that works great, is a granite counter top paint. The variation in color hides scratches and blemishes in the counter.
I got mine at http://www.granitepaint.com
Let me know if you have any other questions, I would be glad to help.
If you do end up just painting the counters, make sure you use an enamel finish, either satin or gloss in sheen.
August 5, 2010
0

found this helpful
I did something so easy & it looks amazing. Everyone that sees it thinks stone or granite. Its called Paper illusions. Its wallpaper. I'm going to post pictures. & I would love to help with any tips you need!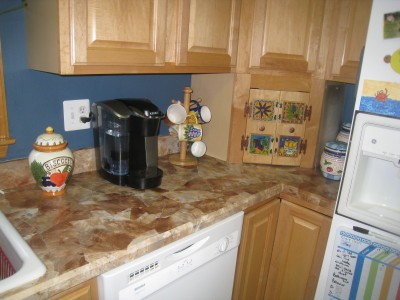 August 6, 2010
0

found this helpful
The easy answer is that paint simply is not as durable as laminate. That is why people have laminate counters. Some of the suggestions from others may be a better alternative to just painting the laminate. Regular paint will scratch very easily.