Amazing Uses for Plastic Bags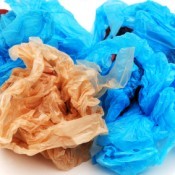 Save money on rubber and plastic! Want to re-purpose and re-use those plastic grocery store bags and get the most bang for your buck? Here are some answers that are sure to make you smile. When you get home from the store or pharmacy, don't just wad up those bags and throw them away. Tuck all of your bags inside of ONE bag and wait until you need them. Here are some great uses!
Use to separate and store meat that you have purchased. Make a sink or basin of warm, soapy water with bleach. Insert your hand into several of the bags (individually) and wash them in the water. Immerse in rinse water and let them dry just a little bit in the drain rack. Spray the outside of the bag (which is actually the inside) with cooking spray (or grease with a small amount of oil), insert your hand inside, and pick up the meat! Your hand never touches the meat. Pull out the amount you are going to separate, remove your hand, express any remaining air, then knot and tie the bag. Take a second bag and insert the tied bag inside then knot and tie again to ensure that there are no freezer burns when you freeze it.
Use to store leftovers. Depending upon the thickness of the bag, store the not-so-juicy dinner leftovers. If you have something like soup that is not "too" thin, use the double-bag process again. You can store or freeze.
Use to store opened pasta, rice, beans and chips. Have a half open bag of rice or pasta? A half open bag of beans, cereal, chips? Just slide that open bag inside of one of the store bags. Make sure you have "twisted" the open bag, then grab the grocery bag at the bottom (closest to the open bag), twist, knot and tie. You don't have to worry about the little weevils or your chips becoming stale! I kept one giant bag of chips for over a month, and the last chip was just as fresh as the first! The secret is getting rid of all the air before you tie it.
Use them for dirty jobs. We had a septic back-up and needed to remove a toilet full of "wadded up" toilet tissue. You know it! I double-bagged them, tied them at my arm, took two more double bags, pulled out the clogged tissue, inserted it into the other two double bags, removed the "hand bags" from the inside out, tied the "receiving" bag, and my hands never touched any of the stuff from the toilet!
Use them in the garden. If you can't find your gardening gloves, or if you don't own a pair. Tie them at the wrist and get busy.
Use them to wash dishes. Again, tie at the wrist or higher.
Use them to moisturize. Wash hands thoroughly, apply a thin layer of petroleum jelly to hands, wrap hands in bag for fifteen to thirty minutes and the end result will be astonishing!
Use for housecleaning. Don't want to get cleaning supplies on your hands? Use the bags. Wipe down your furniture with furniture polish (or olive oil and lemon if you're like me), clean the bathrooms, sinks, etc. and protect your hands with your self-made mittens.
Use for insulation. I filled a crack that otherwise would have been too large by pushing a few bags into it, then finishing off with caulk.
Use for lunches. Wrap a sandwich in a paper towel (or if you're a little more green - in a home-made cloth napkin) and removing all the air, knot and tie. Sandwich will remain fresh until lunch time.
Use for dirty clothes. On a trip? Pack a few bags and as you take off your dirty undies, shirts, etc., store and tie dirty clothes then tuck away in an inconspicuous place in your bag.
Use to store paint rollers. Store clean rollers to keep them pliable and soft.
Use as trash bags. Of course, this is the most common use of all. Use them around the house in your small trash bins as trash bags.
Well, there you have it. There are many more uses for plastic bags. If you want more, I can certainly give them to you. These are just a few. Use your own creativity and see what you can come up with.
Don't forget, after you have used them up, put them all in ONE bag and recycle. This tip will not only help the planet, but it will keep a lot more money in your pocket over the coming year.
By FranFran from Zebulon, Georgia
Feedback
Read feedback for this post below. Click here to post feedback.

By
03/18/2012
Our local Soup Kitchen has excess goods that persons can take back to their home.
I donate my excess plastic bags. It's another "reuse!"

By
03/17/2012
I keep some plastic bags in the car. Not long ago, I got my shoes muddy and didn't want to get in the car with them on so I took my shoes off and put them in a plastic bag and drove home barefooted.


By
03/17/2012
I use excess plastic bags in packages I ship gifts, instead of those styrofoam peanuts. They work just as well.

By
03/17/2012
When painting and you have paint in a roller tray with the roller and want to stop for a break. Wrap the entire thing in a plastic bag to keep everything from drying out. Then just remove it to resume painting.

Also use the bags for emptying kitty litter and then put into a larger bag to toss away or just double bag it.

Don't laugh...lol...but I actually used the larger ones you get from stores to cover a car window when it broke and remained open. Rain was coming so my daughter told me to wrap it around the side mirror and then over the door frame. I then used duct tape to hold it in place on the inside. It worked great! (Then I got the window fixed).

Keep a bunch stuffed inside an empty tissue box to pull out when needed for easy storage.

As kids we used to slip bags over our shoes before putting on our winter boots to go play in the snow. Kept our feet dry. Now you just slip into the boot with your foot, but same theory can apply.

I knew a woman who used to slip bags over her feet at baseball games to keep the mosquitoes from biting, but then there are other solutions for that (wearing a Bounce dryer sheet, spraying with Avon Skin-So-Soft, to name a couple things).

By
03/16/2012
I use them to clean out the guinea pig cage when I can't find my pink dishwashing gloves. They are great.

By
03/16/2012
1. This being March why not kite making material?

2. Going fishing - put several in your tackle box For the fish, bait, to sit on; even a rain hat.

3. In your car - trash bag,keep rags or fluids,or how about putting the gloves in one, so you can find them the next time?

4. Bathroom - slip one over your shower head with you personal soap and shampoo.

5. Living room - a place to keep your remote and that magazine your never got quite read.

By
03/16/2012
Use those long skinny bags that newspapers and pennysavers come in to clean up after your dog. I tie 2-3 to the leash handle for use on our daily walks. Just slip your hand in, pooper scoop, and tie.

By
03/15/2012
Use them to pick up litter on the roadside in your neighborhood. Filling just one will make a big difference.
Post Feedback
Add your voice to the conversation.