Scenery: Sunset (Stub Stewart State Park, OR)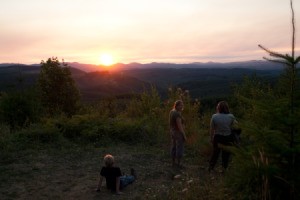 We went on a sunset hike with one of the park rangers while we were camping at Stub Stewart State Park. We hiked to the highest point in the park to see the sun set. There was a fire on Mt. Hood and all the smoke in the air made for a very colorful evening view.
By Jess from Hillsboro, OR
Feedback
Read feedback for this post below. Click here to post feedback.

By
10/13/2011
I remember that we were the last group that she was going to take on the Sunset hike and we were the only family to go that day. It was really wonderful. She talked about how she had been taking photos to mark where the sun was as it marched across the sky as the seasons changed.
Post Feedback
Add your voice to the conversation.