Bewitching Tomato Cage Ghost
Large tomato cage covered with a sheet to make a Witch Ghost
Approximate Time: 20 minutes
Supplies:
Large Tomato Cage
Rope light your choice of color I used green for a eerie glow
Twin Size Flat White Sheet
Large Round Styrafoam Ball
3 yards of orange ribbon
Child Size Witch's Hat
Instructions:
This is a large tomato cage with a green rope light wrapped around it and secured with zip strips. I then stuck a round styrafoam ball on top of the tomato cage for the head. Covered it with a twin size flat white sheet. Tied orange ribbon around the neck painted on the eyes and mouth with a black paint pen and added a child size witch's hat.
By Lisa from Bulan, KY
Feedback
Feedback about this article is posted here. Want to contribute? Click above to post feedback.

By vguy10/29/2008
I love this idea, I was wondering how to make a ghost stand up!

By imaqt196210/31/2008
this is truly amazing
I love it.thanks for sharing it

I am sure you could use a heavy dowel rod or two inside the cage to hold it up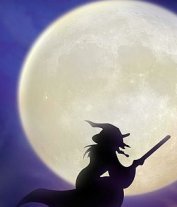 By theseamstress10/29/2008
that's so neat! great job!

By sagebrushsadie (Guest Post)10/30/2008
I love this idea! You're a genius. Keep up the work!

By Pat (Guest Post)10/30/2008
This is a great idea! Thanks for sharing. Happy BOO
Post Feedback
Add your voice to the conversation. Click here to post feedback.