Banish Slugs from Your Garden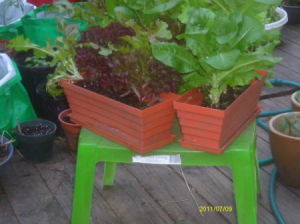 We have very heavy clay soil here and a lot of rocks in the ground, so we have been growing our vegetables and herbs in containers. Every year, time and energy are required to pick slugs off the broccoli and lettuces, and every year we try different things to keep those slugs away - with very limited success.
This year we put our lettuces on top of some patio tables we bought. When we need to use a table, it's a simple thing to put the lettuces on the ground, always remembering to put them back on the tables before nightfall. This has worked perfectly - we have not found one slug anywhere near the lettuces (or broccoli), and we haven't lost any lettuce or broccoli at all. It has been such a success, I just had to share it with all you nice folks on TF. Give it a try - lettuces and broccoli do very well in containers, by the way.
By Copasetic 1 from North Royalton, OH
Feedback
Read feedback for this post below. Click here to post feedback.

By
07/12/2011
I'm glad your container gardening is paying off for you. No slugs! even better. It's so rewarding to be able to grow anything.Last year was a disaster for me so I didn't plant anything this year.
Thumbs up from me... ; )
Post Feedback
Add your voice to the conversation.
Related Guides
Related Posts