Cleaning a Silver Bracelet
I have a silver bracelet with cubic zirconia's that has tarnished. I polished it with Wright's Silver Cleaner, but it still looks dark-ish. More like a stainless steel than a silver color. I have used this cleaner before successfully, so I think the problem is due more to the bracelet than to the cleaner.
Any suggestions?
No hallmarks indicating the type of silver in the bracelet.
Thanks,
Holly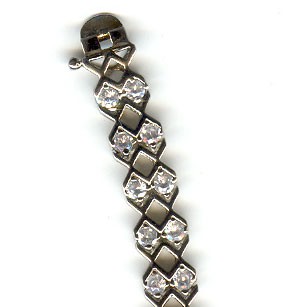 ---
RE: Cleaning a Silver Bracelet
Turtle Wax car polish will fix it beautifully. Smear it all over the silver, let it sit for a few minutes, then wipe it off with a rag. The rag will be ruined. (01/04/2006)
By Stone2005
RE: Cleaning a Silver Bracelet
You can purchase a bottle of TaRnex liquid at your local Walgreens. I use it for most all of my silver and it works wonderfully. Pour a small amount in a glass cup or container and you may just want to do a small part of the bracelet say the end of it in a bit of the cleaner to make sure it doesn't harm it.I have never used it on zirconias. I would recommend you do it outside as the TaRnex does have an unsavory smell to it. Once the tarnish is gone I would recommend a good silver cream to clean it up. Good luck. cmc (01/05/2006)
By Connie
RE: Cleaning a Silver Bracelet
Tarnex works great but just be careful - it can ruin pearls and synthetic stones. Don't dip or soak the jewelry item (use a piece of cotton and wipe it on, then rinse.) I ruined a vintage art nouveau silver pin by leaving it too long in tarnex. (01/12/2006)
By Claudia-MD
RE: Cleaning a Silver Bracelet
A jewelry polishing cloth has two sides to it, one side to remove tarnish and one to polish and shine afterwards. You can find them at Wal-Mart and they are inexpensive. (01/13/2006)
By Debbie52
---
Cleaning a Silver Bracelet
How do you clean a tarnished silver bracelet? I went swimming with it on and it was shiny, but when I was done it was a dark silvery/gray.
Vanessa from Colorado Springs, CO
---
RE: Cleaning a Silver Bracelet
I've used good ole toothpaste. I take an old or new toothbrush and use it only to clean my jewelry. The paste is great for cleaning diamond rings and just about any jewelry, costume or real. Thanks. (09/08/2006)
By Gepe
RE: Cleaning a Silver Bracelet
I keep a rouge cloth in my jewelry. Anytime I wear something that is metal I just shine it up with that. (09/08/2006)
By sandy63
RE: Cleaning a Silver Bracelet
I tried putting salt in warm water in an aluminum pan. Let it soak for 5 minutes or so, rinse, and wipe. Nice shine. (09/08/2006)
By Beverly
RE: Cleaning a Silver Bracelet
Sterling silver is 0.925 silver and the rest a base metal. Fine silver is 0.995 silver. Silver is very reflective and shiny, such as after polishing and drying. Both fine and sterling silver are solid metal; silver plate is layered metal.
Silver should have a silver mark indicating its metal content, using the numbers shown above, stamped in the metal. Silver plate has the imprint of the base metal. British silver plate is marked EPSN, which means electroplate silver nickel. Look for the imprint to tell which kind of metal is in your bracelet. (09/08/2006)
RE: Cleaning a Silver Bracelet
Silver is soft. (So is gold.) I would not use toothpaste because toothpaste is abrasive. Once the surface is scratched, there's nothing you can do about it. If you went swimming in chlorinated water, the silver will be permanently pitted from the chlorine and there's nothing you can do to restore the surface. The less and fewer types of chemicals you use and the less time you soak jewelry, the better. Last resort: ask a jeweler if he or she can re-dip it. It's not expensive. (09/09/2006)
By Jantoo
RE: Cleaning a Silver Bracelet
I cleaned my shower stall with bleach and my ring looked absolutely awful. I used some baking soda on a wet cloth and it came right off. I then rinsed in white vinegar and boy does it shineain. You might try this. I was heart-sick when I saw what I did. I'll remove all jewelry before I do that again. Good luck. (09/09/2006)
By Nancy
RE: Cleaning a Silver Bracelet
I used toothpaste with no problems. Of course I didn't use one that was gritty. (09/09/2006)
By micksgirl
RE: Cleaning a Silver Bracelet
Place a piece of aluminum foil in the bottom of a dish or pan, add 1 quart of hot water, 1 tsp of salt, and 1 tsp of water softener (buy in the laundry section of grocery store). Mix and dip your piece in for a minute or so and rinse with cold water and dry with a soft cloth. (09/10/2006)
By Lynda
RE: Cleaning a Silver Bracelet
Mr. Clean Magic Eraser works great on silver! (11/30/2007)
By Duck
RE: Cleaning a Silver Bracelet
I had the same experience with a bracelet that I wore swimming in the pool. I bought a jar of silver polishing cream, and put the bracelet in the jar, burying it in the cream. I left it in for 2 days, took it out and rinsed the cream off, and polished it. The really shiny finish was gone, stripped off by the chlorine, but the matte finish I wound up with meant that I could wear the bracelet again. (08/19/2008)
By Jean