Craft: Garden Mailbox
Hand painted decorated mailbox for storing hand garden tools and garden gloves outside.
Approximate Time: 2 1/2 hours
Supplies:
mailbox
spray black paint
various acrylic paints
spray polyethylene
paint brushes
Instructions:
We recently put up a new mailbox and I wanted to recycle the old box. I spray painted the box black. Then I free hand painted flowers, etc. on the box sides, front, and back.
I then stenciled "Sherrye's Garden Tools" on the top. I then sprayed the box with polyethylene to make it weather resistant as it will be sitting on the back porch.
I already had all the supplies on hand so it only cost me my time. I will put my hand garden tools, etc. and my garden gloves in the box.
I think it turned out really cute. It only took me a couple of hours and it was fun.
By Sherrye from GA

By
05/28/2011
Beautiful job on your mailbox :) I did this years ago when I lived in the country. My garden was fenced off and I put up a mailbox at the entry gate. I wasn't too artistic or original. Instead I lettered it P. Cottontail, 22 Bunny Lane. Silly but the neighbors kids loved it LOL.

I kept a bread/meatloaf pan in mine filled with kitty litter that was covered with some motor oil. I could shove my tools down into it at the end of the day. It kept them from rusting in our very humid area.
Garden Mailbox
Use A Garden Mailbox To Store Tools
Mailbox in garden to keep gardening tools handy and dry. And it's cute
By Kalene from Oregon City, Oregon
---
RE: Garden Mailbox
It's super cute! Great idea! (12/11/2008)
By Kendy
RE: Garden Mailbox
I've got one of those in my garden, too. It's bright yellow with a red flag. Right now, it's barely peeking out of the snow. (12/11/2008)
By GrandmaH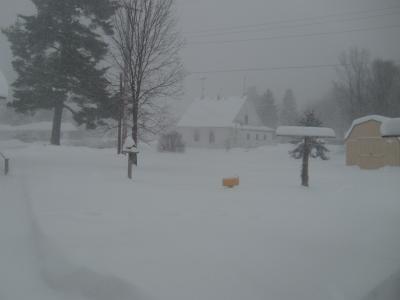 RE: Garden Mailbox
I have one in my garden also and I have the door open to it and a fake rubber alligator coming out of the little door. I thought I was the only one who recycled my old mailbox. Yours is real nice too and I LOVE your yellow flowers. (12/12/2008)
By florida gal
RE: Garden Mailbox
I love that idea. Now I have to find an old mailbox. (12/14/2008)
By karen.
RE: Garden Mailbox
I have one as well. I put gloves, gardening tools, and my little seed spreader in it. Keeps everything in one place and looking nice. (01/01/2009)
By Shaylee
Add your voice to the conversation.