Am looking for tips on a blind kitten I will be adopting next week, any and all advice will be welcomed.

Thanks,
Irish
Ad
---
Recent Answers
Here are the recent answer to this question.

By Alan Havlick (Guest Post)10/07/2008
You folks have given me hope. Like one of the other commentators here I was assuming I would have to have the sweet little thing put to sleep but now I am so encouraged. My little blind manx also sneezes like another person here said but his sister does not. I am cat person and none of my other cats have done this except when they got colds or got old. I'm a little worried about it though. Hope my vet will be more helpful than to say I shouldn't feel bad about putting it down, not gonna :+)

By Crystal (Guest Post)08/10/2008
Hi. I am very allergic to cats and I have a house that has an open balcony all around. We found a kitten in the road we thought it had been hit and was laying there dead. Thank God she was not, but she was starving and blind. you can not tell by looking at her it took us a few days to figure it out. But now she is doing great, but I have strep because of the allergy and I am living on 9 Benadryl tabs a day. I love her but I can not keep her But I need a real good home for her. We will even drive too. email me crystal at msmisp . com She is so sweet and loveable and very playful Good with dogs and kids

By Tay (Guest Post)07/19/2008
Hello it is me again Tay. I left a post on here a few days ago for anyone interested in adopting a beautiful blind kitten and her sister. As I stated they are both spayed, have had rabies shots and distemper shots, and are both fiv and leukemia negative. They have to go to someone with indoor cats only. I cannot keep them because I have a doggie door and the blind one would eventually get out. PLease read my other post for all the info on these 2 babies. And contact me at cheryl taback at the network that sounds like whoo-hoo.com Thanks so much

By Tay (Guest Post)07/18/2008
I have a sweet blind 4 month old kitty and her foster sister that I am fostering for my local shelter. Elsa is the blind one and the other is Emily. I have grown VERY attached to them but cannot keep them because I have 4 dogs and a doggie-door. My fear is that if Elsa-the blind one gets out she would never find her way back and would be in real danger. She is very acclamated to my house but I do watch her whenever she is out. She easily learned where things are and often jumps back into her cage for food, litter and security. She is learning the stairs and really only runs into things if they are out of place or if she gets startled. She uses her other senses to live just like any other cat. She plays and purrs all the time. She is very attached to her sister and they would have to be adopted together. Thay are already spayed and have had their rabies and distemper shots. They are aso fiv and leukemia negative.
I live in Staten Island so any of the 5 boroughs or Long Island, Westchester or New Jersey would be convenient enough for me to bring them to you. Thanks and please consider these sweet babies. They deserve a safe, loving, compassionate home.
Tay

By B in SC (Guest Post)07/06/2008
A cat wandered in our yard a few weeks ago. It was readily appearent she was very pregnant. She found a comfy place in my garage and had 7 kittens 6 days later. Its been a little over 2 weeks. Most are healthy but the runt has yet to open her eyes and 2 others open only one. The eylids on these kittens won't open, even with a little gentle persuasion.

Mamma was malnourished when she found us. She appears to be very young. Perhaps they were born a bit premature. I'm trying to figure out what to do about them. Any ideas or tips?

It is encouraging to hear that many blind kittens have become good pets.

By Justice Pie (Guest Post)07/06/2008
Pearl in the bathtub sanctuary. It's no surprise to her when the showers on as it makes her want to jump in even more!

By Justice Pie (Guest Post)07/06/2008
Pearl in the bathtub sanctuary. It's no surprise to her when the showers on as it makes her want to jump in even more!

By Justice Pie (Guest Post)07/06/2008
Pearl on her 1st birthday, she had 5 fishcakes.

JK, she just posed with one and all her toys.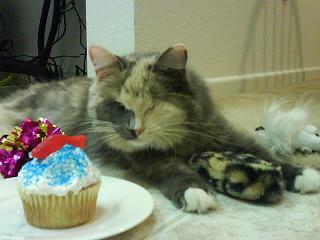 By Justice Pie (Guest Post)07/06/2008
In February my wife and I adopted Pearl, a blind kitten from our local pet store affiliated with a rescue house. She was found stuck between/under a fence and had apparently been there a couple of days. She was malnourished and dehydrated but recovered well. We read her medical history and she developed pain in her eyes which was making her increasingly irritable and aggressive.

After they realized the medication they were giving her wasn't helping her, they felt the best solution was to remove her eyes. After the procedure, she got better and returned her to a friendlier attitude. My wife fell in love with her immediately when she saw her and after several interviews we were selected as capable parents. We are learning quite a bit from her, but I feel like we lack the cat parenting skills. This is the first cat for both of us and we could be better had we known more about the basics of kittens/cats before hand. However, we have absolutely no regrets and Pearl is doing awesome!<br>
She is amazingly full of energy and God knows what she does when we're not around. She actively tears through our apartment, leaping on the sofa and her cat gym. She has on occasion been unable to accept the scientific law of momentum and caught the corner the sofa, or a wall, or a leg and been chagrinned into slowing down for a moment. Being blind is not a problem for her as her sense of spatial distances is pretty impressive.<br>
We have a few questions about things we've experience with Pearl which we aren't sure are normal behaviors or attitudes.<br>

1. Even after buying her cardboard scratchers that you can sprinkle catnip in, she still has a habit of clawing the carpet and completely ignores the scratchers. I clip her nails to help reduce the damage and have a spray bottle handy and a firm "No!" if I catch her doing it. Unfortunately it's become a game to her where she'll do it once, then wait to hear if I'm coming. She's smart, but is there something else I'm missing? I've thought about buying carpet squares as an alternative to cardboard but she just adores the carpet. I want to correct this before she turns to the sofa. She'll occasionally use the corner of a wall so maybe a vertical scratcher will work instead?<br>

2. She sneezes. More frequently than before, but not as frequently enough to be concerned...or is it? I've heard her sneeze (absolutely cute when cat does it) but when my wife sneezes, she'll literally toss out 5 of them before she's finished. Doesn't mean my wife is sick, so how much concern should I have when Pearl does it? There are no other visible signs of distress, no pain, no moaning or crying. I'm not too concerned, but my wife has mentioned it a few times. She has experience with rabbits, but rabbits hide their ailments.<br>

3. I understand that cats give love and affection on THEIR time. When she wants to be pet, she'll definitely make it known by completely crawling up into our business. She pretty much has us trained and if we had tails to wag when she decided to shower us with her attention, we would wag them. Should we just accept this as common cat behavior or is her blindness slightly keeping her from being more affectionate? This kind of ties into my next question.<br>

4. Over stimulation. What's the trick? She has a tendency to attack (playfully?) every hand/foot that comes into her reach. We have scratch and teeth marks on our hands, but we know she's not playing for keeps as it wouldn't be difficult for her to pierce our flesh if she wanted too. Is this another kitten/cat issue that we will gradually come to accept over time?<br>

Anyways, Pearl is fantastic! Every day when I come home from work I'll find her at the top of the stairs, on her side or belly up waiting for me to walk through the door. I'll greet her with a hello and give her a back-arching scratch and rub down her spine. I accept this as "her time". She is so amazed by the bathtub that whenever we are in the bathroom, she'll leap into the tub and "peer" at us over the side.

She follows us all the time and we've learned to be very cautious where we walk as we don't want to give her the boot or step on her. Collared bells don't work because she looks ridiculous in them.<br>
Pearl has definitely set the standard when it comes to owning a cat. She's full of energy, curiosity and nothing seems to get in her way. She is so brave that when playing, she ALWAYS has to get in the last swat. If we ever own another cat, they'll have big paws to fill.<br>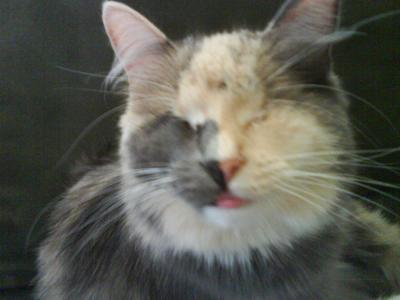 By Annabelle (Guest Post)04/22/2008
My cat is a 4 year old female calico cat who one Morning suddenly turned blind, we have gone to numerous vets finding no answers. I believe blind cats are great lovable cats, but are alot of work. I suggest you have no other animals in the house with the kitten and you should also crate your cat at night so while you sleep your cat doesn't hurt itself. Our blind cat is such a pleasure but she is very needy of constant attention with her non-stop meowing.

Make sure you don't jump up on your cat or pet your cat without letting it know you're there. Also make sure there is nothing dangerous laying around the house your cat can get into or hurt them self on like open steps or things that if the cat jumps on may fall down. None the less enjoy and love your blind cat and never give her up if it gets to hard. P.S. don't let your cat go outside! BEST WISHES!

By Specksmom (Guest Post)11/05/2007
Spectavious - from the Latin Spectare - to see all
avious - from above.
Blind from neglect - eyes removed at age 2 months. Currently is donating items to Escondido Cal Humane Society in his annual charity fundraiser. Previously Humane Society Cat of the year in KC ( 2000 ).

Speck provides accomodation consultation :

Walk near walls - you will feel the breeze and it will tell you where you are.

Don't scratch the screens. Get your nails trimmed regular - they will get stuck if your don't.

Teach your human not to carry you unless they are taking you to another room and sitting you in the same place and telling you where you are ( esp if visitors come and there is to much noise at once - return to the party when you are oriented ).

Sit under kitchen chairs when you are confused - they ahve sides to help you define your space.

DO NOT allow your human to feel sorry for you. Be an example of courage - fight your own battle with the other cats - and win. Wrestle your way to the top - and sit on them. They can't win if they are not on top !

Ask your human to keep certain places just for you.

Have them tap the ceraminc food bowl three times to sound the dinner gong. ( or open a can of food - you can hear that for a mile ! )

When your human is depressed - sit on them and stare at them - they won't be feeling sorry for themselves for long
( charge them extra when friends drop in to play with you for the above reason ) Be a motivator.

HAve your human give you a covered litter box - BUT - make they clean it with soap and water at least once a week - it is easier not to worry about where the butt goes when it is all enclosed. Ask them not to be watching you all the time to make sure you are doing it right. ( It's embarrassing even if you are blind ).

Be the only cat in the house to catch the flies. My Indian name ( my Mom is cherokee/choctaw ) is fly killer - I can jump up to four feet and get them.

Sit outside the closet door when the sighted cat gets stuck in the closet. Sit there and stare at it until someone lets him out ( he's not to smart ).

Have your human provide for you through a pet trust fund in the event of illness or injury - I'm cute and different but without cash I'm not real adoptable - and I am smart enough to know it.

Make sure your human teaches you not to chew on cords or play without outlets. You hear them mre than the sighted ones.

Don't act like Helen Keller at at the foodbowl when someone is fixing dinner. Nobody likes an illmannered dinner guest.

Keep your ears really clean - you need them more.

Pounce on things when you aren't sure where one floor ends and the linoluem starts. It makes your human laugh.

Sit in the window and watch the birds. You will see them before the sighted cat does - your human will be reminded of how awesome you are.

Take a stand. Some people will turn away from you because they are disgusted - and they are also disgusting. .. your human will find out real quick what they are like.

When you throw up - look real confused - they won't mind to much. And they will give you hair ball treats more often.

Go to the vet. Get a nailtrim or something before you get shots the first time. The girls will love you.

Vet selection- fire anybody that thinks you are any less than any other cat. Don't let them stick you on the top row in the cages after surgery. Get a bottom cages on the end. Less thumping around. Or better yet - I use the vet's office - he accomodates me ( of course ). Ask if your Mom can stay in the room with you to hold you - she can sign a paper that says he isn't liable - after all she is YOUR mom....

Expect to live a normal life - but don't think you need to go outside. There's nothing out there anyway - really.

Ask them to sweep the floor a lot. Your nose is important.
Tell them to lighten up on the cleaning stuff - a little does a lot.

Accept when they clean or move furniture - its' going to be a rotten day. Climb the ladder when they paint for comic relief - but stay out of the paint ! Head for the nap couch when the work starts - it's toxic to your system..

Under no circumstacnes allow your human to think about a dog or any other kind of funcky smelling pet. Like is hard enough blind without having enemies around.

Ask Santa kitty for toys with bells - but no motorized mouse - it is NOT cute.

Stand up for cats and dogs with disabilities. Be a hero.
Raise funds - make yourself important.

IF YOUR HUMAN CANNOT DO THE JOB INFRONT OF THEM - REMEMBER THERE ARE REPUTABLE SANCTUARY'S YOU CAN MOVE TO - YOU DON'T HAVE TO GO TO THE OTHER PLACE - SOME OF THEM EVEN HELP WITH A WAY TO GET THERE.

( Speck is now 7 years old. he has raised money for marjon the lion in Afganistan, mentored other cats, and been a spokescat for special needs cats.

Good luck - you will find your way if you want to .



By lindy (Guest Post)09/01/2007
I have a 20 year old blind cat that is the sweetest companion you could imagine. He lost his eyesight about 3 years ago and has adapted well. He can find his way to anything...especially me. He can find me no matter where I am in the house. He "talks" a lot more now. He kind of "calls" for my husband and I. We find ourselves talking to him all the time. I need to be careful about moving the furniture or placing packages etc. in his pathway. My son left his large basketball shoes and book bag in the cat's pathway and that really threw him. Poor kitty got disoriented and just sat there until he heard someone come home and then he started calling for help. These blind kitties have a lot of love to share...enjoy!

By tjten36 (Guest Post)07/23/2007
I have a little blind kitten that we found last weekend if anyone is interested in her, pls call. I will give her away but you have to pay shipping we live in San Antonio TX email address is dpape1 AT satx.rr.com

By Selena Joy (Guest Post)06/30/2007
Hey I was given a kitten.. it's blind.. eyes are foggy glossy too. My kids are fond her delightful..I was going to take to vet.. ME thinking she/he will have to be put down..We call her sefioria.Will be getting 2 other kittens too. Hope they be goods for her/him... Not sure gender of this kiten too.Kids fuss over her/him too.. She meows and wonders around.. youngest like to pick her/him up too. I keep an good eye on her/him all the times....

By Lee Salerno (Guest Post)06/09/2007
I need to adopt a blind kitten for a companion for the newest arrival to my family.

I too have been blessed with a beautiful little female kitten who is blind. She has been at the Animal Hospital for a couple of days and is home with me now. She was the only kitten born to a mother who was a stray that I have been feeding for a year and trying to get to come into the house, but she wouldn't let me get close enough to catch her. She was run over by a car last Sunday. I search all over for the kitten, but couldn't find her. Tuesday morning, there she was by my patio door and huddled up a crying and shaking. I took her to the Vet. My heart broke when I heard that my beautiful little angel sent to me by God to care for is blind.

But can I tell you, she is doing just great now. She is eating on her own, standing and walking on her own, even drinks the water out of the dish. I can understand her eating the food because she can smell that, but finding and drinking the water, I found to be amazing. She even uses the litter pan!

She is bright, alert and loves the tiny little kitten toys that my boy friend brought her. I work full time plus, so I decided she would be safe in my brothers Rabbit Cage which she gets lost in. Is is very large. It covers more that half of my large Dining Room Table. It is her new home, and she loves it, and we love her. Can anyone tell me where I would start to find "Baby Doll" a companion? I don't want her to grow up all alone. She is out of her cage more than she is in it, except for at night to sleep, but when I have to put her back in her cage, I feel so bad because she will be all alone. If anyone knows where I can adopt a blind kitten for a friend for my "Baby Doll", please email me at:
letas AT optonline.net

"Baby Doll" is a little female, about 5-6 weeks old. She has an amazingly sweet and playful and friendly disposition, so I would like another little angel kitten for a friend for her.

Please email me if you can help me. Thank you.

By carol king (Guest Post)05/30/2007
GOOD FOR YOU I HAVE A BLIND KITTEN HE COULD NOT WALK EAT OR DRINK I HAD TO DO IT ALL BY HAND. BUT NOW HE WALKS AND EATS AND DRINKS ALL BY HIMSELF. THE BEST ADVISE THAT I WAS I GIVEN AND THAT I LOOKED UP ON THE INTERNET WAS DON'T WALK YOUR KITTEN AROUND AND PUT HIM DOWN AS THEY GET DISORIENTED AND THEY DON'T KNOW WHERE THEY ARE. GIVE THEM PLENTY OF TOYS THAT MAKE A NOISE EVEN IF ITS A PIECE OF ROLLED UP PAPER. DON'T MOVE THERE LITTER TRAY IF YOU DO MOVE IT LITTLE BY LITTLE AS WITH EVERY THING THEY ARE USED TO. MOST OF ALL GIVE THEM PLENTY OF LOVE AND THEY WILL LOVE YOU BACK

By ang. (Guest Post)03/24/2007
my kitten went blind after an alergic reaction to a flea spray...she is very sick and will not eat...can you please give me some tips.

Editor's Note: Definitely take her to the veterinarian.

By Nan (Guest Post)07/28/2006
I too am adopting a blind kitten in 3 weeks when he can leave mom. Do you have any advise to share? Litter training is concerning me.
Nan

By kimmie (Guest Post)06/03/2006
i to am going to be adopting a blind kitten. the feedback has been very helpful to me as well. i had a cat with severe dispibilities. he could not walk or see very well, could not hold his head up. i had to bathe him everyday help him eat, he was a great deal of work however i loved him. he died at 18 months old. animal's with disabilities can provide a person with a great deal of love and joy (

By Sarah (Guest Post)03/31/2006
We have had a blind kitty since she was born 2 years ago. The veternarian told us she would be difficult and that we should not feel bad putting her to sleep. The vet could not have been more wrong. She has been the best furry friend we have ever had.
We have always been cautious about moving furniture. It is sad to see a kitty reaching its little paw out so gently for the edge of a coffee table and never be able to reach it. Also, with sighted cats, you might sort of drop them from a foot or so up when you put them down. A blind kitty doesn't know how far away the ground is, so it can't brace for it, so you should place them on the ground.
Other than that, our blind cat is in many ways more capable than our two sighted ones. She likes to climb up to high places and has better balance than the other two. She has never had a problem with the litter box or her food or water. She's also very affectionate and sweet and loves to play with shoes, particularly if they've just been worn. So if you have a particularly expensive pair of shoes, you might watch for that. But maybe ours just has a foot fettish! She always comes to the door when she hears one of us come home and follows us around to whatever room we're in. She likes to hang out under the dining room table -- I think because of the legs of all the chairs and table she feels comfortable always knowing where she is.
Anyway, your kitty will be great. It will be one of the best decisions you've ever made.

By K (Guest Post)11/05/2005
We adopted a 5 month old mostly blind kitten 1.5 years ago. If yours is like mine, there is not a lot that you have to do differently than you would with a sighted kitten. Keep him inside ONLY! I do this anyway, although he and one of my cats get supervised outings in the back yard. It was so funny the first ime he walked on grass...he looked like a Tennessee Walker horse. He most likely sees shadows and very bright lights (he tries to attack the floor lamp bulb when it is next to the couch at night). We started him off in one room (with food, water, litter, toys) by using moving boxes to block doors. Then we enlarged his living area by a room or two at a time. He progressed much faster than we expected. We have two other cats, so this was also a good way to introduce the new guy. When it came to the stairs, we blocked the bannisters since it is a one-story drop from the top. They are still blocked since he is a very brave kitty and would probably try jumping (he jumps off the couch, the table, the bathroom counter). When he was first in the dining room, he would get stuck on the table. I taught him to feel the back of the chair down to where the seat is, then he was fine jumping to the floor. Eventually he jumped straight off the table. I think it is good at first to keep everything the same (not moving furniture, etc.), but eventually try changing things if you like. Our cat loves exploring, and a moved piece of furniture or a laundry basket in the hall adds some excitement to his day. I move things once in a while and he still barrels around the house at full speed. I've never seen him smack into anything, but maybe that's because he can barely see light/dark. Good toys are - wadded up small paper bags and the round cardboard scratcher with the ball that goes around it (he didn't like the one that doesn't have the scratcher in the middle). He used to have a hard plastic ball with divets in it. The divets slowed the ball down and made it wobble; the hard plastic was loud on our hardwood floor, so he could hear where it went. He also sometimes likes his crinkle-sack tunnel. He also has a toy that is a carpet-mouse with a long spring with a ball and bell at the end of the spring. He likes to grab it by the ball and drag it around the house. I cleaned out the pet store of any toy that made noise and these were the hits. For the most part, he's no different than any other indoor cat. Have fun!

By KLS8800 (Guest Post)10/05/2005
We had a blind persian cat named Smokey (he was grey). He was an outdoor cat most of the time. He stayed in our fenced in back yard. He moved slowly, but with purpose. We fed him in the same place, he did very well. Routine, I suppose would be key. we treated him like our other cats. He was loved and when he passed away at a ripe old age, we mourned.

Just because someone's physical abilities happen to be diminished, does not mean that their ability to give and receive love is. This goes for people, pets, and other living creatures.

By kitty lover (Guest Post)10/01/2005
Good for you! I was an owner to a blind calico kitty for 15 years. As others have suggested try to keep your furniture in the same place, or only move one item and leave that for a while before you move another. My cat was faithful to use the litter box and was one of the cleaner users too! Also keep it on the same area,or,if it has to be moved only move it a few inches each day or evey other day until it is in the new place. They adapt very well. God bless you and your new kitty!

By Lily (Guest Post)09/30/2005
good for you! I had a kitty that went blind after a year due to a genetic disease. Her eyes weren't clouded like you would think. They glowed like green Christmas tree lights. She was beautiful. Her name was Mindy, but we called her Beamer sometimes when she glowed. We used to take her tent camping with us.

If you can get her used to a cat harness and leash, you can take her on walks outside if you wish. Inside, once she gets used to things, remember that changing furniture around is hard for them as it would be for a human. Routine is good.

I have always taken in the less fortunate ones. I tamed a feral cat that was pregnant, and have taken in many strays to nurse to health and find a home for if I couldn't take them.

I wish you luck. It will be a good adventure.

By Tawnda [7]09/30/2005
We had a kitten that was partially blind and had a head injury and it was a challenge, but we fell in love with her. Try not to move the litter box around because it is fatal to potty training! Same with food and water. If you have stairs in your home you may want to put up baby gates until kitty is more able to accomodate herself. As kittens a little fall down the stairs is scary. As they get older, even when blind, will pick up the skills needed and will go by hearing and smells. It is amazing how they adapt!

By Me (Guest Post)09/30/2005
I agree. How awesome of you to do this. I would see what you can find on-line. I would do a general search with the "how to raise a blind cat".

By Jennifer Nelson [1]09/30/2005
Irish, what a lucky kitten. This little one will be fine, ask your Vet for advice, but on instinct I would imagine placing the baby in your bedroom with the litter and food ... and give it plenty of attention.

Please let us know how the little one is doing. I would adopt a blind kitty in a heartbeat.

Jennifer
Northern Virginia

By Holly [2]09/30/2005
Awww, how sweet of you adopting the blind kitten. I don't have any advice, just wanted to wish you both all the very best. Hug the kitten for me. :o) Holly in Ga.
Answer This Question
Add your voice to the conversation. Click here to answer this question.