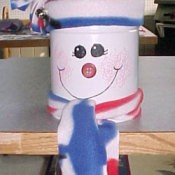 I spray painted an old coffee can with white spray paint then sponged white acrylic white paint for a textured look. I painted on black eyes, glued on a button nose and drew on a smile. Using a sponge, I dabbed on a touch of red paint for rosy cheeks.
The hat and scarf were made from scrap fleece material. Sew or glue a seam on the hat and tie the top with a rubber band and cut in strips to the rubber band. If you want you can glue holly berries to the hat. I stuffed the inside with a present or cookies and gave as a gift.
It can be used each year a decoration or passed on and refilled with whatever will fit.
August 9, 2006
0

found this helpful
YOU DID AN AMAZING JOB! THIS IS DOWN RIGHT ADORABLE AND I THANK YOU FOR SHARING
August 10, 2006
0

found this helpful
that is soooooooo cute.....thanx for sharing and I hope you don't mind me using your idea.......money is tight this year and I think this would make excellent gifts for the adults, take care
August 10, 2006
0

found this helpful
thank you so much for sharing this it is a great idea. I make cookies every year for family and put them in tins this year, my family will also get snowmen. Thanks again
August 10, 2006
0

found this helpful
I love snowmen and would have never thought to do this. Thanks for sharing. My son has 7 different teachers this year and this will be an ideal gift for them.
Ronda
August 20, 2006
0

found this helpful
What an excellent gift giving idea for people that are hard to buy for!!! The variety of things you could fill it with is endless!!! Thank you for posting it!
Related Content
(article continues below)
August 22, 2006
0

found this helpful
Soooooo, sweet. I love the sparkle in his eyes!
August 23, 2006
0

found this helpful
Just love this idea, as my DH is always teasing me for saving coffee cans, ect. But I always seem to find a great use for my , "throw away trash" as he calls my stashes. Evelyn @ seidata.com
September 15, 2007
0

found this helpful
Hi there I'm new to the forum. Yep a newbie. But that's just too too cute. I have been collecting coffee cans forever. And saying I was going to do some of those for gifts filled with candy and haven't yet . Now I think I am inspired! Thank you! Donna
October 9, 2007
0

found this helpful
THANKS FOR SHARING THIS IDEA GOING TO MAKE AS GIFTS AND ALSO ONE FOR ME
October 6, 2009
0

found this helpful
This would work for Halloween too. Just paint it orange and add a jack o'lantern face, and make the hat out of green fabric like a pumpkin's stem!