Recycled Crafts for Nursing Home Residents
I would like ideas (and pictures) of easy crafts using recycled items that nursing home residents would enjoy making.
By Sandi from Brookville, IN
Answers: Recycled Crafts for Nursing Home Residents
Read answers for this question below.
Hi There,
I run craft classes at my local nursing home. Last week we did a class on Van Gogh, talked about his life and his 12 sunflowers painting. I painted a yellow vase on butchers paper then with green sticky tape made the stems and they glued their painted sunflowers onto them.
Recently we did a Mary Poppins activity with coloured pencils and talked about the book.
http://speckledsydney.wordpress.com ... 3/04/22/mary-poppins-craft-activity/
In the past we've made bubble wrap bunting with cardboard, paint and bubble wrap.
http://speckledsydney.wordpress.com ... 3/20/bubble-wrap-easter-egg-bunting/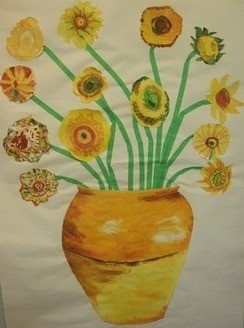 Use any kind of can or plastic item and cut tissue paper flowers and decoupage them to it. In some cases you can use only a few to spruce up a room. Makes a quick, fun and thrifty craft.
There is one on this site for making a witch for Halloween out of a empty milk jug. Cute, also you can make a skeleton out of it too. Empty cans can be made into a tin man. Sorry no pictures, but have seen them.
First of all I don't have any pictures but I hope my descriptions will help.
Old greeting cards can be cut up to use for collages, bookmarks and new cards! Take already bought blank cards, found at craft stores (or make your own by folding card stock in half and cutting to desired size), and paste the front of the greeting card to the blank one.
Answer This Question
Add your voice to the conversation. Click here to answer this question.