What kind of Florida snake has a black body and a white head? I have a small one in my flower bed, and although I have seen many black snakes (nonpoisonous) over the years, I have never seen one with a white head. He was a cute little guy who watched my every move. If he is safe, I will leave him there, but if not, he has to go. Sometimes I will see a snake near the A/C drip pipe where they go to get water. I know the little snakes are beneficial to the garden, so I leave them there unless I know they are poisonous - then I would call Animal Control to get it out. Sorry I didn't take his picture to help identify him.

Hardiness Zone: 9a

Nan from Cocoa Beach, FL
By Nan Corpe
Recent Answers

By Rose04/16/2011
I am in panama and found such a critter under the front door of my house. I took a picture before I shooed him out. He was small and very cute so I took a picture but the locals tell me he is a 'Vibora Negro' which literally translated in Spanish means 'Black Snake'. They say he is deadly and has fangs but he looks more to me like if he is poisonous to be of the coral family judging by the rounded nose. Anyhow he scuttled off outside but I will post a picture so you can tell if it looks like the one you saw...cheers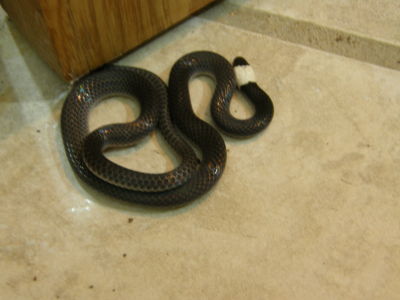 By Angel (Guest Post)08/21/2007
Nan--I'm new to Florida-moved last summer. Since moving to a new home last month, I have seen more snakes, and have many around the church that I work at. I first wonder how small it was? Could it have been a ringneck? They are quite small, we had one in the pool the other day that was no bigger around than a thick ponytail band, the ring on his neck was grey/white. The yesterday, there was bigger one, thin like a shoelace, but his neck ring was reddish. I wonder if what you saw was a ringneck with a thicker ring? Could be an anomoly. Also, note that ringnecks ARE NOT poisonous :) Here is a link to Florida snakes: http://www.flmnh.ufl.edu/herpetology/FL-GUIDE/fl-snakeslist.htm

By joan pecsek [88]08/18/2007
Looked up your snake in all my books. There were no snakes matching that description in America but several in Australia(some were listed as extremely poisonous). Maybe a pet that escaped or was turned loose? I found a dead iguana in the street one day. They are not native to this area. Had to have been a pet. Another possibility: the snake is shedding and still has the old skin on his head. Old snake skin looks white.
Answer This Question
Add your voice to the conversation. Click here to answer this question.