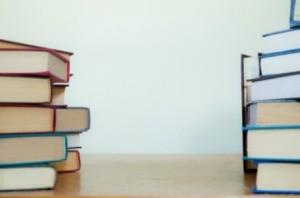 Removing ink from paper, without damage, can be very difficult if not impossible. This is a guide about removing ink from book pages.
Ad
---
Questions
Here are questions related to Removing Ink from Book Pages.
I have a thirty-year old book that I've decided to sell on eBay. When I first bought it all those years ago I wrote my name and address in it with a ball-point pen, because I never thought I'd sell it. How can I remove my name and address without ruining the book? The words are written on the inside of the front cover. Thanks for any advice.

Clare from Gloucester, MA
Ad
---
---
Most Recent Answer

By Rob [3]03/09/2009
You can use a book plate to cover it, but be sure to mention this in your ad. I have sold many used books, and if there is a name written inside, I offer the buyer a name plate to use.
I'm a teacher who is trying to clean up textbooks from this past year. Anyone know how to get ballpoint ink and Sharpie ink off textbook pages without erasing all the other print?
By MissC from Minneapolis, MN
Ad
---
---
Most Recent Answer

By Marlene 04/09/2011
Deep woods off aerosol is the best and least destructive ink removal solution. Aerosol hairspray is second. We discovered this when a pen exploded onto maple kitchen cabinets. We tried everything including aerosol hairspray for months with marginal results. after ordering new doors from the company, one of the kids ran in the room complaining of mosquito bites. Not wanting to pass up a opportunity, we sprayed the deep woods off thinking"what the heck". The ink dispersed before our eyes like magic and didn't harm the finish in any way! I have since used the product to my friends amazement on every single surface including a leather couch that I thought for sure was destroyed!
How can I remove ink marks from a page in a book?
By Maria from Berwyn, IL
---
Most Recent Answer

By Barbara Pope [10]03/20/2010
Try a Magic Rub Eraser. You can buy them at places that sell art, office, and school supplies.
http://www.dickblick.com/products/sanford-magic-rub-eraser/
How do I remove black ink from a book?
By Mojtaba
Solutions: Removing Ink from Book Pages
Do you have knowledge about this guide topic? Feel free to share a solution!