What Breed is My Dog?
What kind of dog is this? It has a black roof in it's mouth and spots on it's tongue. It is 2 years old.
By Kim from MI
Answers: What Breed is My Dog?
Read answers for this question below.
Your beautiful dog is a Chow mix. Chow is such a nice strong breed too. Judging by his very pretty face, I'd say some Golden Retriever or possibly Irish Setter. He seems to have such a deep red coat along with the cute ears and ruff of a Chow.

Hope this helps,
Lee
Chow Chow and gorgeous. Never met a bad chow chow mix. The Golden retriever is an added bonus. A treasure but aren't they all?
He is a very cute dog. He could be part golden retriever, but definitely chow too. We have a golden with a black spot on his tongue too.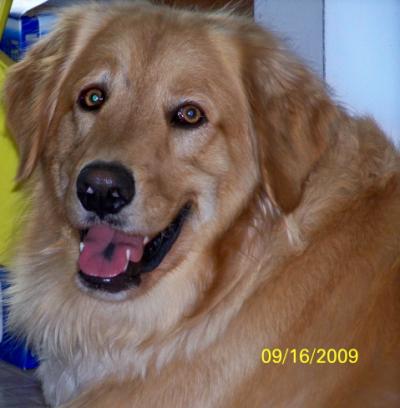 Sure looks like a Chow mix to me. I would guess Golden Retriever for the mix but it is hard to tell from that photo. The snout and ears look a lot like my Chow, Honey. And she has an entirely purple tongue.
Hello, this is definitely a chow trademark, black roofed mouth and spotted tongue. Also his ears. His chow breed definitely takes over his other breed. Beautiful baby, deby
Hi Kim, By the face of your dog and the fact that he has a black tongue, I'd say that he is mostly chow. Hope this helps. Cathy
Answer This Question
Add your voice to the conversation. Click here to answer this question.
Related Guides
Related Posts