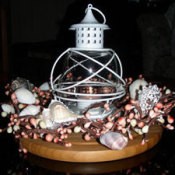 These center pieces are made in a nautical look due to the wedding being held on Cape Cod, MA. Very beach and sand area. I bought white metal and glass lanterns (for the nautical look) and a candle in the center of each and with a dried flower ring around each one. I decorated the flower ring with sea shells by hot gluing them to the flowered rings. I then set the arrangement on a I inch thick solid oak round cutting board. I purposely did not attach these items to each other. This way, whoever goes home with the centerpieces can reuse the pieces individually as a good cutting board, a lantern for a patio, and a ring of flowers and shells for a candle ring. These will be perfect, as the dinner is being held at a fine restaurant overlooking the ocean.

Very easy to make and inexpensive. Everything was purchased at The Christmas Tree Shops. They cost about six dollars each and I only needed eight!

By Jackie from Norton, MA
Ad
---
Feedback Forum
Feedback about this article is posted here. Want to contribute? Click above to post feedback.

By Jess [119]05/04/2007
These look wonderful and very authentic to the area. I used to live in Dennisport and worked in Hyannis. Cape Cod is something special, a great place to get married (except for the summer crowds!) The Christmas Tree Shops have some "wicked" deals.

Congratulations on the upcoming wedding.

Jess
Post Feedback
Add your voice to the conversation. Click here to share feedback.