We are planning our wedding on February 20, 2007 at the fire hall. We are looking to do a fire theme based wedding and are trying to find things to do with the fire department for the wedding. If you could help us and give us some ideas that would be appreciated!

Sabrina from Westville, NS
Answers
Please be sure to rate the answer which works best for you. Do you have a better answer? Click above to answer this question.

By forgetmenotaromas06/19/2006
Sabrina,

The candle company I represent has firefighter tart melts that can be done in your choice of both color & scent. These would make cute wedding favors for such a themed wedding. I've attached a picture of the tarts to give you an idea what I'm talking about. If you would like more info, email me at: forgetmenotaromas@gmail.com.

Congratulations!

Marla

http://www.forgetmenotaromas.com - Our fragrances leave lasting impressions.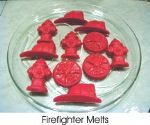 By phishphan9808/03/2006
another post on here... http://www.thriftyfun.com/tf130639.tip.html

By phishphan9808/03/2006
stumbled onto these websites...
http://gardenandhearth.com/WeddingonaBudget/Firefighter.htm

http://gardenandhearth.com/WeddingonaBudget/FirefighterWedding.htm

By Christina (Guest Post)06/18/2006
You should definitly checkout www.modemerr.com. They have some skirts (big fluffy wedding style things) that have flames on the bottom. pricey, but definitly flame inspired.

By phishphan9808/03/2006
Try this link for ideas!

http://www.askginka.com/themes/firefightertheme.htm

By Ashley (Guest Post)08/16/2006
I have some great ideas I am having a fall slash fire themed wedding next month we found these roses that are yellow with red tips look like flames that we are putting on our cake. Also to cut the cake instead of knife use a axe. Also for dollar dance use a fire boot for the money. These are just a couple of ideas. Have a great wedding.

By Rebecca Mollett (Guest Post)01/17/2008
Hey I am also having a fire dept. wedding in April of 08' and I could also use some help of where to find things because I have less than 4 months and all we have is the station of course and his dress blues. Also my dress. Please help. You can send me e-mail idea's at christiansmom_02 AT hotmail.com with topic as wedding.

By Sharon33307/14/2006
Hi There and congratulation's on your up-coming Wedding! I have designed two Fire Fighter themed weddings, the one just recently was in the colors of Black, Red and White, it had a very clean and classic look, but any color will work. I used white table clothes as the base color for the tables then I added black runners going down the middle of each set of tables followed by Red Rose petals and votive candles, then for the centerpieces I placed a Toy Fire Truck or Stuffed Dalmatian Dog with Roses and Rose petals tucked under and around them and then added more candles. THIS WAS SUCH A HIT! and everyone LOVE IT! the best part about using the toys is that the couple donated them to the Fire Department! so this Christmas they have given a gift of love to many children.

Wishing you a Wonderful Wedding Day and a Lifetime of Love...

Sharon Rose

By (Guest Post)01/23/2009
Look at eHow.com under firefighter wedding got some great ideas.

By cosmic (Guest Post)06/20/2006
What a unique theme, I love it.
If you are going to print anything there are many fire themed graphics sites. Maybe put some flames around your invitations, programs, place cards, and thank you notes. Just put "fire graphic"s in a search and you will find many sites to choose from.
Congratulations and good luck.

By Sharon (Guest Post)09/27/2006
Hey my name is Sharon and me and my fiance are getting married at the fire department on June 2007, we both met each other there and are both on the fire dept. u have really good ideas if u have any more please post them.
thank u!


By forgetmenotaromas06/19/2006
Bummer, the image isn't coming thru. I'll try to post from home later if it doesn't work this time.

Marla

http://www.forgetmenotaromas.com - Our fragrance leave lasting impressions.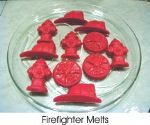 By princessspook09/01/2006
You can always ask if you can use the boots (or some of them) to use as centerpieces. Also, use little fire trucks as favours. By all means have some kind of bell every time you and your new husband kiss. Instead of throwing a bouquet, throw a boot with confettie in it. Or you could use this as if you were going to throw water on a special guest.
Answer This Question
Add your voice to the conversation. Click here to answer this question.