Crafts Using Lace Bodice From Dress
I have a Mother of the Bride's dress that I will not wear again. It is ivory colored with an overlay of beautiful open lace over the bodice. I would like to take the lace and "recycle" the lace bodice into a craft that would be a unique addition to my decor. Any suggestions?
Jose from Tennessee
By WandaJo
Answers: Crafts Using Lace Bodice From Dress
Read answers for this question below.
This is weird looking. It is under her dress to show how she is tied to the top of the tree. Just a muslin "body" with grosgrain ties.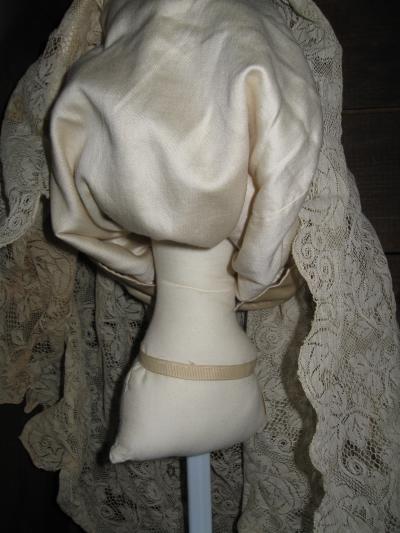 Thank you all for the unique ideas; I like the Christmas tree doll topper idea with the Victorian look. I have a lady that has a monogramming design business; I will give her a call and see if she has some ideas!

I can always come into this forum and get some really good ideas!
You can make a pillow--either a square one or cut a heart shape out and sew it up and then stuff it or I have angels made from old quilts that were beginning to fray and plan to make one out of the bodice of my wedding dress. Cut a circle for the head out of muslim and sew it and slightly stuff it and make a face on it. For the body cut an elongated triangle and sew it and stuff it. Attach the head and then cut angel wings for the back---you may want to stiffen them some.
I had my grandmother's wedding dress made into a Christmas tree top doll. She is very Victorian. The only regret I have is the doll maker concentrated on the doll-not the dress. None the less she is beautiful and my daughter has asked me to leave it to her in my will.
You could use it as the backing in a photo frame of you and the Bride on her day... or when the first child arrives you could make a garment for the christening... a shawl, vest, coverlet.
I know some people have used that type of dress and make them in to christian gowns for other family members.
How about different size&shapes of throw pillows or make a one of a kind"1st annisversary"pillow for your daughters 1st annisversary.?you could embellish it stitching their wedding date...
Keeper
Answer This Question
Add your voice to the conversation. Click here to answer this question.