Craft Project: Fabric Painted Shirt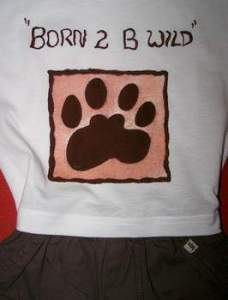 I was recently invited to a stork party and wanted to take a special gift for the soon-to-be-born baby boy, without breaking the bank in the process. I came across a lovely white tee shirt and decided to do some fabric painting to turn the tee shirt into something special. I chose an African design, but any other design will work just as well.
Approximate Time: 1 hour
Supplies:
one white tee shirt for a baby
I bought one for a baby of 3-6 months.
a light blue water erasable pen to draw the design on the tee shirt
fabric paint in two colors: brown and orange
one fine paintbrush
a few sheets of white paper
iron and ironing board
Instructions:
Before starting with the paint project, rinse the tee shirt in cold water to remove any sizing in the material. Do not add fabric softener.
Allow the tee shirt to dry properly and iron it lightly to remove any wrinkles from the material.
Draw a design onto the front of the tee shirt, using the light blue water erasable pen. I chose the footprint of a lion, but any other design may be used.
Add a few clean sheets of white paper between the front and back parts of the tee shirt, so that the paint won't smudge the back of the tee shirt.
Paint the lion's footprint with the brown fabric paint. Use the paint in undiluted form.
Allow the paint to dry thoroughly before continuing with the next step of the project.
Make a watery mix of the brown and orange fabric paint, and use this to color the background.
Again, allow the paint to dry thoroughly before continuing with the next step of the project.
Add a caption phrase that will fit in with the design. In this case, I added the words "Born 2 B Wild." Finish it off by adding a decorative border around the design.
Allow the paint to dry again.
Set iron on tee shirt's recommended maximum heat and iron the tee shirt on the reverse side.
By BessieBessie from Pretoria, Gauteng
Feedback
Read feedback for this post below. Click here to post feedback.

By
08/22/2011
A person can do that with a onesie (as I call them). I think most people now call them one piece underwear. I've been painting t-shirts for myself and daughter for years. Several years ago I even did a thigh length denim, winter coat for myself. I have a tendency to rush in where angels fear to tread. lol

Post Feedback
Add your voice to the conversation.
Related Guides
Related Posts