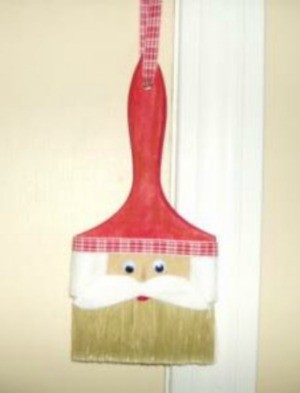 Approximate Time: 30 minutes
Supplies
wooden handle paint brush with light bristles
white felt
2 wiggles eyes
tan felt
1 speck of red felt
ribbon
glue
markers
Instructions
Take paint brush; I got one that had no color or varnish on handle and used a red thick marker to color the top handle. You can you spray paint or paint, but I like marker it dries quickly.
Take piece of tan felt and adhere to front metal piece of paintbrush.
Take the white felt and wrap around from one side along back to other side to make his hair, adhere this with glue. (note you can you yarn, fiberfill whatever you have or like).
Glue on 2 wiggly eyes.
Cut triangle tan felt and glue so it sticks out.
Cut out mustache from white felt and glue.
Take the speck of red felt for lip under mustache.
Take ribbon and glue around top of face around paintbrush.
Finally add ribbon, jute, or other cording through hole at top of paint brush so you can hang on tree, door knob, anywhere you like.
Also if you don't like red, use another color like green or blue to match your Christmas decorations.
By Kitty Kat from New England
Ad
---
By suzanne 278 750 12/20/20070 people found this helpful
I love this.very different and so easy to make
By Annie Rios Hill 14 1,777 12/20/20070 people found this helpful
Very cute and original. I think it would be a great
craft to do with kids. Thank you for the idea & photo.