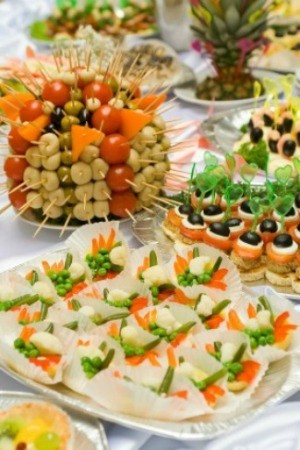 Planning the menu for your wedding reception will often include some type of appetizers. This page contains wedding appetizer recipes.
Ad
---
Questions
Here are questions related to Wedding Appetizer Recipes.
My daughter and I have decided to reduce the budget for her wedding reception, and with the wedding two weeks away we want to find good, elegant and FRUGAL appetizers, and serve an appetizer reception instead of a buffet. Any ideas or suggestions? Thanks!

Kim from Crawford, CO
AnswerWas this interesting? Yes No
Ad
---
---
Most Recent Answer
By Melva 01/26/20100 people found this helpful
To Andy, Would you please post the recipe for the 75 small rolls. My granddaughter is getting married in June and this sounds like something that would be good. Thank you so much
---
I need some ideas and appetizer recipes for a wedding reception that won't break the bank, but will make daughter happy. Any ideas?
By oregon mom from Prineville, OR
AnswerWas this interesting? Yes No
Ad
---
---
Most Recent Answer
By cettina [78] 08/27/20090 people found this helpful
My daughter married in February, and I did the catering for 150 people on my own by starting in the October before and freezing stuff as I went along. I made tiny chicken turnovers, Italian rice balls, both freezable recipes from allrecipes.com., plus hummus, blue cheese dip (with yogurt instead of mayo), which I also froze with no problems at all. Sandwiches (made at the last minute), apple sheet cake, bake well tart (which both froze and thawed beautifully). Plus nibbles like chips, peanuts and some ready made frozen vegetable samosas and spring rolls. I also made pizza which I froze as well. Everybody was so impressed, and I made plenty! Long as you have LOTS of food and a reasonable variety, you can't really go wrong.
---
I am having an outside wedding and there isn't anywhere to keep food hot or cold. The wedding is in April, however we till have coolers to keep things cold if needed. My problem is I can't figure out easy appetizers that would be safe to have.
By Misti W
AnswerWas this interesting? Yes No
---
Most Recent Answer
By Dena R. [3] 03/12/20130 people found this helpful
I would suggest cold appetizers and lots of interesting containers full of ice...the salad bar, with pickles and cheeses sounds great. A variety of small crackers would be safe to serve with the salads.
---
I am trying to put together an hor d'oeuvres only menu for an evening wedding reception (in the fall) of approx. 50-55 guests. I know I have to make heavy hor d'oeures for everyone not to be hungry. What kinds of hor d'oeuvres should I prepare? If anyone has recipes that they would want to share I would appreciate it. Also I appreciate all input and suggestions! =)
By PLB2PLC
AnswerWas this interesting? Yes No
---
Most Recent Answer
By Beth 02/12/20130 people found this helpful
Finger sandwiches are good. Cut the crust off of bread, make the sandwiches, and cut in half on the diagonal. You can match the type to your wedding - bbq, tuna salad on toast, roast beef, etc. buy the meat bulk to save money. For deli meat and cheese, they will slice for you too. Fancy spreads really up the game of a plain sandwich. Try gourmet mustard or garlic mayo (aoili).

Another good idea is several types of crackers with hard meats and cheeses. Again, buy bulk at the deli and have them cut it for you.

If you want to get real fancy try asparagus lightly steamed, spread with boursin cheese, and wrapped in prosciutto. Bake until the edges crisp. It's pricey, but good and impressive. Also, get a mini-cupcake pan and make baby quiche.

I am a huge fan of fresh fruit for dessert. That way it won't compete with the cake.

Congratulations and good luck.
Recipes
Do you have knowledge about this guide topic? Feel free to share a solution!
Archives
Thrifty Fun has been around so long that many of our pages have been reset several times. Archives are older versions of the page and the comments that were provided then.
I am planning a wedding and am trying to create a menu of appetizers. Currently I have shrimp cocktail and a fruit tray with cheese.