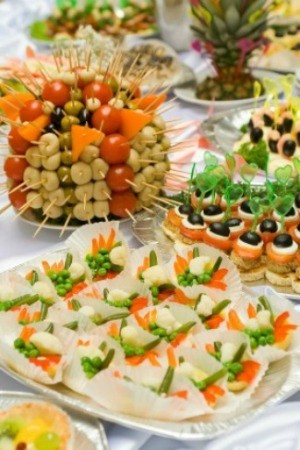 Planning the menu for your wedding reception will often include some type of appetizers. This page contains wedding appetizer recipes.
Solutions
Share a solution for this guide today!
Questions
Here are questions related to Wedding Appetizer Recipes.
My daughter and I have decided to reduce the budget for her wedding reception, and with the wedding two weeks away we want to find good, elegant and FRUGAL appetizers, and serve an appetizer reception instead of a buffet. Any ideas or suggestions? Thanks!

Kim from Crawford, CO
---
Most Recent Answer

By Melva01/26/2010
To Andy, Would you please post the recipe for the 75 small rolls. My granddaughter is getting married in June and this sounds like something that would be good. Thank you so much
I am trying to put together an hor d'oeuvres only menu for an evening wedding reception (in the fall) of approx. 50-55 guests. I know I have to make heavy hor d'oeures for everyone not to be hungry. What kinds of hor d'oeuvres should I prepare? If anyone has recipes that they would want to share I would appreciate it. Also I appreciate all input and suggestions! =)
By PLB2PLC
---
Most Recent Answer

By Beth02/12/2013
Finger sandwiches are good. Cut the crust off of bread, make the sandwiches, and cut in half on the diagonal. You can match the type to your wedding - bbq, tuna salad on toast, roast beef, etc. buy the meat bulk to save money. For deli meat and cheese, they will slice for you too. Fancy spreads really up the game of a plain sandwich. Try gourmet mustard or garlic mayo (aoili).

Another good idea is several types of crackers with hard meats and cheeses. Again, buy bulk at the deli and have them cut it for you.

If you want to get real fancy try asparagus lightly steamed, spread with boursin cheese, and wrapped in prosciutto. Bake until the edges crisp. It's pricey, but good and impressive. Also, get a mini-cupcake pan and make baby quiche.

I am a huge fan of fresh fruit for dessert. That way it won't compete with the cake.

Congratulations and good luck.
I need some ideas and appetizer recipes for a wedding reception that won't break the bank, but will make daughter happy. Any ideas?
By oregon mom from Prineville, OR
---
Most Recent Answer

By cettina08/27/2009
My daughter married in February, and I did the catering for 150 people on my own by starting in the October before and freezing stuff as I went along. I made tiny chicken turnovers, Italian rice balls, both freezable recipes from allrecipes.com., plus hummus, blue cheese dip (with yogurt instead of mayo), which I also froze with no problems at all. Sandwiches (made at the last minute), apple sheet cake, bake well tart (which both froze and thawed beautifully). Plus nibbles like chips, peanuts and some ready made frozen vegetable samosas and spring rolls. I also made pizza which I froze as well. Everybody was so impressed, and I made plenty! Long as you have LOTS of food and a reasonable variety, you can't really go wrong.
I am having an outside wedding and there isn't anywhere to keep food hot or cold. The wedding is in April, however we till have coolers to keep things cold if needed. My problem is I can't figure out easy appetizers that would be safe to have.
By Misti W
---
Most Recent Answer

By Dena R.03/12/2013
I would suggest cold appetizers and lots of interesting containers full of ice...the salad bar, with pickles and cheeses sounds great. A variety of small crackers would be safe to serve with the salads.
Archives
Thrifty Fun has been around so long that many of our pages have been reset several times. Archives are older versions of the page and the feedback that was provided then.
I am planning a wedding and am trying to create a menu of appetizers. Currently I have shrimp cocktail and a fruit tray with cheese. This is going to be at a wine vineyard at 2 pm on Oct 4, a Saturday afternoon.
I need ideas. Thank you.
Ashley from Michigan
---
RE: Ideas For Wedding Appetizer Menu
How about scones with a variety of preserves/marmalades? (04/24/2008)
By gigurl
RE: Ideas For Wedding Appetizer Menu
Lumpia or egg rolls are wonderful, as well as an assortment of olives and pickled veggies such as cucumbers, artichokes, mushrooms, and cauliflower. Cheese ball and crackers, chicken wings, crab rangoon, and fruit kabobs. Spinach dip in bread bowls served with the bread chunks that were removed to make the hollow for the dip are very good, as well as, tiny tart shells or phylo shells with crab salad, deviled eggs, meatballs, tiny quiches. This is such an easy reception buffet to arrange. Wish I could do it for you. (04/25/2008)
By guest
RE: Ideas For Wedding Appetizer Menu
You can make mini sandwiches using the pre-made dinner rolls/buns that look like little hamburger buns. (04/25/2008)
RE: Ideas For Wedding Appetizer Menu
You can also add crackers to the fruit and cheese platter. (04/25/2008)
RE: Ideas For Wedding Appetizer Menu
How fun for you. Here are a few suggestions that have worked for our family for weddings, parties, etc. All of them yummy, at least to us. How about: Roquefort grapes; brushetta made with tomatoes and feta cheese; ceviche served with tortilla chips; cherry tomatoes filled with smoked salmon mousse; sweet and spicy mixed nuts; broccoli or asparagus quiche (cut into squares); chili cheese cornbread (cut into squares); cream cheese and crab won tons served with plum dipping sauce; hot sausage won tons; a yummy cheese ball with pecans and raspberry jelly on top; papaya or melon wrapped with prosciutto.
All of these are very simple to make and easy to serve. Really. If you are interested in any recipes, just let me know. Most important, have fun. (04/25/2008)
By Liz
RE: Ideas For Wedding Appetizer Menu
How about sweet and sour meatballs made with chili sauce and grape jelly. I know it sounds weird, but they're delicious. God Bless and good luck. (04/25/2008)
By shona43
RE: Ideas For Wedding Appetizer Menu
Bread Moment Surprise's
This is a very popular appetizer.
Purchase 2 to 3 loaves of bread or more depending on guest numbers, allow 2 1/4s per guest
500gms x 2 butter
Tin x 2 mushrooms in sauce more if needed
1/2 to 3/4 kg bacon pieces
Melt the first 500gms butter in microwave,
Cut all crusts off the bread, and cut into 1/4s
Dip each 1/4 in the melted butter and push into a small Fairy cake sml cup pan's that holds 1 dozen.
Then add:
1 teaspoon of Mushroom Sauce
add Bacon pieces to the top.
Bake in oven at 150Deg C for 10 minutes,
You can make these a few day's ahead keep refrigerated then warm prior to serving. You may substitute the mushrooms with 1 teaspoon Tinned Salmon de-boned, which is also popular, but still following the same instructions, still adding the bacon. (04/25/2008)
By John from Tasmania
RE: Ideas For Wedding Appetizer Menu
We make these things called Ham Roll Ups. Get some deli ham sliced on # 2-3 then spread a thin layer of soft cream cheese. Take a clean scallion and lay it on the edge facing you of the ham and roll it up then slice into bite size pieces. Make the night before so the flavor of the scallion has a chance to flavor the cream cheese. Good luck and congratulations. (04/25/2008)
By Debbie
RE: Ideas For Wedding Appetizer Menu
Peanut oil
1 Package Won-ton wrappers
10 Ounces Sharp cheddar cheese-shredded

Garnishes:
1/2 Cup Brown sugar, packed

* Core the apples and cut into small pieces.

Mix the brown sugar and cinnamon together and set aside. Preheat the peanut or vegetable oil in a deep fryer or other pan used for deep frying. Wrap a piece of apple and a cube of cheddar cheese in a wonton skin and seal according to the directions on the package. Deep fry until golden brown. Coat with the brown sugar - cinnamon mixture and serve. This is good served hot or cold.

Candied Sausages

1 package Cocktail Sausage
1 cup Brown sugar
1 pound Bacon

Cut bacon into thirds. Wrap one third piece of bacon around each cocktail sausage. Put sausages into 9 x 13 pan. Sprinkle with brown sugar and pat down. Bake at 350 for one hour. Serve using toothpicks.

These are so simple, and always a hit at parties and get-togethers.

1 package of frozen, precooked, homestyle meatballs
1 large can jellied cranberry sauce
1 small can tomato sauce
1 medium onion, diced

Place frozen meatball on a baking sheet, and bake according to package directions. Meanwhile, place onions in the bottom of a slow-cooker on high, and cook until transparent. Add cranberry and tomato sauces to cooker, and heat and stir until cranberry sauce is melted. Stir in meatballs, simmer on low heat. These are better the longer you can let them simmer, but can be done on the stovetop and served immediately. Easy, and so tasty.

Hot Cheese Straws

Prep: 15 min, Cook: 10 min, plus refrigeration time.

1 cup all purpose flour
1/8 tsp. salt
1/2 tsp. cayenne pepper
1/4 cup unsalted butter, chilled
1/2 cup shredded cheddar cheese
1 egg, beaten

In a bowl, mix together the flour, salt and cayenne pepper. Cut in the chilled butter until the mixture resembles fine breadcrumbs. Add the cheese and half the beaten egg and mix until dough forms a ball. Cover and refrigerate for 30 minutes. Preheat the oven to 400 degrees F. Butter or spray several baking sheets. On a floured surface, roll out the dough to 1/4 inch thickness. Cut into 3x1/2 inch strips. Twist and place on prepared baking sheets. Brush the cheese straws with the remaining egg. Bake 10-12 minutes, or until golden brown. If they brown too much, the cheese will turn bitter. These freeze very well. To refresh them after thawing, pop them in a 350 degrees F oven for 3-4 minutes.

Zola's nuts

Ingredients:

1 can of whole cashews
Olive oil spray
3 tsp of Worcestershire sauce (or more to taste)
1/2 tsp of salt
1/2 tsp of onion powder
1/2 tsp of cayenne (or to taste)

Instructions:

Pour the nuts into an oven-proof pan. Spray nuts with oil and toss. Sprinkle on the seasonings and toss thoroughly. Roast in your oven at 375 degrees for 10 to 12 minutes. When you start smelling the wonderful aroma, or when you spy a little browning on the edges, take them out of the oven. Now toss one more time. Cool on paper towels. You can even eat them warm and really savor the coating. (04/26/2008)

By micksgirl

RE: Ideas For Wedding Appetizer Menu

You could also do finger sandwiches, cucumber and cream cheese, tuna/ham/chicken salad, or whatever else you might like for fillings. (04/26/2008)

RE: Ideas For Wedding Appetizer Menu

You can make mini quiches with a mini muffin pan and pre-made pie crust or phyllo. Cut whatever you're using for crust with a round cutter and press into the muffin wells, then a small amount of any quiche recipe, and watch carefully while baking. I think these can be frozen and reheated as well. (04/26/2008)

By dj_pinkey

RE: Ideas For Wedding Appetizer Menu

I went to an afternoon wedding last year, and they had a terrific assortment of "finger foods". They had beef kabobs, fruit kabobs, scallops wrapped in bacon, cheese and crackers (of course), and vegetable kabobs. What made it nice was that everything was on skewers (even the cheese pieces), so guests only had to pick up a skewer and go. It cut down on time spent getting food, and also mess, since you could just munch off of the skewer if you chose.

The fruit skewers were very pretty; they used the fruit cutters so each slice was a shape. Also, the cheese was "fancied up" too. Best wishes for health and happiness. (04/26/2008)

By LAnBfflo

RE: Ideas For Wedding Appetizer Menu

One thing that I serve a lot and always goes so quickly is mini croissants filled with chicken salad. You could put whatever you want in them (I've done pimento cheese for poker parties). They are small, but a bit filling, always a big hit. (04/28/2008)

By bikingala

RE: Ideas For Wedding Appetizer Menu

Simple yet delicious, fried ravioli. It can be made ahead of time. Just take frozen ravioli "I use minis" while still frozen dip in egg wash, then flavored bread crumbs. Then either deep fry or fry in pan with olive oil. Once golden brown ravioli is cooked and good to go, tomato sauce is a great dipping sauce. (05/14/2008)

By Gia

RE: Ideas For Wedding Appetizer Menu

Mini Muffins in a few different flavors. Skewers of cheese cubes and seedless grapes. Skewers of diced ham and cheese. Baby carrots and pepper strips with dip. (07/11/2008)

By Julie L

RE: Ideas For Wedding Appetizer Menu

It seems like a very interesting setup. You can try a number of things based on the cuisine you want to opt for. You can serve: Mini sausages or sausage pieces on a skewer.
Small cups of boiled corn kernels with different flavourings eg. white sauce, salt and lemon juice with herbs etc.
Canapes with a variety of fillings eg. Tuna, chicken, cold cuts, corn or whatever catches your fancy.
Cutlets or patties (whichever term you are familiar with - basically spiced meatballs with minced meat)
Chicken wings or lollipops (if you want something more oriental)
Bread croutons with a cheese dip. (Bread can be replaced with vegetable sticks like carrot, etc.)
An assortment of chips / crisps

This list can go on. Just make sure that what you serve is convenient to munch on without being messy. God bless and have a blast. (08/19/2008)

By Trisha

RE: Ideas For Wedding Appetizer Menu

I am also having an appetizer menu for my fall night time wedding. My favorite things from the menu so far are butternut squash soup shooters for one of our passed hors d'oeuvres. We are also having mini sandwiches Reubens, burger sliders, and pulled pork sliders. (08/15/2009)