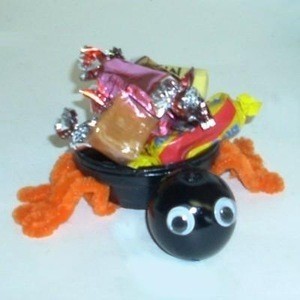 This small clay dish, bead, and chenille stems transform into a cute, mini spider with a body you can fill with candy! Great for Halloween parties.
Approximate Time: 15 minutes without drying time
Supplies:
Clay Dish - 3 inches
Round Bead - around 1-2 inches
Orange Chenille Stem - 2 - 18 inches long
Googly Eyes - 2 - 1/2 inch
Craft Glue
Black Paint
Paintbrush
Instructions:
Turn your dish upside down and cover it with black. Let the paint dry. Turn the dish around again, so that it's facing the right way. Finish painting the dish black, making sure to get the inside and rim, as shown in the "Step 1" picture. Paint ball black. Let the paint dry.
Fold your chenille stem in half evenly and cut. Repeat with other stem. Take the four stem halves and fold *them* into half evenly. Cut the stems. You should now have 8, small, even, orange stems.
Make a small loop at the end of each orange stem, as shown in the "Step 2" picture. This is the spider's "foot" at the end of each "leg".
he foot should go flat against the floor, with the leg arching up, then back down to slip under the spider's body. Use some craft glue to secure the legs to the spider's body. Place four legs on each side, coming from, under the spider, as shown in the "Step 3" picture.
T
Glue googly eyes to black bead. Glue the head to front of body, as shown in the finished project picture. Let glue dry.
Fill your dish with candy or other goodies and set out for guests.
By Aysha from Boise, Idaho
By Aysha