I buy a box of any kind of plastic Ziploc, store brand, or zipper bags from the dollar store and use the bags for snacks for school for my daughter for school or freezing my meats.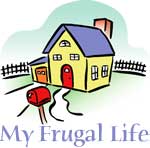 When I use what ever I have in the bags, I wash out the bags and reuse them over and over again.
I also buy water by the case, then reuse the plastic bottles and fill with tap water. My kids always have water to drink and do not have to keep buying cases and wasting money by buying water that they try to tell you comes from spring water like Poland Springs but really is not and is tap water.
I save my cans and bottles all the time and on every trash day I take and park my car on one street and walk around collecting bottles and cans from people's recycle bins or clean up our environment and pick up what people leave in the parks or just throw out in the street. Some weeks I can make up to $150.00 to $200.00 a week by turning in other people's recyclable items that they are wasting there money on at the stores and I get to make extra money to pay towards a bill or put it towards my rent.
By Maggie from Somerville. MA
Do you have a frugal story to share with the ThriftyFun community? Submit your essay here: http://www.thriftyfun.com/post_myfrugallife.ldml
Ad
---
By Melanie Jackson 1 373 10/08/20100 people found this helpful
I love any and all recycling ideas like yours, but I would draw the line at reusing Ziploc bags that have been used for meat. You can't get such bags 100% clean, and take it from one who's been there, food poisoning is not only a horrible experience, but the trip to ER isn't cheap, either. :(
10/10/20100 people found this helpful
Love that you make the effort to earn extra money by collecting recyclables and do your best to recycle in general but I was also going to say what WildIrish said about reusing anything that have had meat in them and one other 'beware' is to 'not' reuse water bottles. It is only safe to reuse #2, #4 & #5 plastic for beverage and food items.
By Katie 4 216 10/10/20100 people found this helpful
In some places anything put in the recycling container belongs to the recycling company. In that case, you would be stealing if you remove it. Some people put their redeemable recyclables out because they know they are making a small donation to the City.

If that's not the case in your city, great way to make a few extra dollars!
By Pghgirl40 6 4 10/11/20100 people found this helpful
I applaud your idea to pick up bottles and cans that people have littered. That is a great way to make extra pocket money.

However, taking them from people's recycle bins could be considered theft if your community gets money for that from the vendor--if the community revenues go down, the taxes will go up. That would be very bad for everyone!

There is so much litter in the world, picking up and recycling the environmental littered recyclables would be a better way all the way around to make your world cleaner and to line your pockets with a little extra spending money.
By Debbie Dzurilla 28 1,124 10/11/20100 people found this helpful
Our town provides a big trash can on wheels for our recyclables. Our town makes money from the recyclables, and what anyone puts out in that can is only for our trash service to be taking. So just be sure that it's ok to take recyclables from people's bins. It may very well NOT be ok. If it is to help the town/community, then you really should leave it alone. I do applaud that you go picking up cans, bottles, and recycle, but this is not a good idea to take from people's recycling bins.

I really like Ziploc or any type of plastic storage bags; however I'm not much into washing them. What I've been doing more and more is just not use them as much to begin with. I can send things in reusable containers for the kid's lunches and those are easier for me to clean. I guess I feel like I have enough work to do, so having to wash food storage bags isn't a big priority for me. Sometimes, too, I wrap the item in some wax paper and then put down in the bag and the bag stays clean so it can be used again.
By luna 25 08/01/20110 people found this helpful
I do not agree with taking stuff from recycle bin as most places get the xtra$$$ and I never reuse Ziploc bags that have had meat, too big a risk.