I buy a box of any kind of plastic Ziploc, store brand, or zipper bags from the dollar store and use the bags for snacks for school for my daughter for school or freezing my meats.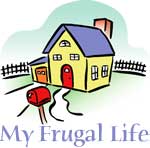 When I use what ever I have in the bags, I wash out the bags and reuse them over and over again.
I also buy water by the case, then reuse the plastic bottles and fill with tap water. My kids always have water to drink and do not have to keep buying cases and wasting money by buying water that they try to tell you comes from spring water like Poland Springs but really is not and is tap water.
I save my cans and bottles all the time and on every trash day I take and park my car on one street and walk around collecting bottles and cans from people's recycle bins or clean up our environment and pick up what people leave in the parks or just throw out in the street. Some weeks I can make up to $150.00 to $200.00 a week by turning in other people's recyclable items that they are wasting there money on at the stores and I get to make extra money to pay towards a bill or put it towards my rent.
By Maggie from Somerville. MA
Do you have a frugal story to share with the ThriftyFun community? Submit your essay here: http://www.thriftyfun.com/post_myfrugallife.ldml