Does anyone know where I can donate fabric in Los Angeles?
By violin3 from Los Angeles, CA
Ad
---
By Joan 13 1,479 02/12/2011 Flag
Depends on if they are small scrap type pieces of fabric or if they are by the yard. If they are 1 yard or more, most thrift stores will take it. If it is smaller pieces ask around and see if there is a group that makes quilts for the homeless, or for kids in hospitals or there is a group nationwided, I just don't know what the name of it is that makes baby quilts for a certain organization. I think the group might be called Baby Linus, but I'm not sure.
By Barbara 5 29 02/13/2011 Flag
How about donating it to the Art's & Craft's dept. in the nursing home. They have alot of women & men that like to do crafts with it.
By gem 154 262 02/16/2011 Flag
Advertise on Craigslist. Donate them to a nursing home. Many times fabric can be used in many crafts. We also love figuring out ways to use it too.
Wish you were closer I'd take it off your hands.
Gem
I recently donated all kinds of fabric including curtains to the local senior center in Westminster (Orange County, CA).
I have several blouse and shirts I want to find a second life for. I think these merit better than being hacked apart into cleaning rags so I wonder where or what I can do with them. All are cotton and clean. Some of course have the usual wear and tear.
Please know I am open to all ideas. :) Attached is but a small sample of my old friends.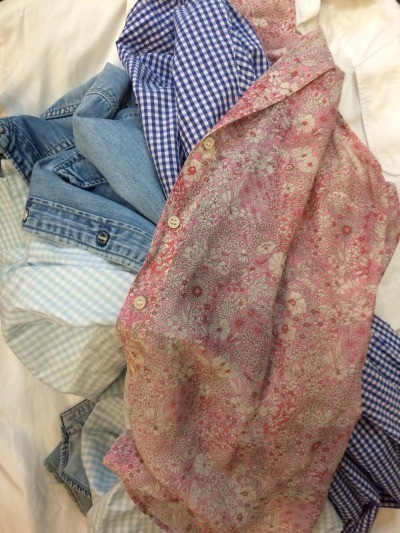 Hello!
My name is Kalyn Sheahan. I am currently volunteering for a non profit charity called the Quilted Love Project. We have an event on July 25-26. People will come out and decorate 16x16 in squares which will then be sewn into quilts and distributed to the homeless population in Downtown Los Angeles! We are looking for ANY fabric (not stretchy or luxurious), art supplies, and even sewers for the actual event as they will be sewing as fast as the squares are being completed. If you would like to help please email me personally and I can come pick it up! I'm in West Hollywood. Thank you for your time!

Kalyn S.
KalynSheahan AT gmail.com
Www.quiltedloveproject.org
Archives
Thrifty Fun has been around so long that many of our pages have been reset several times. Archives are older versions of the page and the comments that were provided then.
I am looking for places or people who sew for charity to donate fabric to. I have a lot of cotton, cotton/poly blends, corduroy, flannel, washable rayon, fleece, and more that I want out of my house. My collection of fabric began in the 70s and went through last year. I would love to find a new home for it, not clutter a landfill. Thank you.
By Anniepandannie from CT
Feedback:
RE: Donating Fabric to Charity
I just donated a bunch of fabric to the local Senior center. They sew different items for charities. They also took some craft items and yarn and crochet type stuff.

You could call and see if your hospital has a hospital guild that has members that sew for charity. Or donate it to the high school or middle school for kids that can't afford fabric for their sewing projects for class.

You could donate it to Project Linus to make blankets for charity. Check for local chapters here:
OR check the listings here for other CT charities:

I am sure any church group would probably love to have fabric donations as well.
You could put it up on Freecycle as well or put an ad in your newspaper. Many papers let you list ads for free items at no ad cost. (12/21/2009)

By Kaelle
RE: Donating Fabric to Charity
I have donated fabric to the local schools for the Home Economics/Family Consumer Science classes. It is amazing how excited the students were when they were showing off their finished projects, especially the boys. (12/31/2009)

By sdeal54
RE: Donating Fabric to Charity
Also, please contact your local Veterans of Foreign Wars (VFW) or Disabled American Veterans, as they make many projects for Veterans living in Veteran Homes. One VFW in Ozark, MO make beautiful homemade quilts for home of unwed and underage girls. God Bless! (01/05/2010)

By meoowmom
I have two large (heavy) bins of sets of fabric for childrens' quilts. Some have a printed fabric and matching backing, some are just lovely prints. Some are flannel, some cotton, and a few cotton/poly blend.

I very much would like these to go to people making quilts for kids in need. I live in CT so I would welcome any suggestions.
Thank you.
By Molly's Mom from North Branford, CT
Feedback:
RE: Donating Fabric to Charity
If nothing else you can always donate them to a thrift store. I know there are also groups, that make quilts for children in hospitals; there is one national group that makes them. I think it is called Project Linus or something like that. I would recommend calling different churches, etc. Check with your local hospital and see if they know of any organizations that do this. (08/05/2010)

By redhatterb
RE: Donating Fabric to Charity
See if you can find some local "quilting clubs" (call some fabric stores, check online, etc.) and request they use the material for needy kids quilts. (08/06/2010)

By thriftyvicki
RE: Donating Fabric to Charity
You may want to check with your local senior citizens club and see if they could use them or know of a quilting bee club in the area. Also perhaps an assisted living or nursing home may have an activities director you could contact and suggest this project and donate the supplies. (08/07/2010)

By Amy3e
RE: Donating Fabric to Charity
My old church made baby quilts for babies at risk. Maybe a local church in your area does this, you can check with the pregnancy centers and teen pregnancy programs at your hospital to see who might be doing this in your community. (08/11/2010)

By yoder178