Scenery: Birch Alley in May (Stan Hywet, Akron, OH)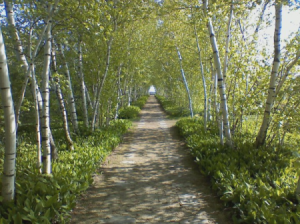 This is called the Birch Alley. It is an arrow-straight aisle of birches, with lilies of the valley at their feet. In May, the fragrance is intoxicating.
It is part of the stunning gardens of Stan Hywet, a Tudor Revival country estate in Akron, OH. It was built in the early 1900's by rubber industrialist F. A. Seiberling. It is now a National Historic Landmark. Stan Hywet is Old English for "stone quarry".
By Joyce
Feedback
Read feedback for this post below. Click here to post feedback.

By
07/28/2011
I just saw this tonight, in catching up with old newsletters I never opened. This is beautiful! Thanks for sharing this with us. Your historical info is very interesting. I would love to see this myself someday.
Post Feedback
Add your voice to the conversation.
Related Guides
Related Posts