Repurposing Clothing In Crafts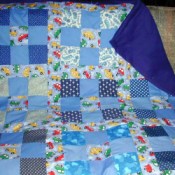 I watch for the local thrift stores to have half off or 75% off sales and go look for fabric suitable for covering scrapbooks, making recycled clothing, making small crafts and recovering furniture. Sometimes you can find a long leather coat for a few bucks and recover chairs or make wallets from it. I always go in with a plan and find things people normally would not buy.
If I cannot use it one way, I can always use it in quilt making thus making the price of the quilt extra low. Blankets are great for inside of quilts and normally are inexpensive. I can get 2 baby quilts out of 1 full size bed blanket.
Recycling not only aides in my frugality it allows me to make items that would normally cost me a lot of money to purchase in a retail store. So when you see a clothing or sheet sale, stock up and save in the long run.
By gem from VA
Feedback
Read feedback for this post below. Click here to post feedback.
Post Feedback
Add your voice to the conversation.