Skinny German Shepherd
Having a very thin dog can be disturbing. Trying to determine the reason your pet won't gain weight is an important step toward getting your pet up to a healthy weight. This is a guide about a skinny German Shepherd.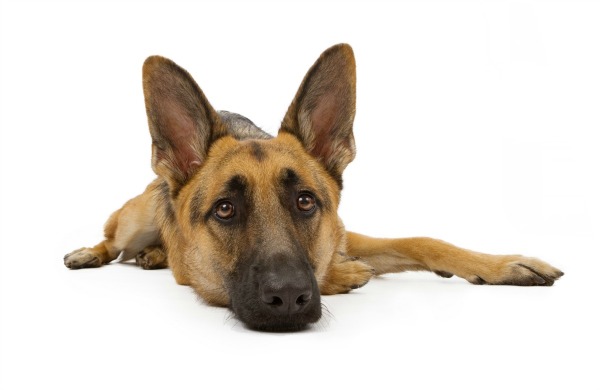 Filter

: All Articles
Sort

: Relevance
My 1 year old female German Shepherd is gulping her food, but is thin. She ate a mouse weeks ago; is this the problem? She has been wormed.
By Sue
November 2, 2013
0

found this helpful
I would be suspicious of tapeworms too. It is hard to check for them until you see what looks like little pieces of white rice around your pets backside. If they are fresh, the wiggle a little. They are segments of an internal tapeworm. General worming does not work for tapeworms. Check with your Vet for the right wormer.
November 2, 2013
0

found this helpful
Have you considered talking to your Veterinarian?
November 2, 2013
0

found this helpful
Have you considered talking to your Veterinarian.?
August 9, 2016
0

found this helpful
http://upstateamc.com/Exocrine_pancreatic_insuffi.html
Check out this web site - my german shepherd eats a lot, has diarrhea and goes to the bathroom at least 3 times and day and sometimes can't hold it at night. She is very skinny so the vet is doing some blood work. No worms.
I have a German Shepherd female dog. She is 5 months and she is 22 kgs. She is properly vaccinated and de wormed. I want her to put on weight, she eats properly, is very energetic, and very playful. She does not look skinny or thin, but I want her to look a bit more fat. Is it possible? If yes then how?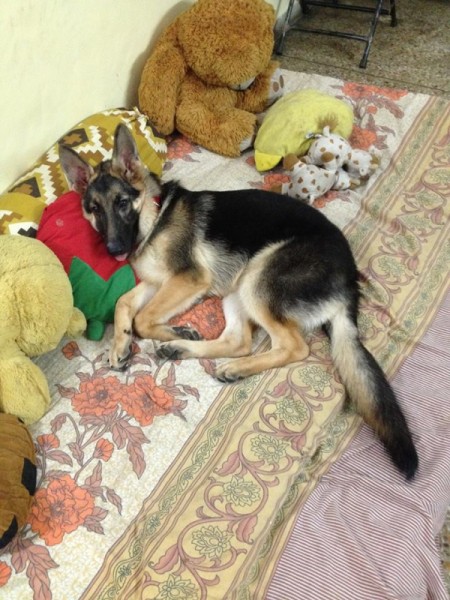 October 19, 2015
0

found this helpful
It is typical for young, large breed dogs to look thin and gangly. They put the energy from their food into their growth.
Your dog is mainly just a puppy, and still too busy and energetic to eat more than she cares to.
You do not want to encourage your dog to "put on weight" now because any food habits your dog acquires now she will keep. That means if you feed her a lot of high-calorie food now she will keep eating that way and then when she is an adult she will be overweight.
Assuming you are feeding her a high quality food, the best thing to do is just wait. When she stops growing so fast she will start putting on the weight.
October 21, 2015
0

found this helpful
What Abigail A said is very true. Larger dogs take longer to mature and fill out. She'll put on weight in time - and then you'll have to watch that she doesn't gain too much weight!
Roxy turned nine back in September, but she has been awfully skinny for the past few years. Lately it seems worse than usually. She has long fur, so it's hard to tell unless you pet her. She's probably around 45 pounds. She hardly eats her food without us putting something in it to make her want to. And even since she was probably around three or four, she goes out to poop a lot.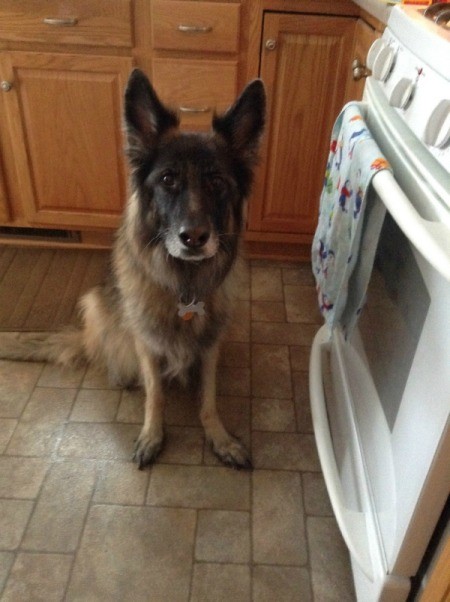 Is it actually normal for a dog of her weight to have to go poop four or five times a day, if not more? Yesterday she had diarrhea. She's going to the vet today at 11, so we're hoping for at least some result (although the there hasn't been in years). Do you guys have some weight gain tips for her or have anything I should have the vet check for?
February 29, 2016
0

found this helpful
Check her for worms.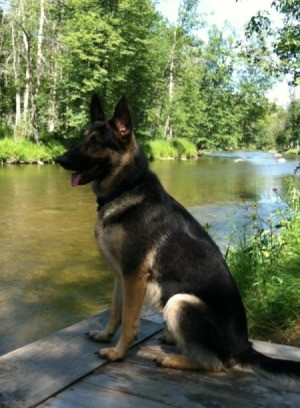 I have a 1 and a half year old male German Shepherd. He is right around 80 lbs, but seems small when compared to other male Shepherds or even the female we had before him.He doesn't seem to have that fluffy coat that makes them look fuller. Any suggestions on how to help him put on some healthy weight and muscle?
By S. DeRosia
September 2, 2013
0

found this helpful
The posted information regarding different country conformations are correct. Talk to the licensed breeder that is registered with the Canine Control in your country. Veterinarians are not Breed survey experts. In any case will it really matter what his appearance is unless you intend to show him (he must have pedigree papers). Just love this beautiful boy for who he is and the loyal companion this world wide breed will be to you.
September 3, 2013
0

found this helpful
My male German Shepherd is 10 years old and weighs 75 pounds. He just had a vet checkup today and is in great health. 80 pounds is not underweight. What does your vet say?
February 22, 2016
0

found this helpful
Ive had gsd's my whole life and even at 1 1/2 they're actually not fully developed they'll have their height but not their full weight potential they grow than out I wouldn't worry about it. Just keep feedind them and exercise they will bulk up before you know it and fast
August 27, 2016
0

found this helpful
I have a 1 year old male. And he seems just a little skinny in the hind leg and waist area. I don't think that it is normal. I mean I just upped his food intake to see if that works... he is a very active dog. Just want to make sure he is heathy
I have a 7 year old German Shepherd mix. She is so skinny you can see her ribs and her back bone. We put food out for her, but she just won't eat. And when she does, she doesn't gain anything.
Read More...
My Shepherd just turned a year. He was the runt and has always been kind of small, even though everyone who sees him says "wow he is going to be a big boy". He is long and has always been on the slender side, but still looked healthy. He has had food allergies since he was a pup and it took me a long time to find a food he would not throw up. I recently changed from puppy to adult food and found something that seems OK, but over the last couple of months he looks too skinny. You can even see his ribs a little. He eats but not a lot. He is still very active and energetic, but it worries me. I tried adding some wet food to the dry and he threw up really badly, even acid, after he lost everything he ate that day. I am back to straight dry food, lamb and rice seems to sit well with him, but is there something else I can do or anything I should be concerned about? Please help. He is my baby and I don't want anything to happen to him. He is up to date on shots.
August 20, 2015
0

found this helpful
Just feed him what he can tolerate.
Dogs and cats are like humans- being overweight can shorten their lifespan, but eating a calorie-restricted diet can actually prolong life.
If someone thinks you aren't feeding him, just say he has food allergies and won't tolerate most foods.
You should have any skinny GSD, Doberman Pinscher, Labrador Retriever, or other breed known to be born with EPI checked to make sure their pancreatic acid is working. EPI is exocrine pancreatic insufficiency, which means they don't manufacture enough pancreatin, hence the food is improperly broken down and doesn't digest, causing diarrhea and weight loss. EPI is not uncommon in certain breeds.
I rescued a adult German Shepherd named Big Guy, from the pound. When I got him he would not eat and was afraid of everyone and everything. I have had him for about 8 months he seems to have built a trust relationship with me.
Read More...
Related
© 1997-2016 by Cumuli, Inc. All Rights Reserved. Published by
ThriftyFun
.
Page
generated on September 18, 2016 at 12:29:02 PM on 10.0.2.111 in 7 seconds. Use of this web site constitutes acceptance of ThriftyFun's
Disclaimer
and
Privacy Policy
. If you have any problems or suggestions feel free to
Contact Us
.