This darling little angel will be admired by everyone. Fun and inexpensive to make this angel will capture your heart. A wonderful gift for nursing staff members who are often called "Angels" in a hospital or Rehab center. Tie it on a package for a special person to let them know you care. Hang it on your Christmas tree for a beautiful decoration.
Approximate Time: 20 minutes
Supplies:
3 inch printed wire ribbon
1 large wooden bead with face painted on it
1 inch gold ribbon
silver chenille stick
red chenille stick
floral wire or twisty tie
hot glue gun and glue
scissors
ruler
6 inches of small ribbon to hang the angel with
toothpick or other sharp object
Instructions:
Cut the 3 inch ribbon to 5 inches long pieces. Grasp both ends of the wire at the top and hold one end while pulling the other end to make a gather. Gather until the whole piece is gathered tightly at the top.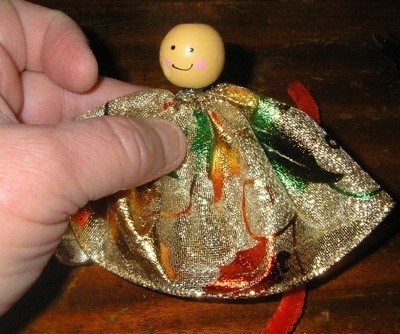 Straighten out the bottom of the ribbon to make a dress. Tie off with the wire and thread on a large bead for the head. Bring the wire around to the back of the head and wrap it around the neck part.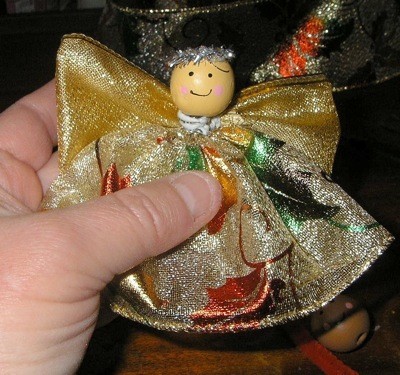 Wrap the excess around the neck of the angel so it doesn't show.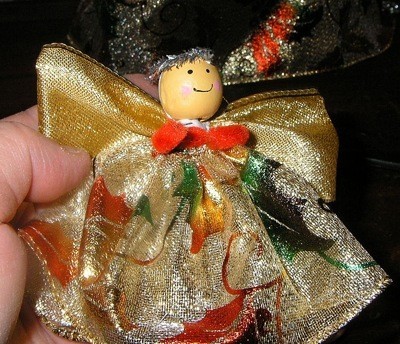 Form the arms with a red chenille stick by folding it in half and twisting it around the angel's neck and back to the front to form the hands.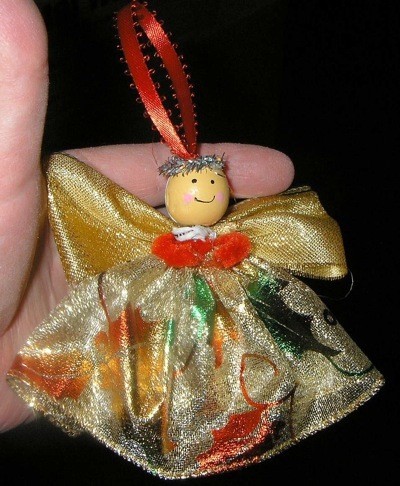 Voila! You have a very pretty Mystical Angel ready to adorn your tree or your package.
By Gem from VA