Question:
Why do the plums fall off the tree every year before they are ripe. I do everything I was told to do but nothing helps. Opening it, spraying it, etc., I think I'll cut it this fall, unfortunately.
Hardiness Zone: 5a
Mike from Mercier Quebec, Canada
Answer:
Mike,
Don't give up yet. With a little detective work, you can figure this out. There are many possible answers to your question, so it's up to you to try to decide which of the following factors apply best to your situation:
Depending on what kind of Plum tree you have, fruit drop can be a normal biological occurrence. This self-thinning habit is sometimes referred to "June drop" and is how a tree gets rid of excess fruit when it produces more than it can sustain. Self-thinning is most common in young trees. Thinning some of the tree's fruit mechanically (removing some of them by hand as the fruit starts developing) can help prevent this.
Cold temperatures. How has your weather been? Spring frosts can cause developing fruits to drop off prematurely. Spraying the fruits with water right before an impending frost can help prevent damage.
Early fruit drop can be due to a nutrient deficiency in your soil. Contact your country extension office to find out how to have your soil tested.
Inadequate irrigation. A lack of water at critical times during fruit development can also cause premature fruit to drop. Try to keep the soil around your trees consistently moist (not waterlogged). Adding mulch to the base of your trees will help conserve water and prevent big swings in soil temperature.
Inadequate sunlight. Do your trees get plenty of sun? A lack of sun causes poor fruit development. As a result, even a mild breeze can come along and cause the fruit to be sloughed from the tree.
Disease. Are the fruits that fall misshapen or are they of a normal size and color? Do you see signs of insect damage like crescent-shaped scars, or small holes on the fruit? This could be a sign of plum curculio, oriental fruit moth, or other insect damage.
Here are a few resources to help you determine exactly what the problem is.
Good luck!
Ellen
We are giving away $200 in Amazon gift cards for people who answer questions on ThriftyFun this month! Click here to find out more...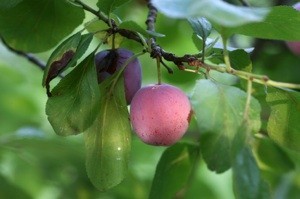 About The Author: Ellen Brown is an environmental writer and photographer and the owner of Sustainable Media, an environmental media company that specializes in helping businesses and organizations promote eco-friendly products and services. Contact her on the web at http://www.sustainable-media.com
Add your voice! Click below to answer. ThriftyFun is powered by your wisdom!
Add your voice! Click below to answer. ThriftyFun is powered by your wisdom!