This red wasp was just peering over the top of this leaf on a bush at me fully aware that I was taking pictures of it. Its wings were injured making it accessible for me to get so close to it.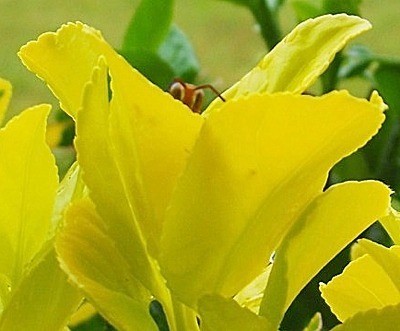 I am allergic and I know that these wasps are generally mean but with its wings injured, he couldn't fly to get away from my camera lens. His head followed my movement when I moved around the bush for a different angle so I have no doubt that he knew I was there.
By Lovingnature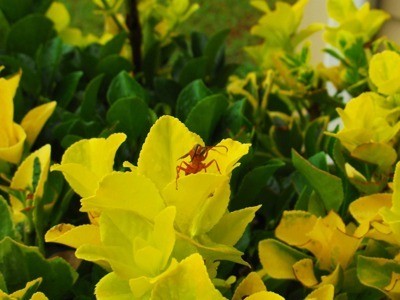 September 18, 2010
0

found this helpful
I can see you!
Marg from England
September 18, 2010
0

found this helpful
Can't help feeling sorry for it though.
Marg
Add your voice! Click below to comment. ThriftyFun is powered by your wisdom!
I was very surprised one day when a rather non-aggressive wasp landed on the viola plant that my husband has growing on our front porch. These wasps have been nesting in one side of our home. We'd like to get rid of them since most are very aggro, but we don't really want to ruin their home or kill any of them. Just because they're mean doesn't mean it's their fault!
Anyway, this one spent probably about an hour on our viola plant. He paid absolutely no attention to me as I took pictures of his adventure on our herbs. I like this shot because he's staring me in the face, which is great because my favorite shots to take are bug shots, especially of the face, so I felt lucky on this one!
I could be crazy, but this pose he's in makes me think of two things. 1 - It looks like he's being a bit possessive of the flower. Like he's saying ,"MINE! BACK OFF!" This is why I titled the photo Guard Wasp. I figure he can protect the home from now on! ;) The second thing I think of is this - is he a rapper? Like I said, I could be crazy, but the little guy looks like he's got his arms in the air going "Yo yo yo homie g!" I hate rap (to each their own) but I couldn't help but imagine this little guy as the next Eminem!
Anyway, God gives us little blessings and things to smile about every day. Are you paying attention
By Chelle152 from Coquille, OR