My dog won't go to the bathroom if there is snow on the ground.
By Peter from Willingboro, NJ
Ad
---
Recent Answers
Here are the recent answer to this question.

By Chapita11/19/2014
Sorry its not an answer, but a concern. My 4 year-old toy poodle won't go potty in our new apartment. He always went on potty pad at our old house. He refuses to do it at the new place. Its really cold here, and when I walk him he barely moves. Most of the time, I have to carry him back, because he's shaking so bad. This isn't his first winter. Its just the first one he's refusing to use pads & hides when I try to get him outside.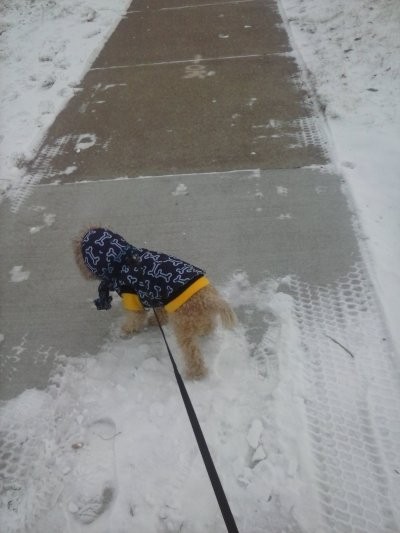 By Kayla & Aubrey [1]11/19/2011
I'd like to know what to do too, because I have a 4 month old Catahoula/ Lab cross whom I had pretty well potty trained until the ground froze. Now she would rather poo in the bathroom and pee wherever. She has a spot over in some tall grass, but she has to cross our frozen driveway to get to it. There's something about frozen mud that she really doesn't like. I know its cold, but so is the rest of the ground. What do I do?

She's the one on the left, Louie is the one on the right.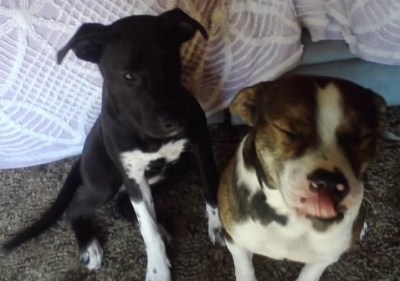 By Judy = Oklahoma [58]01/31/2011
My dog does this too. She can't stand to go potty in the snow, sleet or cold mud. Doesn't matter if we shovel a path or not, her 'footies' are still too cold & she doesn't want to squat-can't say I blame her! Lol! She can be pretty frustrating in the winter, a lot of times I'm the only one who can make her go,using my no-nonsense voice on her (she knows everyone else isn't serious), but she looks completely pitiful & abused the whole time!

We are just beginning to get the sleet here in Tulsa, from this big storm coming in, so I imagine she will have her legs crossed most of the next few days!

01/31/2011
Ditto with mrs.story about shoveling a path. It may not be convenient for you but it's doable and I know first hand from having lived sixteen previous Michigan winters with a resident seven pound poodle that it's better to make the effort to shovel rather than having the potty happen in your home. ;-)

By Lisa [2]01/31/2011
When I was living at home, I'd shovel a path and a little area for my dog to do his business. I don't know how practical that would be for you, but perhaps it's an option.
Archives
Thrifty Fun has been around so long that many of our pages have been reset several times. Archives are older versions of the page and the feedback that was provided then.
My 3 year old dog hates the cold weather and refuses to go outside to go to toilet. Help. I am at the end of my tether.
By Jacky from South Wales
---
RE: Dog Won't Go Potty Outside in Cold Weather
My Doxie doesn't like it either, but she is more willing to go out if I go too. We live where we get lots of snow and it's cold, but we both go out and walk around until Penny finds just the right spot. That's what works for us. (10/23/2009)
By Glenn'sMom
RE: Dog Won't Go Potty Outside in Cold Weather
Yes, the same with my Jack Russell/Beagle Jess, she just doesn't like to be cold at all, but, we've been working with her to go outside with one of us with her, and that is working so far. However, she still will not go out if it is raining, but, we've been getting her better with light rain, but, she just will not go outside if it's raining harder. The only thing I could get her to do, was to put a doggie pad out on the floor in the garage, and so far, it's working, Thank goodness it's not on my now very cleaned carpeting. (10/23/2009)
By Kas2
RE: Dog Won't Go Potty Outside in Cold Weather
I have a slightly different solution for you. If you look around, they actually make dog litter pans. For a small dog, this seems indispensable. I met a gal in New York walking a French Bull and I asked her how she dealt with him at night. She had tried the pads, but then switched to a scented dog litter that attracts them. Might as well try. (10/25/2009)
By damaged05170
RE: Dog Won't Go Potty Outside in Cold Weather
I seen on Hammacher Schlemmer they sell a doggie-doo mat that resembles grass and comes with an attracting scent for them (indoor dog restroom it's called). Perhaps they sell it through different merchants as well. Maybe google it see what it comes up with. (10/26/2009)
By melissawas
RE: Dog Won't Go Potty Outside in Cold Weather
My daughter's dog won't go outside in inclement weather unless someone walks him. (10/26/2009)
By cookwie
RE: Dog Won't Go Potty Outside in Cold Weather
I know they look really funny, but my Shep/Dobie/Rotie cross won't go out without her booties and blanket coat. Try booties and a wrap around blanket coat. (10/26/2009)
By catastrofy
RE: Dog Won't Go Potty Outside in Cold Weather
I have two little dogs and I go out there with them. We make it a threesome potty break. Seems like they feel secure when I am with them. If it is raining, I follow them around with a large umbrella until the job gets done. Sure beats cleaning up a mess in the house. (10/26/2009)
By sabrinadog
RE: Dog Won't Go Potty Outside in Cold Weather
Next time he potties, take a small piece of his waste and place it on newspapers stacked 4 thick on the floor then praise him with "Good boy, doo-doo on paper!". Keep doing this and one day you will have a paper trained pet you can quickly and easily clean after. Once in the habit, graduate to "go pee-pee/ doo-doo on paper" command, and attempt for your own convenience to get the animal to "go on command". It worked for my two, but may not work for all.
It's the previous, or any, of their own movement odor they need to be stimulated to doo on paper. Your doggie may be too disappointed in not being able to go outside that he/she's just holding it in, but the smell of what the paper's for will certainly encourage them to relieve themselves eventually right where you place the old doo. If possible, keep tossing and replacing the newspaper and announce, "Nice and clean paper for pee-pee/ doo-doo" and point to it several times or bend over when you have the dog's full attention and touch the paper as you say those words, or similar words. It's better than a litter box in that the litter can be eliminated and recycling newspaper is frugal.
Don't neglect the exercise of play and/or walking if only with in the apt/or home. Try not to repeat commands too often. If you feel you must, the pet just hasn't learned it yet. God bless and help you. (10/26/2009)
By lyndagayle62
I recently got a Shih Tzu. She refuses to use the bathroom outside. It is snowing here now and she won't go at all. I have tried the potty pads inside and she won't use those either. Any ideas? I need help.
By Amanda from IA
---
RE: Dog Won't Go Potty Outside in Cold Weather
I know it is strange, but I had a Boxer that did the same thing. He would not leave the side of the heater or fireplace all winter long. The only way I would get him to go in the snow or when it was really cold was to take him under the back deck. There wasn't any snow under there, and he could go. I would have him on a leash and have his coat on too. Good luck! (12/08/2009)
By Ouida
RE: Dog Won't Go Potty Outside in Cold Weather
Our buddy Gus (50 pound Pit mix) will not go out in "weather" unless he really has to (he regularly holds it for 14 hours in winter or on rainy days) and we go outside with him. We got Gus while living in Los Angeles (we now live in Cleveland) and even then the only way to walk him on a rainy day was to carry an umbrella over him. When we get snow my husband and I go outside and stomp down or shovel a path for him from our porch steps to an area with less snow under several trees. It seems to help. Best of luck! (12/09/2009)
By theammons
RE: Dog Won't Go Potty Outside in Cold Weather
My little dog hates snow (southern born and bred, but living in eastern Oregon now!) and she doesn't like to go out for potty breaks either. We go out with her and always have a clear spot on the patio for her. She won't step off into the snow, but will finally go to her spot if I'm out there too. (12/09/2009)
By Glenn'sMom
RE: Dog Won't Go Potty Outside in Cold Weather
I have a Shep/Rotie/Dobie cross who won't go outside in the winter. I live in Winnipeg, Manitoba, Canada. Today it is 39 Celsius! I put a coat and boots on her and she goes out. Try the boots, maybe she's cold. (12/10/2009)
By catastrofy
RE: Dog Won't Go Potty Outside in Cold Weather
I had a Chihuahua that was like that and we litter box trained her. This is great for a small dog, but won't work for a large dog. (12/11/2009)
By mary1day
Answer This Question
Add your voice to the conversation. Click here to answer this question.