What Are These Bugs?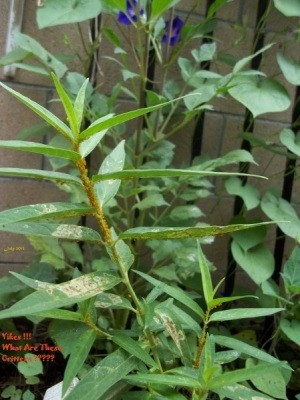 I have never seen these funny yellow gold bugs before. They are smaller than a tomato seed. They appeared on a plant from a bulb DD ordered for me. The plant has not had a flower yet. This is the tallest of the plants out of 5 bulbs. The others have not bloomed and are only about 4 inches tall. They are either Grecian Rose or Asclepias mixture, which never grew at all.
I have washed them off with strong water spray, but they came back in a few days, in an army! I used a mild soap and water spray then and they are back already. Help!
By Great Granny Vi from Moorpark, CA
Answers: What Are These Bugs?
Read answers for this question below.
I think they are aphids, which come in many different colors. If the pic was a close up I could tell you for sure. Compare to the photo I uploaded. I used to think they were bug eggs on the stems of my plants until I noticed their legs!
Insecticidal soap (not homemade), or Sevin spray should work on them, as they are soft-bodied. Don't delay!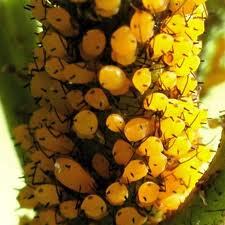 Answer This Question
Add your voice to the conversation. Click here to answer this question.
Related Guides
Related Posts