Growing up, there were a few years that we didn't have enough money to get a Christmas tree and we ended up getting creative. We decorated a twig one year. Made a tree out of lights on the wall another. We tacked up CDs in the shape of the tree on the wall and we have decorated houseplants.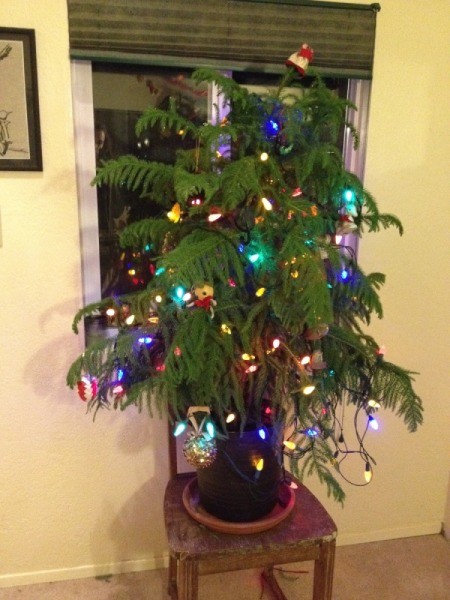 One year, we cut down a small tree in our yard (in Washington, volunteer Douglas fir and cedar trees pop up in your yard on a regular basis). This tree was very much a Charlie Brown Christmas tree! It wasn't strong enough to hold ornaments, so we hung ornaments from the ceiling with tacks and fishing line to look as if they were on the tree. I have to say, this was one of my favorite trees we had. I don't have pictures on my computer of these, since most of these trees happen before we had a digital camera.
One year my mom bought one of those white wire trees with lights attached that are meant to be used as a lawn ornaments. She didn't like the pink lights on it, saying it looked like an Easter tree, so she made my friends and I paint all the pink bulbs blue! This ended up being our Christmas tree for many years.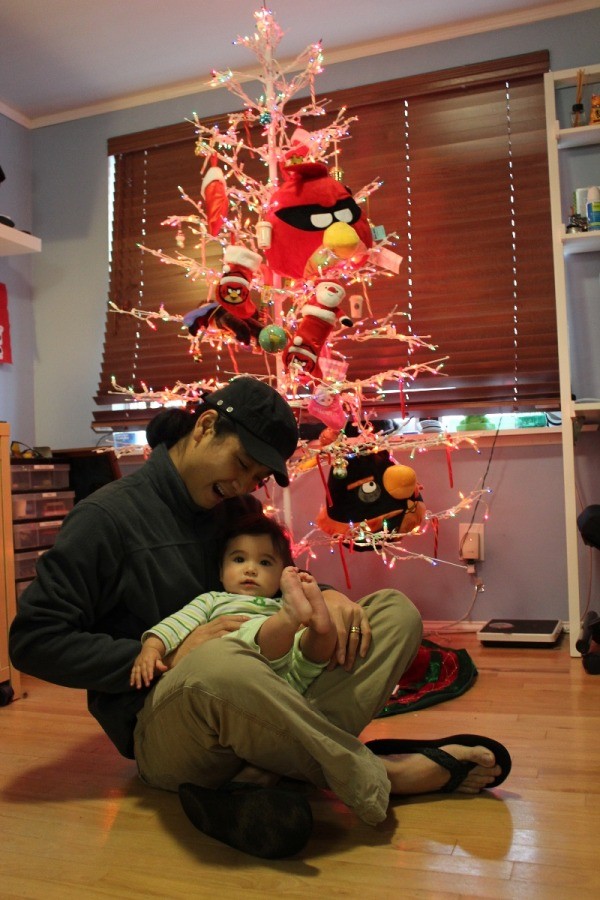 Needless to say, creative Christmas trees ended up being a tradition in our family. Now that I have a little family of my own, I have chosen to keep up the tradition. I do love to have a real Christmas tree. I especially love going to a you-cut tree farm to get a tree. But, since we have relocated to Vietnam where my husband's family is, we can't get a fresh Christmas tree. All I can find here are artificial trees and I don't care for those much. So, last year we decorated an A-frame ladder.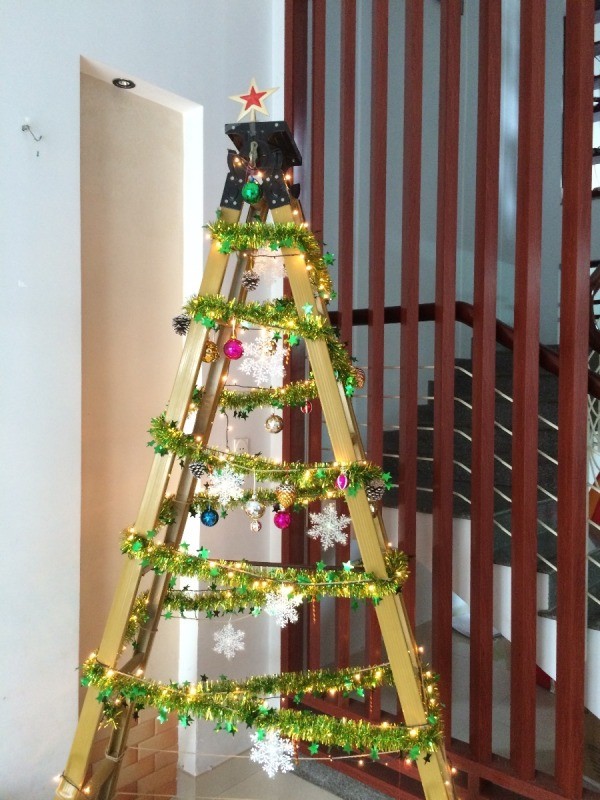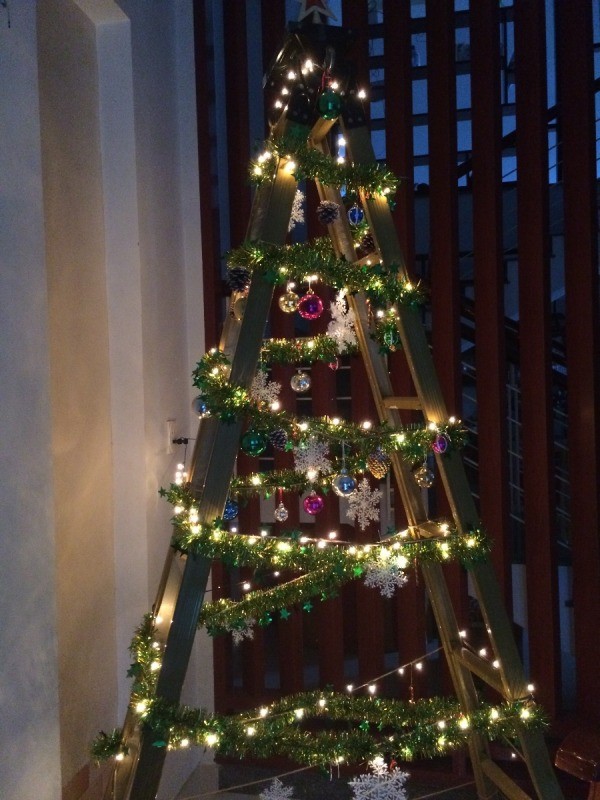 This year we bought a bamboo ladder, and I think we may have been a bit too excited and got the tallest one! It may be a bit too tall, but I still like it. We decorated it last night and plan on making some more ornaments in the next couple days. I also want to try and make a big star for it.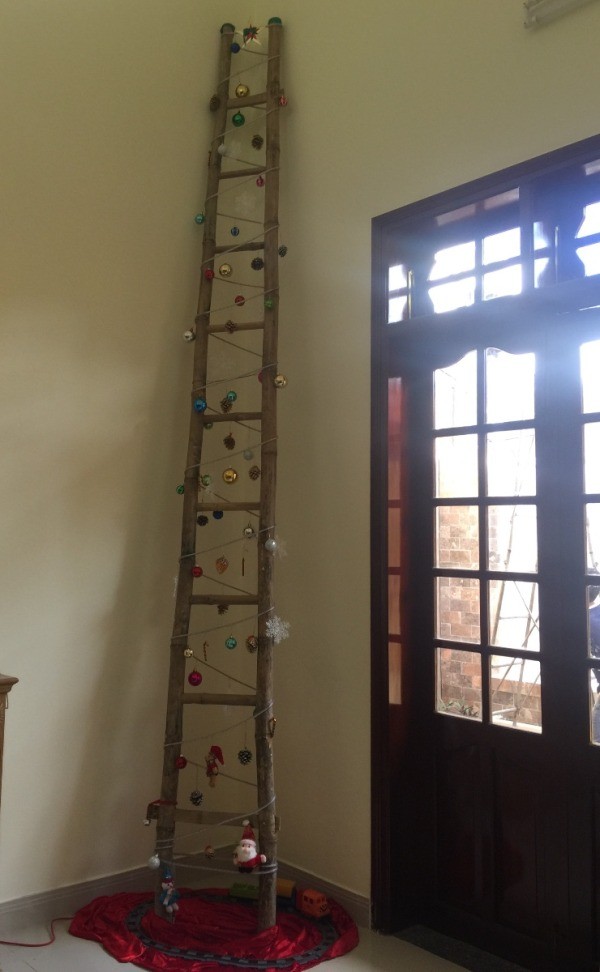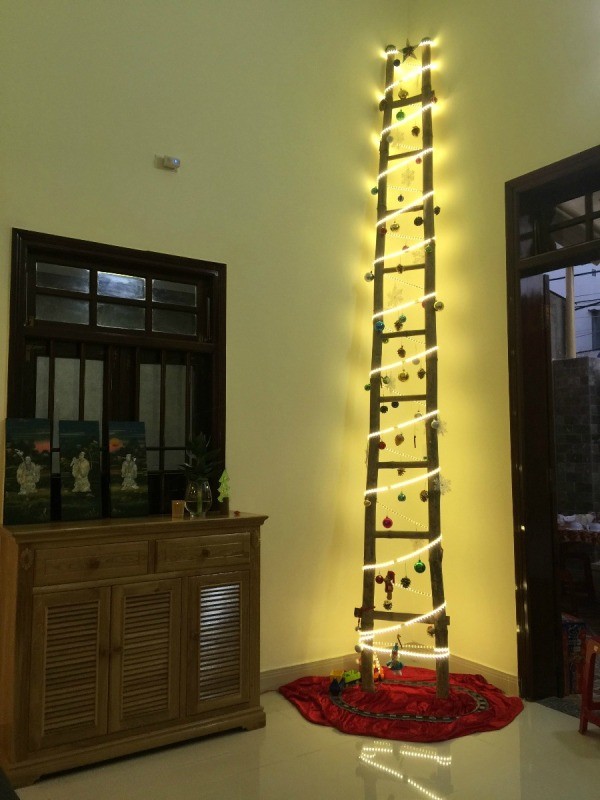 It has been fun and reminds me of all our alternative Christmas trees as a kid. Who knows what we will come up with next. There may be a palm frond tree in our future!
How about the rest of you, what creative Christmas trees have you had?