I do volunteer work in a local thrift shop. Do check in your local shop for Halloween costumes. As they are a one time a year item, there is no sense in paying a lot for the children's outfit. You will find really nice costumes for $1.00 and up.
By Eileen Hays from Yorktown, VA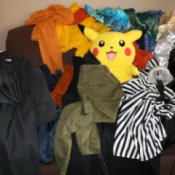 We needed to get several costumes worth of clothing and extras but didn't have the budget to get store bought costumes or buy them new. So we found a Goodwill sorting and donation center near us. We hadn't been there before and we weren't sure how we would fare.
The sorting center sells clothes and other items by weight. They wheel long bins full of random clothing in to the warehouse you get to pick through them for the best deals. It's totally disorganized and a little chaotic but it was perfect for looking for costume parts.
We spent about an hour sorting through the bins and had a full cart with many items that were costume ready. Our cart came in under 25lbs. The pricing per pound drops from $1.39 per pound to $.89 per pound once you are above 25 lbs. So it was actually cheaper for us to go back and shop some more. We picked up some cool sheer fabric pieces that could be used for bellydancing or other costume parts. We also let the kids pick out a few toys.
When we got back in line, we weighed in at 25.5 lbs., which only came to $22.70. Check out the haul that we got for that! That's less than a dollar an item.
Six of the listed items below already had Goodwill price tags. Those six items outside the sorting center would have totaled $38.95. So basically, we saved $16 and got a bunch of other stuff for free!
silk brocade shirt
vintage 70s leather jacket
black strapless formal dress
brown and black faux fur coat
Newport Harbor lined overcoat
lined police jacket without patches
black shiny designer jeans
velvet leotard
striped blouse
black Adidas Climalite golf pants
Nike Air leather golf shoes
funky black skirt
white blouse
green old navy pants
black Japanese pants
silver lame' fabric
gold lame' fabric
green sheer fabric
orange sheer fabric
blue batik fabric
yellow sheer fabric
brown sheer fabric dress
funky furry hat
decorative lamp
whistle
badminton racquet
giant stuffed Pikachu
All of these clothes were in very good condition. The striped blouse had a slight tear in it but that was no issue because it was for a pirate costume.
This shopping trip saved us a ton of money and we will have a very full costume trunk for the kids to play with after this Halloween!
By Jess from Hillsboro, OR
Use websites like eBay to find and save money on Halloween costumes for your children. You can buy last year's costumes for much less than a new one. Just make sure the costume is in good shape and the right size for your child. It is also a good time to sell Halloween costumes that your children have outgrown.
I love to shop at thrift stores and yard sales. A few summers ago I found blowup costumes that were adorable. They were still in the box and I payed a buck and a half for each.
I tossed em in the closet and four months later for Halloween I remembered I had them.
Read More...