Is there anything out there for getting rid of cat urine smell? We have a neighbor cat that is spraying the outside of the house. In the late evening, the smell is coming inside the house.
Thanks,
Safka from NW

Answers:
Cats Spraying Outside My Door
There are about four cats (not sure if they are stray or not) that are always going in my yard. The problem is that they have been spraying all around my house, my kids' bikes smell like it, and now that it is getting warmer you can really smell it when you even walk outside. Is there anything I can plant or put down so the cats stop spraying? And is there anything I can do to get rid of the odor that is already there?
Sarah

Cats Spraying In My Yard
Fox urine! You can buy it in liquid form and get small containers that you hang around your house and yard in strategic places, or get it in powder form which you sprinkle around your home and yard. The draw back of the powder form is that you have to reapply it every time it rains. It is quite expensive, but it works like a charm!
Another remedy is to plant garlic all around the perimeter of your house, or sprinkle hot pepper powder. You have to have sizable quantities of that to make it work, but animals hate the smell of garlic and the hot pepper. The fox urine is completely nontoxic and won't harm the cats. It's success undoubtedly lies in its ability to scare the living daylights out of the cats! I would go with the fox urine!
You can also use a Have a Heart trap, and the animal warden will pick up the cats, provided you use their traps! The fox urine can probably be found at larger garden supply sources. You might try doing an Internet search. My mother uses it all the time and buys it from a garden center called "The Chalet," but I am not sure whether it is a local thing (Chicago suburbs,) or a national chain!
Cats Spraying In My Yard
They are probably spraying more because it is mating season.
If the cats were spayed or neutered, they would not likely be spraying. If they belong to your neighbors, I would talk with them about it and do #3. If they are strays, take them to a spay/neuter clinic and they are likely to stop spraying. You may also have some new, more pleasant little friends.

Coffee grounds can be poisonous for dogs and cats and probably other animals and moth balls are not good for children.

Motion-activated sprinkler systems can work to keep cats away and don't hurt them.

To get rid of the odor, hose down anything they have "sprayed" outside and possibly use something like Nature's Miracle on the bikes to rid them of the odor. Moving the items to another location out of reach of the cats might help, as they will smell the odor on the items and keep coming back to the same place.
By guest
Cats Spraying In My Yard
Simple Solution from Petsmart or other pet store works wonders on cat urine odors. I think there is one specifically for cat urine.

By Christy
Cats Spraying In My Yard
Not Mothballs! They change from solid to gas. The gas (therefore the smell) is toxic. In humans it can cause headaches and ruin your desire to eat. They are intended to be used in closed containers to prevent the smell from escaping and to kill moths within the container.
If your problem is with a neighborhood cat invite your neighbors over for a sniff on a hot sunny day and while you are there suggest they consider building an outdoor cat run. It is great for outdoor cats and can be made to cover as much area in their backyard as they feel they would like to donate to their cat. It can be made with something as simple as chicken wire and wood stakes and works at keeping cats in as long as it has a top.
By guest
Cats Spraying In My Yard
One of the tricks I learned while working in vets' offices to get those cats to stop marking in your yard, is to buy strong smelling soaps (Zest, Coast, Irish Spring) and chunk it up around where the cats are spraying. The smell will deter them from the area and it is safe for children.

By Michelle
Cats Spraying Outside My Door
Do not use pepper, it can be fatal to cats.

By<ahref="http://www.thriftyfun.com/profile.Idml?profile=thr165686"> Maryeileen
(08/14/2005)

Cats Spraying Outside Our House
Wanna hear a cool way the Japanese deal with this? They fill up Clear rectangular drink bottles with water and line them up where the cats pee. They said that the lights refracting from these bottles made the cats not want to go there. I saw tons of these water filled bottles in Kyoto so they must work!
The bottles should have as many angles as possible so the "ribbed" bottles work best. In Japan, I think water comes in this size and shape, but there must be some drink like this in your neck of the woods. (03/23/2006)

By Eugene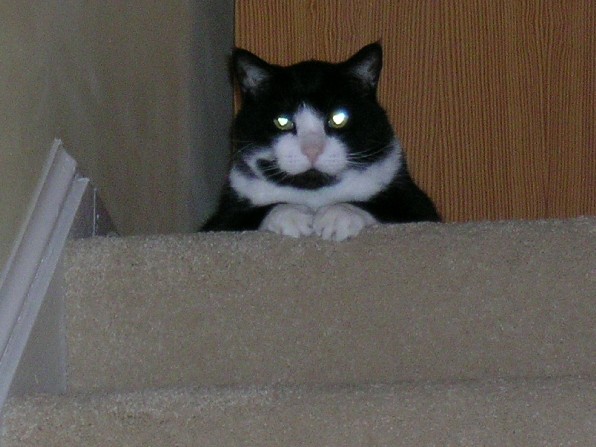 Cats Spraying Outside Our House
Spray hydrogen peroxide on the sprayed area and tell the owners to get responsible and get the cats "fixed" or you will call animal control. (04/21/2006)

By Kat
Cats Spraying Outside Our House
I tried the coffee grounds last night and it worked. The neighborhood skunk checked it out (but didn't stink up our home), and no cats came around! (08/17/2006)

By suburban woman
Cats Spraying Outside Our House
Use lemon essential oil mixed with water. (01/31/2008)

By Mel
Cats Spraying Outside Our House
(Submitted via email)
If you purchase Rug Doctor odor control, it is an enzyme that eats the cat odor, I have used it myself and it is the only thing that worked to get rid of the odor. Pour the contents into a water bottle and spray the affected area.
Also, to prevent the cats from spraying try throwing moth balls around the area and fill another water bottle with half vinegar and half apple cider vinegar and spray. The cats supposedly don't like the smell and it should deter them from coming around.
I don't know if it works as I myself am about to go to the store to purchase the above items and try it out as I now have 2 stray male cats spraying all around my backdoor. But I do know the Rug Doctor will get rid of the odor. Barbs5boys (03/18/2009)

By Sally