Make several in different colors and scatter on your tree. Easy for kids to do too. If you visit with older folk, like at convalescent homes, it is a craft most can do without help.
Approximate Time: 15 minutes
Supplies:
pipe cleaner
lace with holes
ribbon
small decor (optional)
Instructions:
Choose your color theme and pick a pipe cleaner (chenille stem). Weave the lace in and out on the chenille leaving about a half inch space between weaves.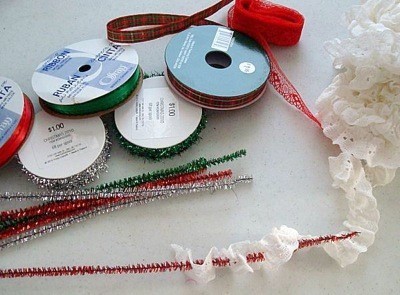 Fold in half and twist the 2 ends together. Shape into a heart. Tie a bow at the twist. If you'd like you can add berries or other small decor. Several strands of small ribbon also make it a little more dimensional.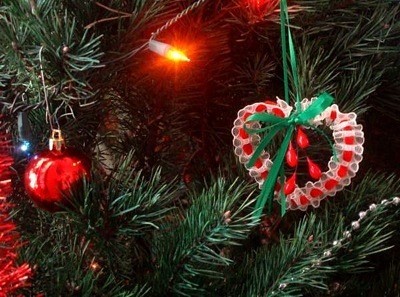 By Myst from Muncie, IN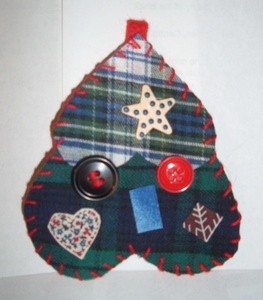 Three years ago, I made about 450 ornaments, hoping to sell them at the local Holiday show in Turner, OR. I think I still have oh...about 425 left! Not a great show and definitely my last.
However, my ornaments might help you decorate your tree and so it won't be a loss, I am sharing! Since I don't know when TF can get these on, just keep looking for the rest, a total of 9 or 10.
The first is a Heart Tree.
You find the fabric you like and the size of hearts you like. You will need two or three. One needs to be bigger than the next and the next, etc.
Make a stiffener of 3 parts glue to 1 part water, and brush on the front with a foam brush. Cut the hearts out when they dry, as they are like cutting paper.
Glue one to the other, overlapping just a bit. Let dry.
Place your dry tree on a piece of felt, and cut around it.
Whip stitch with holiday colored crochet thread to the felt.
Embellish with wooden pieces, buttons, scraps of fabric, etc.
Cool glue a felt loop on the back of the top and you are done!
NOTE: You can make these with any kind of fabric. I chose plaid because I have always liked a country look. You can make them out of spangly felt and eliminate the fabric, using different colors for each "layer". You could make them with satin or rayon, but the fabric won't stand up as well as cotton to the glue.
If you like sparkly things, make them out of something pretty and put glitter glue or half pearls or rhinestones on instead of country buttons.
ENJOY!
By Sandra from Salem, OR
This adorable doll-faced, heart, Christmas tree ornament is easy to make and a great gift for kids. It only requires some paint, ribbon, glue and a cheap wooden heart.
Well maybe a pencil and some doll hair too, but that's it!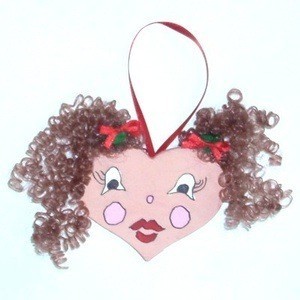 Read More...
My friend sent me this heart ornament for Christmas a few years ago. I hung it in front of the calendar and happened to have these noodle angels I had made handy so I hung them together. I wanted to send her a picture of them.
After I had downloaded the picture, I noticed the calendar heading: "Promise". How fitting for the Christmas season.
By Vi Johnson from Moorpark, CA