Christmas Shopping Advice
Solutions
Share on ThriftyFunThis guide contains the following solutions. Have something to add? Please share your solution!
I shop year round for Christmas gifts. Many a time, I have forgotten where I put the items by the time the holiday arrived. I now have a foolproof tip. Every time I purchase an item, I flip my calendar over to October and I make a note of what I bought, who the item is for, and, mostly importantly, I make a note of where the item is stored.
Now when October rolls around and early Christmas wrapping begins, I just go to October and there are my Christmas items listed and where they are stored. Saves me a lot of time and tears of trying to find where I "hid" a gift. So easy to keep a record of it and I'm not trying to keep up with a notebook or piece of paper either.
By Marsha Fleenor from Greenville, NC
For my Christmas shopping this year, I make sure I wear comfortable walking shoes, and put on my iPod with peppy music. Shopping malls know you will take your time if you hear Christmas music, and will walk slowly, visiting more stores.
I put on rock music or dance music. This way I walk faster, do my cardio (almost), and complete my shopping in record time. Happy holidays to all!
By Bob from Montreal, Canada
When my niece was six years old, she wanted to buy her family gifts for Christmas. So I decided to tell her to start saving her money and we would go Christmas shopping the day she got out of school for Christmas break (they went a half day and had a gift exchange and party before dismissing for the break). She saved every penny she found, and everything that she could, (of course her mom and dad gave her extra jobs and paid her before the date of our shopping trip.)
The day finally came and her 4 year old brother wanted to go, so did some of her cousins on her father's side of the family. So off I go with about 5 kids and their little bit of money. We went to dollar stores, outlet stores, just where ever they wanted to go. Then we all went back to my house and wrapped the presents and put candy canes and other ornaments tied to the bows, which I supplied. We ate cookies and hot chocolate. They took their little, sometime $1.00 or 50 cent, gifts back home, put them under the tree and were so proud of themselves.
The number of kids grew with the years. Thankfully, we had gotten a van by that time which helped! Sometime I would take the girls one day and the boys the next day. This continued until they were around 16 and could drive, but they all still talk about our shopping trips and how much fun we had and how we had a time limit in a store and we stuck to it. When my grandchildren came along, the tradition has continued and they have a ball. Of course, now we have Everything's a Dollar stores and other places to shop that we didn't have in the early 70's!
Sometimes they want to make gifts for mom and dad, so we start early and write down ideas. Usually it is an ornament for the tree, we go and shop for the materials and then come back and craft away. My two older grandsons don't care much for crafting, but love to go out into the woods and find things to make something neat, (They don't know they are crafting, lol). I enjoy this so much, as I learn so much about what their ideas are for the future, what their styles are in many things.
It is the part of the Christmas I wouldn't trade for all the gifts in the world. Oh by the way, this year, they are making a nativity scene out of thing found on our little 5 acres. Little do they know how much they are learning, but they think it is FUN!
Martha in TN
I never understood people who waited until the day after Thanksgiving to start their Christmas Shopping. I usually start in July or August and know some people who start in January. I know it's already October, so start now if you can. It will still help you during the holidays. Make your list of "giftees" and keep it in your purse.
When you see an item on sale that would be right for one of them, buy it and put it on a shelf in your closet or under the bed. Check off that person's name on your list and continue on. By the time Christmas season has started, you are nearly done with your shopping and can enjoy the holidays without the pressure of paying for them all at once or worse, afterward.
Another thing, cut back on the number of people you buy for and the amount you spend on each. The idea is to let that person you love know that you do love them. It isn't necessary to go into debt to show off your gifting prowess.
Also, do you have any craft skills? Often, making something for a gift costs much less and I know I really appreciate the fact that someone took the time to actually make a gift just for me.
Happy Shopping!
By huggybear2 from Zeeland, Michigan
November 16, 2004
0

found this helpful
Today, I went shopping, early in the morning, at several stores. I hit their bargain bins as soon as I entered.

At one Walgreen's they had 3 shopping carts of mark downs at 50 cents per item. There were 6 small plastic swan and fish shaped lotion bottles. I bought all 6 of them. Greedy? You bet. I was the first one there, why not?
There was one small plastic lavatory shaped soap dish. "Glommed" on to it. Spent $3.50 + tax there.

Went to thrift shop across the street. Found a large grapevine wreath, for $1, which I wanted, to decorate for a friend's back porch.

On down the street to another Walgreen's/ Their bargain bins were 50% off. Bought a $2, liter sized bottle of bubble bath, for $1 and an 18 oz bottle of Suave Naturals moisturizing lotion, $2,59 for $1.29.

I came home, pleased as punch at having spent a tad over $10, knowing I was going to be able to make at least 10 nice gifts.

I divided the lotion into the 6 lotion dispensers. I save some of my small bottles as I get them. I divided the bubble bath into 3 bottles, about the size needed for 1 bath. I still have about 1/3 of the bottle left for grandchildren's use when they visit.

Then I took a small bar of Caress soap, unwrapped and took it out of the box. Wrapped it in plastic wrap, scotched taped the wrap around the soap, put a cute sticker on top of soap. Placed it in the soap holder, wrapped it and one lotion dispenser in plastic wrap, placed them in 1/2 a net potato bag. Gathered it at top, added bow. One inexpensive gift for a granddaughter.

I will give other lotion dispensers to several elderly friends as Christmas gifts.

By Gladys Hill
I Christmas shop all year. Here's how: Any time I receive a special value sale flyer from my favorite store, I purchase at least one of their on-sale items. I do this when I get those rewards points! I then use my rewards points to purchase other gifts
Shopping at Christmas has to be the most stressful time of the year for anyone on a budget, spending plan, or other. My tip is this which I borrow from Marlene Alexander in Canada in the Dollar Stretcher under Dollar Stores. Shop for gifts for all at the dollar stores.
Read More...
November 3, 2016
0

found this helpful
This is a guide about shopping for Christmas presents online. One way to have access to many more gift choices is to shop online.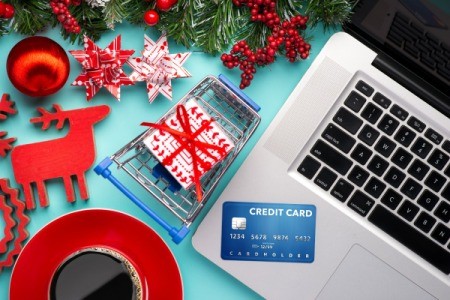 Related Content